15 Year-Old Stuns At Discovered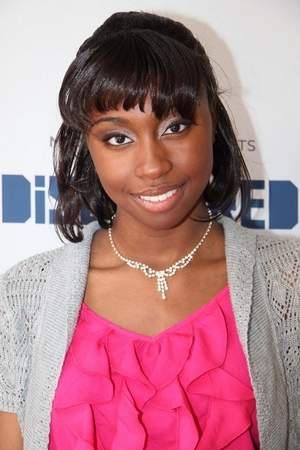 When Jasha Woodall entered the Discovered competition at age 15, she was not anticipating to win being the youngest contestant.
Woodall, who is from Poughkeepsie NY, discovered her passion to become a singer at a young age however, it was not a fairy tale story.
"Music brought me from dark, past experiences, and I try to use my voice to touch others and to help them out," said Woodall.
Before the Discovered competition came around, Woodall has been working on creating her own songs at home with a next-door neighbor since age 8.
When growing up as a singer, many artists tend to have influences in their life, and for Woodall not only have her parents have been an inspiration, but also her dedication towards church has been a major impact in her life.
"My parents were a big help throughout my life and for me, church is another home for myself," claims Woodall.
Some of Woodall's motivational artists to sing along to are big named award-winning musicians such as Alisha Keys, Christina Aguilera, and Bruno Mars.
After Woodall's father heard about the Discovered competition on K104 radio, Woodall instantly recorded a submission.
"The competition sounded legitimate, and the real deal. I had just left a recording studio prior to Discovered and I liked the benefits that came out of it," she said.
Choosing the song for the top ten finale seemed to be an easy one for Woodall considering it was for a special someone.
The choice of song was "I Will Be" which is originally performed by Leona Lewis.
"It puts a smile on my face when I sing the song and it makes me think of him," claimed a blushing Woodall.
Stage fright can be a common issue for some when the lights are bright, nerves are scattered, and many eyes are watching, however Woodall handled the pressure well and took the judges by surprise.
"I went in head first, ignored the nerves, and just had as much fun as possible."
During her performance, Woodall stood her ground and seemed to have the time of her life in front of the live audience.
"Seeing the expressions of the crowds face were priceless and were extremely motivational." Said Woodall with a smile on her face.
Being the youngest competitor of the Discovered competition after last year's runner up Danny Spadaro, Woodall wasn't expecting the fantastic result she ended up with.
"I wasn't expecting it at such a young age, being under looked and being the baby of the group," mentioned Woodall.
However, for Woodall, winning wasn't the only thing that was gained out of the Discovered completion.
"I met a great group of people, and to be heard by major people, it's phenomenal. Never give up."
At the end of the day winning the Discovered competition competing between hundreds of entrees, Woodall proved that hard work really does pay off.
"It feels like everything worked out and paid off for the amount of effort put in."
After recording her three professionally recorded tracks, Woodall plans to get on stage more often and talk to individuals who are going through rough times in their personal lives.
Leave a Comment