Fast Forward Talent Show – The Intro: "Mercy Comes Alive"
The students at Mercy College came together to put on a talent show, which featured musical, dance and comedy numbers. The club on campus that headed up this event was Fast Forward Entertainment and these performers put on more than one show a year. This talent show was held in the Victory Hall gym and cost $3 a ticket. This show was the first show of the semester that the students who are part of Fast Forward put on but before the semester ends they will be putting on their second show. The BSU (Black Student Union) put on a different talent show a few weeks prior and they had a program of the list of performers. That program could have listed what they were performing along with their full name but at least you got a list of who was in the show and it would have been nice if Fast Forward had a program for their show as well. As a result, I needed to take notes of the show to remember everything.
The show was supposed to start at 7:30 but they had a little bit of a late start and it lasted around 4 hours and was over around 12 am. What a long show and that was because many of the same performers showed off multiple talents and performed more then one piece. The show was on Friday 11.30.12 and I went with with my good friend, who does not attend Mercy. I was all ready to videotape the show with my iPhone that I made sure had enough storage space available. But unfortunately, I do not have any of that video to post up to "The Impact" website since my phone was stolen that night! I had the most expensive iPhone that Apple makes and that was the 4S with 64 GB that Apple does not even make anymore. I lost my iPhone because I went to plug it in near me because, when you record a lot of video, the battery dies fast. I was trying to do a good thing and record the whole show and I ended up getting none of it. This theft definitely taught me a hard lesson in not trusting people and believing that people would not want to hurt someone else. I had so much saved on that phone that I will never see again because it was not backed up properly but nonetheless there were some good performers that stood out during the show that I remember from the notes that I had taken.
There were two hosts that introduced each performer before they came on stage and they were also the ones who kept the party alive. The host Aliou, who also hosted the BSU talent show, along with Tiffany Cordero started the night by introducing two girls who sung the song "If I Ain't Got You" by Alicia Keys. These two girls danced on stage while another girl did a modern style dance to their singing on the floor below the stage. The dancer complemented the two singers very nicely and gave the overall performance a little something more. At first you could tell that viewers were only watching the singers on stage and did not even see the girl who was dancing on the floor below. This song by Alicia Keys is a very powerful song about how if you did not have your lover in your life nothing else would matter. The lyrics of this song say, "I do not want nothing at all if it ain't you baby."
The next act that came out was a band that consisted of three members and the lead singer, Donovan McSorley, sang "Come-on Get Higher" by Matt Nathanson with the other members of the bad playing guitar, keyboards and drums. Donovan's voice sounded just like the original song and this band gave off a very professional sound and it is evident that they practiced a lot to perfect their sound quality. When looking around on Facebook at the Fast Forward page there was a link to the YouTube video of the opening video that was played before the show actually started. That video shows clips of the performers rehearsing the acts that they will present in the talent show. I also found a few videos of Donovan McSorley performing with his band on the Fast Forward Entertainment Facebook page as well. I also had recorded him performing but all the video that I had taken was on my iPhone that was stolen that night and, so I am very glad that I found these videos on Facebook. These video will be posted along with this article at www.theimpactnews.com and that is the website where you can read many of the newspaper articles along with many other articles that we could not print in the hard copy version of the newspaper.
The next girl who was up sang a very soulful song with lyrics that talked about "Raindrops For Me". The guy who came on stage next was my good friend Deejay Butler who is extremely talented and he sang an excellent rendition of John Legend's hit "Ordinary People". Deejay had wonderful rhythm and powerful timing to pull off the song in a very beautiful way. Deejay's voice tone has body and soul, which adds character to a song. The next song had a slow start because the audio people were having some technical difficulties with their equipment. They had a little bit of a late start but pulled off their performance and kept on going regardless and that is the measure of true performer. A show does not stop even when there are problems. The performers have to figure out some way to maintain their composure and continue what they were about to do.
On stage next was another good friend of mine, Barry Paige, who is a popular guy on campus and is known for his smooth rapping. I was disappointed that for Barry's act the lights were extremely dim and it was hard to see him on stage with a girl with whom he was acting out the message of the rap on. I wish the lights were on him but he told me later on that he purposely wanted the lights that way to set the mood and get across the message better to the audience.
The group of guys who stepped on stage at this point in the song introduced themselves as the guys from Yonkers. They were hollering and trying to get participation from the audience and the main guy of the three called out that when he said Mercy the audience said College. That went back and forth for a good minute until he stopped and started rapping with his Yonkers guys standing behind him as if they were keeping guard of him. He had good flow and kept the beat but you could tell that he was not happy that he did not see more people clapping along with his performance. He was performing more to get the party in the gym started than to simply show of his talent. The two guys who were behind him tried to get the audience to chime in but they did not add any real talent to the song except to bring up the enthusiasm in the room.
The next performer sang a song with the lyrics that said, "Don't leave me girl, too proud to beg". The emotional messages of this song came out when the guy sang it. The girl came to the stage next and sang "I'm Going' Down" by Mary J. Blige. This song was a popular song when it came out and has turned into a classic song that many female singers choose to perform when they really want to show off their soulful voice tone.
The song from Destiny's Child entitled "Say My Name" played next and three girls came on stage to copy what Destiny's Child did in the original version. These girls pulled the song off nicely and it was an older song but a good choice to show off three different parts from each girl in one song. They got a huge applause and when they walked off the stage the next girl came on with a guitar player who accompanied her while she sat down and sang. They both were sitting next to each other to give a more intimate feel to the piece.
The two hosts Tiffany Cordero and the guy Aliou came back on stage to introduce the band again and the lead singer Donovan McSorley. The song "Use Somebody" by Coldplay took the show to the next level with the talent that his band possesses. Part of this song is edgy and the lead singer has that edgy quality to his voice that makes this band unique. A performer who came on in the beginning of the show came back out and sang a song entitled "Cage". The lyrics talk about being caged and if there is a way that someone can lock her up to protect her and save her from the disaster that is her life.
At this point in the show the two host called an intermission and this was when the audience shrunk in size and many of the students left and went home. It was late and about 10:30pm at this point. During the intermission some people in the show got on stage and were singing songs goofing around. The guy host took the microphone and sang in a fooling around way to the song that the tech crew just decided to put on but after a few bars he stopped and said that he was getting too carried away. Slowly people started sitting back down for the second half of the show.
The first performer of the second half was my good friend Deejay Butler again and he rapped to the song "Fast Car." At first I thought he was going to sing the famous song by Tracy Chapman but it was not that song because that is a song for a female voice and it is a slow song and Deejay was doing something upbeat for this number. Two other guys in the middle of his song came out to perform with him. The tech crew added the special effects of smoke or fog to this song and I think the fog actually might have distracted the performers but was cool to watch when in the audience.
Shay was the performer who came on after them and Shay had to restart the song because the tech crew started it a little early but after a few seconds Shay got the beat of the song together and tried to get the audience involved, which was not easy since the song went on for a long time.
Two female twins came on next and sang a duet to "Officially Missing You" by Tamia. There was no music during this rendition and the twins sang it acapella. They were a little rocky at first but by the middle of the song they were in-sync with each other. I had seen one of the girls around campus and was introduce to her through a mutual friend but did not know she had twin and being a twin is awesome.
The next guy named Jordan had real raw talent and sang "Can't Fake It" that gave off a great vibe. Jordan you could tell works hard on his craft and does not want to give a performance that is not up to par.
Aqua was up now and the twins from a few minutes ago came back on stage to help Aqua deliver her song. This song was the same song they did a few minutes ago but with Aqua as the lead singer. I thought at first that it could not have been the same song but sure enough it was. The lyrics say "All I Hear is Raindrops" and the song gives out a very peaceful and calm message. At this point the audience was getting tired and was slowing leaving. The popular song "Put Your Records On" by Corinne Bailey Rae and the lyrics say, "Girl let your hair down". This song is telling people to put your favorite record on, let your hair down, be loose and try and enjoy life while you can.
My friend Barry Paige, who is also a writer for "The Impact" came on stage and, unlike his last performance at the beginning of the show, the house lights were shining on him bright and not dim. He did an excellent job rapping to an old classic entitled "Do it for Hip-hop." Barry Paige had perfect timing and his voice quality is unique and he really made this song his own. At first I did not recognize his song choice but after a few measures I thought to myself "OMG, this is the coolest song from back in the day" and I started latterly bouncing in my seat to the beat. Barry has an infectious big smile and he lights up any room that he walks into.
The band came back on again with another number and performed the song entitled "Breakeven" by the Script. The lyrics are powerful and they say, "Sill alive but I'm barely breathing. When a heart breaks it does not break even. I'm falling to pieces". The show is coming to an end with just a few more performers left.
The next guy is an excellent dancer with his extreme pop and lock moves and during his performance the tech crew put on the fog once again to give an effect. His moves were out of this world and he could dance circles around much of the "so-called" talent out there today. The audience was clapping so he would give them more. His flow was amazing. The two guys came back out and the guy host got a little too excited after that dance.
The girl who rapped next was another performer who was on earlier and performed a rap to the lyrics of "Sometimes I really wonder. Life is what you make it. Will I really make it." Just read those lyrics and you can imagine the powerful message that is behind them.
The two hosts then announce that there are only three more performances until the end. The audience gets excited because this really was a long show. The talent crew came on now. There were two groups of two that were singing into their own separate microphones and one girl who was alone singing into a different microphone. The song they performed had the lyrics "I get all weak in the knees. I cannot explain why your love makes me weak. They were all in unison and each person added their own uniqueness to song. They performed the song in three parts since there were three groups on stage with three microphones. This performance had the most people participating in it.
My friend Deejay came back on stage to finish the night. He played the keyboard to a girl who sang the song "Love Song" by Sara Bareilles. The lyrics state, "I'm not going to write you a love song because you ask for it". This song was a very popular radio hit when it came out and the keyboard styling's of Deejay were better than her just simply, singing to the recorded CD.
The band came back on stage for the last number to close the show and they performed a song with the lyrics "Would you be mine. Always on my mind every single time." The very last number was the classic and famous song by Stevie Wonder entitled "Ribbon in the Sky." I really do think they saved the best for last because the guy who performed that song really sounded just like Stevie Wonder and I was totally amazed.
At this point everyone thought the night was over but several of the performers from the night including Deejay got back on stage to sing a number on the spot that they did not practice. This was simply because they all were enjoying their time together and were happy to be able to have performed for their college.
The night seemed to go on and on and even with some technical difficulties the night turned out good. Mercy College really wants to showcase the talent that the college has and bring some school spirit to the students. Talent shows are a way to get many people involved, appreciate their classmate's talents and have a good time while meeting new people. Mercy knows how to get the party started and bring in the energy. The Viking gym was an excellent place to have the show because the stage is extra big and there is plenty of room to keep adding chairs for people and there are also bleachers for more people to sit on as well. Whenever Mercy is having an event, especially a talent show, remember to attend and get out and cheer for your friends and fellow classmates because if people do not attend, the spirit of the college goes away. Everyone has a skill that they are good at and it is a very good feeling when you can share your skill or talent with someone else and especially a large audience of potential new friends.
Leave a Comment
About the Contributor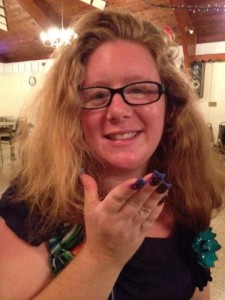 Kelly Sisco, Impact Staff
I am a Junior transfer student and my major is Public Relations. My love for writing started when I was only 7 years old and would read my stories and...