Westchester County's Own and Only
"People need drag queens in their lives. If not the gay people, then the straight people…"
Four girls sat at a table under the dim glow of rainbow lights, and nearly a dozen men crowding around the far right end of the bar. A brightly hued pride flag adorned the wall behind the men. The flowing chatter of the crowd was silenced, as their attention was captured, in an instant, as an iconic flute melody rang out throughout Ireland's 32 bar in Yonkers, NY.
"Every night in my dreams, I see you, I feel you"
The lyrics lip synced were exaggerated by "Tess Tickles" as she rowed in place with her makeshift oars and boat in the middle of the open dance floor. As she rounded the second verse of "My Heart Will Go On," her boat gained an uninvited passenger. A middle-aged blonde woman pretended to pull the boat closer to her. Tess' focus never wavered, as her fellow drag queen and friend, "Rhoda Rollins Stone", tried to comically sweep the woman away with a broom, to no avail.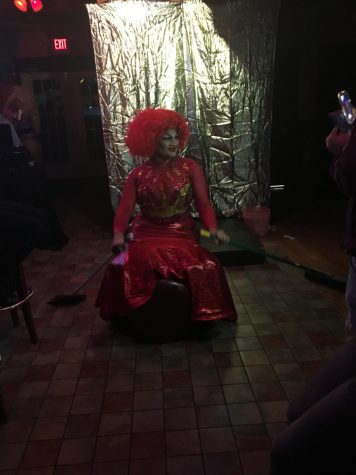 "Once more you open the door, and you're here in my heart"
Tess walked towards the woman and grabbed her hands, still not missing a beat. The eyes of the crowd were glued to the pair as a man shouted out, "Whooo!"
Tess glided down the length of the bar in a faux ballroom dance stance, ushering the woman away from the dance floor until they reached the front door. Tess slammed the door closed as she pushed the woman out the door, before racing back towards the dance floor and landing atop her makeshift boat with excellent timing.
"You're here, there's nothing I fear" the words belting out of the speakers as though it were Tes was singing herself, before she lowered once more onto the boat for the final words, with the blonde woman eventually returning for a bow for her impromptu performance.
As the cheers died down, Rhoda's voice came on to the microphone. "Tess Tickles, everyone, and uninvited guest." Tess rejoined Rhoda on the dance floor and spoke into the microphone, "That's actually my mom." The crowd laughing as several took sips of their drinks. The banter continued before the announcement it was time for a drinking game, "Ring Around Poosey." It's like "Ring Around the Rosey," but with a twist. They get naked.
It was just another Thursday night for Ireland's 32, but for Westchester County, "limbo land" as Rhoda describes it, it is the only night of its kind. Gagged Thursdays, the sole LGBT bar night and drag show of Westchester, hidden in a traditional Irish bar on McClean Avenue in Yonkers.
Rhoda knew since she was five that she was gay, but don't get curious about how long ago that was. "Don't ask a lady her age," she said with a booming laugh as she describes her years growing up. There were no LGBT groups in school, bur being in the drama department made her stand out as the school's "resident gay."
The former Port Chester, Putnam, Yonkers, and now White Plains resident did not come out until her early twenties. Soon after coming out, she felt the urge to participate in the LGBT community within Westchester, yet, she still felt a little uncomfortable because she was older now. Drag became the confidence booster she needed. "I found it was a way where I could just come in and meet people, and have fun–sort of just do something new."
Rhoda first appeared on the scene with the opening of the B-Lounge, a gay bar opening in Valhalla. It was the only gay bar in Westchester, but there is was no drag scene. As Rhoda recalls there were only a few "hopping around" but no resident drag queen for Westchester to call their own.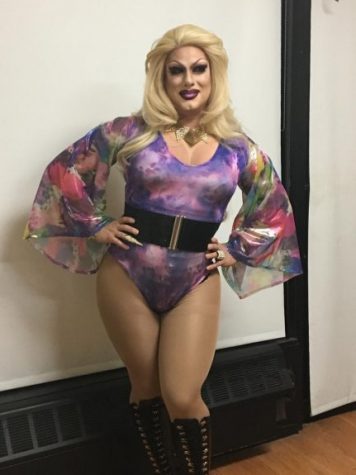 The internet is what provided Rhoda her needed drag mother tutelage. She considers Misty Minute videos hosted by Misty Eyez to be her main drag influence, because she was an older queen and her advice stuck to Rhoda "like a lace front wig."
"If you get a job within a year then you know you're doing something right." This was a lesson that guided Rhoda early on. Several months after she first attended B-Lounge, she accepted an offer to host a bingo night. It was something she had never done, but "it's a lot of balls," she whispered coyly.
The name Rhoda Rollins Stone became synonymous with B-Lounge. "She was like the drag queen at B-Lounge," says Henry Howard, a Certified Nurse's Assistant living in Dobbs Ferry. As she begun hosting the bingo nights, she noticed her tribe had found her. Slowly but surely, a tribe of individuals who expressed their own interest in drag found their way to her.
On the dance floor of Ireland's 32, Rhoda and Tess traded songs back and forth as they played "Drag Suicide," where a queen lip syncs to a song they may or may not know the lyrics to or have time to prepare for, but have to perform on the fly. Tess is given "Chandelier" by Sia. At first she is unsure of the song the rhythm was building up to, until the line, "Party girls don't get hurt" echoed from the loud speaker. Tess' lips quickly start moving as she flips her wig backwards to give herself the signature face-covering bangs of Sia.
For Tess' sixteen year old self, nights like Gagged Thursdays were an escape from years-long bullying at school. The "local teenage drag queen" knew she was gay from a young age and would be randomly punched in the hallway by other students as early as the second grade. The bullying became so unbearable that her parents packed up and moved to Pelham. "Growing up in Mount Vernon and being gay was possibly the hardest thing I've experienced in my life."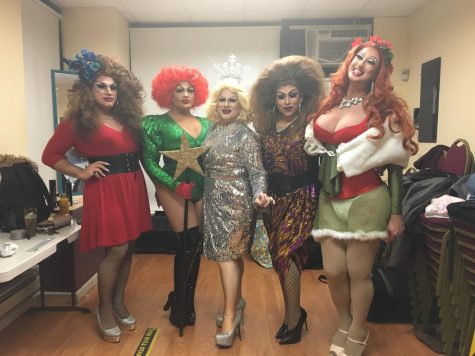 "Drag Suicide" raged on as Tess took on another song. This time it was the boisterous Bronx rapper Cardi B's hit "Bodak Yellow." Tess hit every lyric as Rhoda watched on from the back, while two of their drag sisters Gigi Cutina and Bella Biscotti watched, out of drag. In or out of drag, their drag family is there for them.
"They're great friends with each other. There's no bitching," said Aidan Loughran, the manager and a bartender for Ireland's 32.
Tess performing while Rhoda watches, the scene is a switch from how they first met at B-Lounge. Back then, Rhoda was the only queen and Tess was but a high schooler. "I was like eleventh, twelfth grade sneaking into a gay bar to watch a drag show on Thursdays and drive home to wake up at seven to be in class," said Tess.
At the age of 19, "Tess Tickles" the persona would be born at a friend's birthday party to the tune of Fergie's "Fergalicious." "I looked like a boy in a wig to be honest," Tess admits as she stands, fully painted and in full attire shortly before her first performance of the night.
Tess was one of the several B-Lounge frequenters who would approach Rhoda to express their interest in drag. "I welcomed them in. Since, everything I knew was off the internet, I didn't have a drag mother, didn't have a drag family," says Rhoda, or "The Mama Queen of Westchester" as she is affectionately known.
B-Lounge would eventually close in 2014. The closure of the only gay bar in Westchester could be traced to a decline in the already tepid support by the LGBT community of Westchester. It was a rare venue that has only become more endangered as no official gay bar has taken its place. "We had one and you didn't go. You came for five minutes… decided you didn't like it, then you left. Then it closed down," Rhoda says. A venue in White Plains would briefly open, but as Howard recounts, it never built a larger audience than some of the B-Lounge "locals" that came.
Rhoda and her family of "people who feel like putting on a wig and dress and looking fabulous like [herself]" would eventually make their way McLean Avenue. One man from Ireland determined that Ireland's 32 would host a night for the queens of Westchester to perform, and where the LGBT community would always feel welcome. "There should be multiple gay venues in Westchester. I can't believe we're the only one," says Loughran.
"I can imagine that it might be difficult for someone in the LGBTQ community to find their niche if you live in Westchester. Over the years, most of my gay friends who have either worked or gone to school in Westchester told me they felt more comfortable in the city," Emily Seibert, a professor with Mercy College's School of Liberal Arts, said of the lack of openly LGBTQ inclusive venues in Westchester County.
Loughran, a native of Ireland who has made a name in the nightlife business, quickly found his way to Ireland's 32. "I just got off the boat as they say in Ireland and got a phone call from the owner."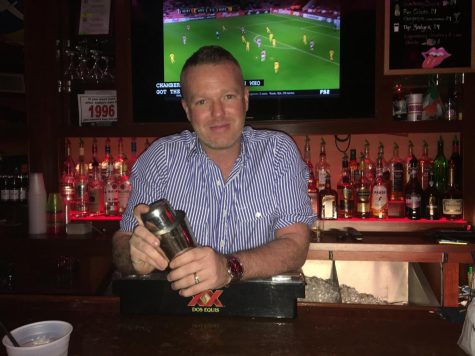 As the days turned into weeks and so on, Loughran noticed Ireland's 32 was different from the other bars on McLean Avenue. While other bars on the street catered more to their traditional customers, Loughran found Ireland's 32 audience transcended race, origin and sexual/gender identity. "It's not strictly one [community] it's black, white, Spanish, gay." He noticed customers who were gay or bisexual were coming scattered throughout the week, which prompted his decision to host a "gay night." The result was a night of rainbow flags, DJ's, and a surge in turnout, yet no drag queens. That was the final missing piece.
The surge in turnout and ability to socialize in a safe setting that night was not lost on the people in attendance. Several asked Loughran to make the night a regular event. At first, Loughran was reluctant because he was thinking about leaving Ireland's 32 to start a nightclub in Brooklyn, however, he changed his mind and set out to start what would become Gagged Thursdays. "Take a risk because it will pay off," Loughran said. This time, the risk would include drag queens.
That risk came close to falling apart on that first Thursday night last February. The night before had seen a snowstorm that closed all public transit and caused the city to issue an order to stay off the roads. The drag queens were waiting to perform, the DJ was set up, the night was ready, and Loughran was afraid no one would turn up.
Lo and behold, people turned up. Loughran recounted that people had walked "up to a mile" to come to the packed bar. Howard was one of those who came that first night. "I thought it was the coolest thing," Howard said. To Howard, Gagged Thursdays is the one gay venue he does not have to travel into the city for. He was there at the storied first night and has come to many nights since that initial reception.
"Just knowing you're surrounded by gay people and not having to have that anxiety standing at a bar and there's me, oh and RoRo, but mainly me," Tess joked.
Howard can agree with this statement, because on Thursdays, he knows he will always feel comfortable at Ireland's 32. "When you go to the bars it's all like jocks and bros and you just feel uncomfortable. We all need a place to go to feel safe," he said.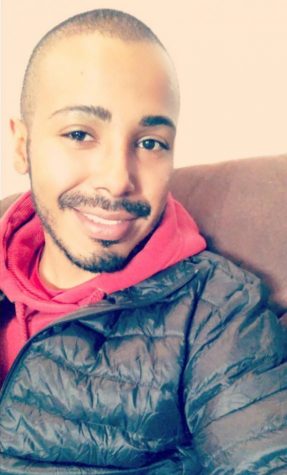 Howard is sentimental towards the bar; for most of his life, growing up in a conservative part of Florida, he couldn't even count the number of out gay people on one hand. His only way to meet other gay people was through MySpace. However, it was not enough to escape the hostility. One night, his, now, ex-boyfriend visited his home. Their visit was abruptly interrupted when a man in his car screamed, "'Faggots' and threw a glass bottle. [The bottle] just shattered around [their] feet," he remembers. It was soon after that day that Howard and his boyfriend moved back to New York where his boyfriend was originally from. It was in New York City that Howard went to his first gay bar, the G-Lounge. "Oh my god it was amazing. It was an eye-opening experience."
Howard would eventually move to Westchester County. He admits that he hasn't had one bad experience living in the county. "People here they just mind their business and go on their way. They're not gonna go out of their way to say something."
No one has gone out of their way to say something to Loughran, but a few of Ireland's 32's non-Thursday night customers have not kept completely to themselves. Their complaints and frustrations are based in the belief that Ireland's 32 is becoming a gay bar. Loughran is defensive of this idea, as they know it doesn't accurately describe the crowd on Thursday nights. "It's a mixture of the gay community, drunk straight girls, and a bunch of straight hot Irish men standing there and supporting us," said Tess.
The diversity of support has had a positive effect on Gagged Thursdays during the past ten months, with eight of the nights hosted by Tess and Rhoda, but the challenge of awareness remains.
"I've never been aware of gay bars in Westchester. I love to find some," says Seibert, a Yonkers resident. Seibert identifies as bisexual, and knows of Ireland's 32's existence, but was surprised at Gagged Thursdays existence.
The small distance from White Plains to Southeast Yonkers where Ireland's 32 is situated is a blessing for Rhoda. "I kinda like to stay here in Westchester and I have my own little family." To Howard, the close proximity is a joy to have a place nearby where he can feel comfortable going rather than paying for travel costs and exorbitant drink prices in the city.
As patrons of Gagged Thursdays talked amongst themselves, there was an observable ease among them. Men and women walk in all night and are quickly greeted by one, two, or more friends inside. Among the welcoming atmosphere, the night's earlier "uninvited guest" has picked up an older heavy-set man as her newest dance partner. Both of them bounce from all corners of the bar, dancing along to the music.
A heckler is uncommon says Rhoda, but ironically enough, it is older men who are among the demographic who are most comforted by the scene at Gagged Thursdays. Loughran describes men who are divorced, single, or very quiet about their home lives, who wander in on Thursdays pretending not to know what the night it is. Eventually, they open up to Loughran that they are bisexual or gay.
"They come that one week and they feel good about themselves," Loughran says. It is these men who Loughran is proud that he can provide a safe space for.
"I hope you're wasted. Wasted, happy, and you feel comfortable," Tess said when asked what she wants people to feel Thursday nights.
Rhoda added, "It's just a fun place to screw around, have a good time, and see some gorgeous clowns make idiots of themselves and just say fuck it all. Fuck your Fridays."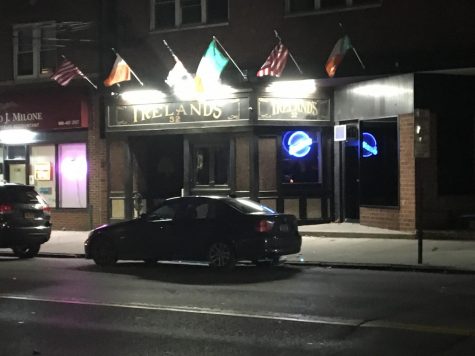 "Fuck your Fridays" became the motto of the night as the clock had come and passed midnight at 1 A.M. with no intent to stop there. Rhoda and Tess enjoyed a momentary intermission before rejoining the crowd to bask in the new morning. Loughran continued to serve drinks to fans and patrons of Gagged Thursdays. Several men and women bob among the crowd with their dance partners and friends.
This may be the clean way to say, "Fuck your Fridays;" just wanting to dance into the early morning as Donna Summers "Hot Stuff" reverberates through the speakers of the bar and beyond as several Irish national flags wave outside. The only night of its kind in Westchester County, until next Thursday.
Leave a Comment
About the Contributor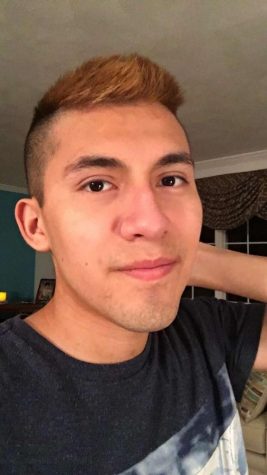 Matt Reich, Former Associate Editor
Matt Reich is a guy constantly on the go who can't let a minute go unused. Born in a city in Texas, raised in rural Connecticut, and now he's trying to...