Mercy College Walks and Talks with Japan
Walk on the U.S., Talk on Japan Visits Mercy College
A four-person panel from the program, Walk in the U.S., Talk on Japan, visited Mercy College to discuss Japanese perspectives on the workforce, society, promoting national products, and surviving in male-dominated industries on Oct. 6 in the college's Lecture Hall.
Founded in 2014 by Japanese Prime Minister Shinzo Abe, the program's mission is to encourage Americans to examine their connection with Japan by touring the United States with a panel of Japanese citizens.
Prof. Tomohiko Taniguchi, special adviser to Prime Minister Abe's Cabinet and professor at Keio University Graduate School of System Design and Management in Tokyo, expressed in his opening remarks that the goal for this organization is to "bring Japan closer to your home place."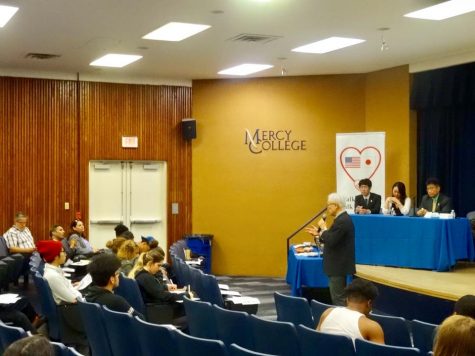 After Taniguchi gave an overview of the program, the first of the four panelists to speak was Paul Kazuo Okura, president of CMIT Solutions of Southern Westchester – a nationwide technology company. Prior to his work with CMIT, Okura worked in international banking for over 30 years with The Bank of Tokyo Mitsubishi UFJ and The Bank of NY Mellon.
Okura touched upon how Japan is becoming more attractive to global companies because of high population. One is the Coca-Cola Company, which now owns 50 percent of the vending machines in Japan. He described how Coca-Cola took a different approach to selling in Japan, instead of putting its products on supermarket shelves.
"I believe it's okay to be different, and even that it's your strength not your weakness," said Okura.
After Okura, the next panelist was Jun Uchigami, a translator and writer of international news scripts for Kyodo News in Tokyo. Formerly a television anchor, director and reporter for several Japanese television stations, she spoke about women's evolution in the workplace and how until recently, males have dominated business and politics in Japan. She stated that young Japanese women are more active and powerful than ever.
Uchigami has covered over 4,000 domestic crimes, incidents and disasters including the earthquake and tsunami that devastated the island in 2011.
"It was hard both physically and mentally," she stated. "I saw many dead bodies and upset citizens."
In 2014, she attended the Southern Illinois University in Carbondale, Illinois where she studied English for one year. Now residing in Tokyo as a news script writer, she feels that learning English has been beneficial to her career in many ways.
The last to speak was Koji Uenoyama, a sake sommelier who hosts sake-learning events for non-Japanese individuals. He spoke of the importance of sake in Japanese society and how it is becoming more popular in American culture.
He stated to the audience, "I was born to be a sake lover and always remember that Koji came to talk about koji."
Koji is a key ingredient in sake making.
In a question and answer session that began after all the speakers gave their presentations, many of the students and faculty of Mercy College who attended the event had questions about the rising tensions with North Korea.
After stating that Japan is surrounded by many nuclear-powered countries, such as Russia, China and North Korea, Taniguichi explained that Japan has to be involved.
"Now is the time for the U.S. and other freedom loving nations to show these other nations that democracy and liberty are what counts," stated the professor.
Another question brought up by the Mercy College community was regarding the work ethic in Japan, touching upon the incident regarding the Japanese citizen who recently died from working up to 159 hours of overtime in one month.
Okura stated, "hard working Japanese ethics are very well known and they are taught at a very young age, but things are slowly changing." He explained how Japanese companies are creating unions, specifically in the banking industry, to protect their employees and allow them the chance to leave work earlier than before.
Koji also added that "quality of life is more encouraging" now than ever before.
To end the event, Taniguchi presented Mercy College and Dr. Sheila Gersh, Director of the Center of Global Engagement, with a medal symbolizing the alliance between Japan and the United States.
Leave a Comment
About the Contributor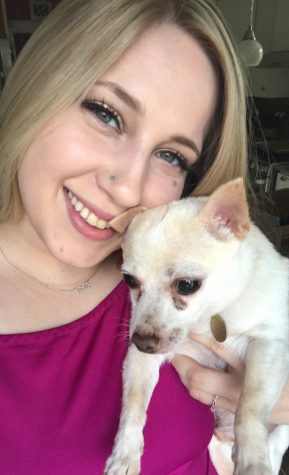 Liv Meier, Former Associate Editor
Olivia Meier, most commonly referred to as Liv, is a journalism student at Mercy College. And while she loves New York, she is a true Jersey girl. If she's...