Amazon Go Predicts The Future of Shopping
Seattle now has a new resident in town to stand alongside the Space Needle. On Jan. 22, the longtime tech company Amazon unveiled a new meaning for self-checkout.
The technological advances Amazon is daring to provide is a significant change compared to the average convenience store experience being that there will be no checkout lines. This newfound artificial intelligence works by enabling shoppers to grab items as they please off of shelves and simply walk out of the establishment.
Before potential customers enter the store, it is essential to have a registered Amazon account, have the Amazon Go App downloaded, and have a recent generation iPhone or Android. Once they arrive, they will direct their phones over a scanner to unlock the turnstile.
Once shoppers feel secure enough with the items they wish to purchase, they can just walk out of the building. The multiple ceiling cameras save the customer's item choices in a virtual cart. Not long after, the individual will be sent a receipt showing the charge to their selected payment method through their Amazon account. Amazon has also made it aware they won't accept food stamps (EBT cards) as a form of payment.
Gianna Puerini, Vice President of Amazon Go, stated that "the store worked very well throughout the test phase, thanks to four years of prior legwork," according to Reuters.
The artificial intelligence technology that Amazon has developed is described as being similar to self – driving cars. According to Amazon's website, the magnitude of technology in this entire system is computer vision, sensor fusion and deep learning.
The newfound store offers a profound collection of grocery essentials like milk and bread. They also offer grab and go snacks such as protein bars and yogurt. Amazingly, the store carries "Amazon Meal Kits" which contain specifically combined ingredients to easily provide a dinner for two in about 30 minutes.
Although there are no cashiers, there are still employees in the store. They either deal with creating the fresh food in the rear kitchen, guard the alcohol section of the store by checking IDs, and stand near the entrance/exit of the site to be readily available to aid customers if there are any virtual issues.
Professor Mahmud Wazihullah of Mercy College's undergraduate Business program believes that Amazon's newfound attempt has more pros than cons.
"No one that I know of wants to stand in a long line, then deal with small talk with the cashier," stated Wazi.
He is recognized by the School of Business Dean, Dr. Ed Weis, as an expert on strategy and online business models. Wazi has been immersed in the world of business for 29 years starting off as an investment banker and transitioning into finance across multiple supermarket platforms.
An aspect of Amazon's virtual cart technology that Wazi feels will solve a natural commonality, is the browsing concept.
"When generally shopping, people tend to buy stuff they don't need," said Wazi.
Amazon's current stock isn't very appealing at the moment, despite the extensive audience success of the store since its grand opening.
Wazi stated " We cannot base the success of Amazon stock on solely the Amazon Go store. Their stock is 99.99 percent website profit."
There are three elements to take into consideration when interested in investing in Amazon stock, Wazi says. There is the direct online bookstore proceeds, their recent acquisition of Whole Foods, and the Amazon Go store. Over time, if Amazon proves this technological advancement to be highly successful with hardly any errors or complaints, this virtual system has a possibility of being adopted across the country in other supermarkets.
Wazi believes this is a big leap for society but isn't surprised as retail progression has been a historical aspect of our nation for ages.
He regards that sentiment to the many other past progression moments in retail businesses. Such moments are the creation of the barcode, wireless handheld inventory units, point of sale (POS) terminals, in-store interactive kiosks, and self-checkout.
Wazi doubts Amazon Go will be truly unsuccessful as many of society's advancements seem daunting to individuals at first, but 90 percent of it is soon adopted in some form.
Wazi also feels there is going to be a number of people who disagree with the safety of this upgrade similar to how some may feel distrustful with other forms of high-quality technology. For instance, the people that feel distrustful of certain banking apps in the event of virtually depositing one's check through a photo might be hesitant towards Amazon's means of elevation.
According to Amazon's website, the company wishes to "push the boundaries of computer vision and machine learning to create a store where customers could simply take what they want and go."
Leave a Comment
About the Contributor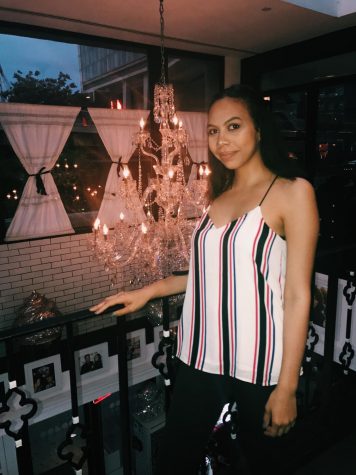 Nicole Acosta, Managing Editor
Nicole is from The Bronx and is a journalism major at Mercy College. Her hobbies include discovering new places to eat on a budget, photography, listening...