Mercy College Cafés Cooks Up Creativity
Strict social distancing guidelines did not stop Mercy from keeping the cafés delicious.
The cafeterias at Mercy College's Dobbs Ferry campus were updated prior to the 2020 fall semester to adhere to government social distancing and sanitation guidelines.
The campus has food options in the Main Hall café, the Victory Hall café, and the Starbucks/convenience store in Hudson Hall. Although the COVID-19 pandemic has limited the food options in certain cafeterias, Mercy College has updated menu options for students, teachers, and visitors to get their food easier.
In all Mercy College cafeterias, social distancing is absolutely mandated and enforced. When occupying the part of the cafeterias where the food is sold, patrons must stand on labeled stickers placed six feet apart at all times. Food stations have been reinforced with thick glass to separate patrons from the chefs and open food.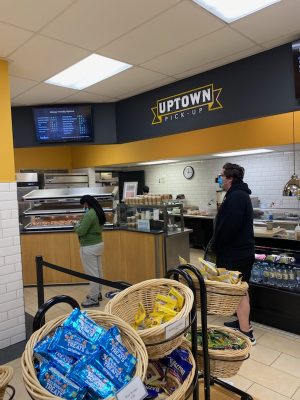 In dining areas, tables were also placed six feet apart from each other, so that patrons can maintain social distancing appropriately while still being able to eat and relax in the cafés. Masks must be worn at all times except while eating. As soon as a patron finishes eating their food, they must dispose of their own food and put their mask on while leaving the premises.
Sean Henson, a junior and resident student at Mercy College, has found the social distancing regulations to be a bit tedious.
"I have to stand six feet apart from someone that I live with when coming to the café. I'm just trying to talk to my roommate and I get yelled at. I understand the reason for the social distancing guidelines, but it's been taken to an extreme."
Keeping a public cafeteria open during a pandemic is not easy, and like Henson states, it comes with its share of sacrifices. The comfort of open and relaxed communication with friends is more difficult within the government guidelines that are truly there to help keep Mercy College safe.
"Even though I don't like it, I still do it because it's the right thing to do. I want to keep myself and the people around me safe from this dastardly virus," Henson stated.
The largest of Mercy College's cafeterias is in Main Hall. A famous aspect of this café is the large salad bar. Students can typically make their own salads with whatever varieties o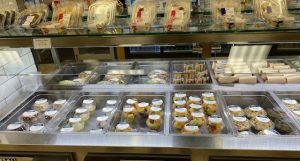 f greens, vegetables, and toppings that their hearts desire.
The salad bar has been closed due to the risk of having uncovered food in a public place. Mercy College has attempted to make up for the closed salad bar by increasing the presence of prepackaged salads. Where the salad bar used to be, a variety of salads now sit for sale. Pasta salad, Greek salad, and chicken caesar are just three of the options that Mercy offers.
Junior Ryan Miglio has appreciated Mercy's salad bar replacement efforts.
"At the beginning of the semester, I decided to go on a diet. The prepackaged salads at Mercy have been a huge help. They get me in and out of Main [Main Hall] fast and are surprisingly good."

Miglio, like many other students, has been using the new prepackaged salads to his advantage to get out of the cafeteria faster with equally fresh and delicious food.
The grill in Main Hall is the most popular attraction in the school's largest cafeteria and has continued to thrive.
"I feel safer knowing that there is glass between me and the food that I'm ordering. The stickers on the ground do keep everybody spaced out, so even when the cafeteria is crowded, it's still comfortable to go and order your food. You never feel like you're at risk which is a worry I know people had about going to a public place like a café during this pandemic," Miglio proclaimed.
The safety precautions in Main Hall are identical to the ones in Victory Hall. Victory Hall has increased its stock of prepackaged salads because of the closure of their deli sandwich station. Like the Main Hall café, the pasta and grill stations in Victory Hall are covered with new, longer glass shields to protect patrons and cafeteria workers from making contact with others and potentially contracting the virus.
The Mercy College convenience store has a dual purpose, as it is also a functioning Starbucks. The convenience store has been upgraded with new drinks and snacks, and the Starbucks portion has also been updated. Tazo tea is now served, as well as lemonade for patrons looking for an alternative to coffee.
"The tea has been a huge plus. I'm not much of a coffee guy and I have been waiting for Starbucks to start selling tea since I got to Mercy. When I saw they had the passion fruit iced tea, I was hyped," Miglio laughed.
Miglio is content with Mercy's efforts to improve the experience for the Mercy community through the difficulties of the pandemic.
The cafeterias at Mercy College adapted to not only adhere to the governmental guidelines but also work within them to give patrons a better experience. The sacrifices are small compared to having college life without any cafeterias at all.
Leave a Comment