COVID-19 Vaccination On-Going in Westchester
The COVID-19 vaccine continues to be distributed in Westchester County.
The Mercy Health Department released a statement that through the New York Department of Health (NYSDH) that some groups at Mercy are available to get the Prizer COVID-19 vaccine at the start of distribution.
The Food and Drug Administration (FDA) authorized the emergency use of the Pfizer and Biotech COVID-19 vaccine in Dec. 2020 for individuals 16 years and older. Pfizer promised to deliver hundreds of millions of vaccines across the U.S. by the end of 2021. Many health centers, arenas, and stadiums are offering vaccine distribution centers for Americans to receive their doses.
The New York State official website stated that there are phases for which New York residents are eligible to make their appointment to get the vaccine. Phases 1a and 1b consist of health workers, teachers, police, public transit, grocery store workers, and residents who are 65 and older. More phases will be announced in the upcoming months by New York State.
The Mercy Health Department announced in an email that these groups are eligible to make an appointment for vaccination:
• Faculty teaching in-person.
• Faculty and Staff who are 65 years or older.
• Campus health employees with patient-facing roles (including clinicians, administrative staff, and any others who interact with patients in person).
• Campus staff who administer COVID-19 tests (those who actually do swabs for sample collection).
• Students on clinical rotations who have patient-facing roles. Only SHNS students who are currently in clinicals are eligible and they will need a letter from their professor stating their eligibility.
• Campus staff/student volunteers who administer COVID-19 vaccines (those actually doing the injections, not solely in administrative roles).
NYSDH has been updating New York residents of the expansion of vaccine centers and qualifying groups. The most recent update was residents who are aged 75 has now be changed to 65. Mercy has been notifying the community that most of the schools are not available for vaccination. They will be working with the Commission of Independent Colleges and Universities in New York to help make school groups eligible. Mercy has also submitted an application to New York State allowing to use the school as a vaccination site and will be working on making sure that the campuses will be allowed for vaccine distribution. Their request is in process of approval.
The Westchester County Center has been working as an emergency hospital since April for COVID patients and opened in January as the main vaccination hub for Westchester County. Many people have signed up to get their appointment while leaving others with no appointments. The website crashed within hours and their hotline was filled with callers. The hotline was shut down for a month. Most residents have who have gotten their appointments range from February to May.
Henry Valencia, a Westchester County Center worker, has been please with vaccination process in White Plains.
"The county center has added private rooms on their ground floor with glass that socially distance Westchester residents. The whole process has been very smooth and being more organized every day. About 1,500 people get vaccinated every day."
Hundreds of people have been lined up outside waiting to enter the county center from 8 a.m. until closing. Many people had to reschedule their appointments due to the snowstorm on Monday.
"Every person should have their registration number and a photo I.D. For residents receiving their doses per their job, needs proof of their occupation," Valencia stated.
Many of the Westchester organizations are offering their buildings to become a vaccine distribution site like Mercy College. The county executive, George Latimer, had announced that on Thursday, Westchester Community College will open to be a distribution center at one of their buildings in Valhalla and will be the second mass vaccination site in the county.
While many Americans are being vaccinated every day, the goal announced by Dr. Anthony Fauci is to have 70 percent of the country to be vaccinated by late 2021. There is still no announcement when college students will be available to make their appointments but many schools in America will continue with hybrid and in-person classes throughout the school year.
To make a vaccine appointment visit the "am-i-eligible" website or call 1-(833) 697-4829.
Leave a Comment
About the Contributor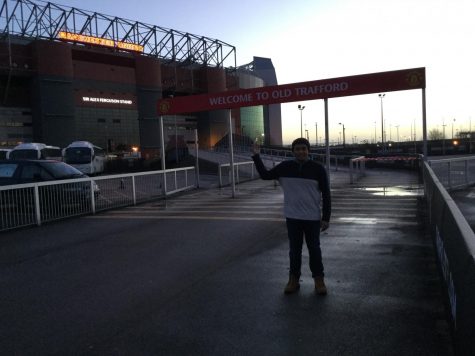 Gino Alva, Impact Staff
Gino Alva is a junior majoring in Journalism. Gino is an avid fan of the New York Yankees, Real Madrid and Manchester United. Soccer played a huge part...