Is Julian Edelman a Hall of Famer?
No, but his career brings with it an interesting question.
This past Sunday, The New England Patriots may have put an emphatic exclamation point to arguably the greatest dynasty in professional sports history.
A rare defensive Super Bowl saw the American Football Conference (AFC) champion Patriots come out on top, over the representatives of the National Football Conference (NFC) The Los Angeles Rams 13-3. The win secured the sixth Lombardi trophy in "Pats" history; all in the past 17 years.
Present for three of those Super Bowl victories, and two defeats is Wide Receiver, Julian Edelman.
Edelman shined bright under the lights of Mercedes-Benz Stadium in Atlanta, Georgia, site of Super Bowl LIII. He hauled in ten receptions, on 12 targets, for 141 yards. He also had a rushing attempt that went for eight yards. Where Edelman did most of his damage on Sunday, however, was in "moving the chains."
Eight of his ten receptions went for first downs, with three catches coming on third down. He also picked up his yards in bulk with three receptions going for 25 yards or more with a long of 27 yards.
All listed above, and a subpar game from the usually great Tom Brady, were more than enough to earn Edelman the Super Bowl Most Valuable Player (MVP) award. Now, a new conversation has emerged for the 32-year-old from Redwood City, CA. Is he a Hall of Famer?
While Edelman's story is a nice, borderline fairly tale, it is not a Hall of Fame one. After High School, Edelman spent a year in junior college, at the College of San Mateo, where he would break the school rushing yards (1,253) and touchdowns (17) record in a season as a Quarterback. He would transfer to Kent State University, where he would start at Quarterback for three years for the Flashes. Edelman would throw for just under 5,000 yards (4,997), rushing for just under 2,500 yards (2,483), and combined for 52 total touchdowns in his three years at Kent State.
All those stats proved to be good enough to not get an invitation to the 2009 NFL Combine, a weeklong showcase of different physical and mental drills, for college players who have declared for the upcoming NFL draft. New England would eventually draft Edelman with the 27th pick in the seventh round (232nd overall). With only seven rounds and 32 picks a round, he went dangerously close to going undrafted altogether.
The first four years of Edelman's career were pedestrian, with only 69 receptions for 714 yards, and seven total touchdowns. In 2013, it appeared to be Edelman's turning point, as he would catch a career-high 105 receptions and his production quickly became that of a number one option, which he has maintained for nearly every season since.
The problem against Edelman's Hall of Fame case is that he has never been to a single Pro Bowl or been selected as an All-Pro, first or second string. If the league has never noticed your talents throughout your career, even for so much as one season, how can they vote you into their most prestigious club, the Hall of Fame?
No, the question that Julian Edelman's career evokes is: Should the NFL have a playoff Hall of Fame?
Aside from his recently won third Super Bowl and MVP, Edelman's amazing 115 postseason receptions and 1,412 receiving yards are second all-time only to Jerry Rice. The greatest wide receiver in NFL history according to most. He also caught the game-winning touchdown of Super Bowl XLIX against the Seattle Seahawks.
The term "playoff beard" is the superstitious act of male athletes or fans not shaving their facial hair during the postseason. Edelman has become synonymous with the term, seeing as he grows one out every January/February as he has been in the postseason every year of his career.
My favorite Julian Edelman postseason moment, and the major inspiration for writing this post, was in Super Bowl XLVI. The Patriots, decimated with injuries, relied on Edelman to play nickel cornerback in Super Bowl XLVI against the New York Giants. Talk about a man willing to do anything for his team.
While Julian Edelman's career will probably be immortalized with a spot in the Patriots Ring of Honor, where the best players and coaches in a franchise's histories have their name permanently displayed on the facade of a stadium balcony and/or the retirement of their jersey number.
His career is definitely one of the more unique ones in NFL history. One that may deserve to be recognized for being more than just a Patriot great, but as an NFL postseason great. As for who would join Edelman in that first postseason Hall of Fame class, that is an entirely different conversation for a different article.
Leave a Comment
About the Contributor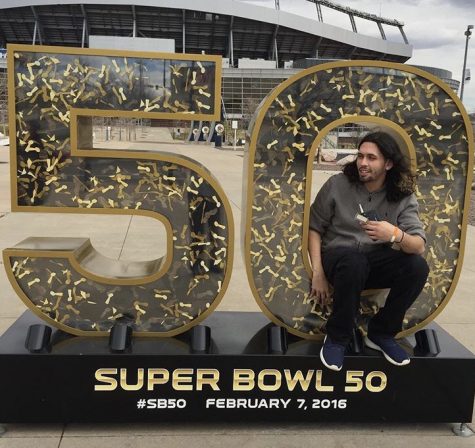 Brian Pineiro, Impact Staff
Brian Pineiro is a senior... finally. After a brief hiatus, Brian is back and more determined than ever to pursue his degree in Media Studies. This does...