Jay Electronica's Long Awaited Debut Album is a Tragic Misstep
There comes a point where everyone realizes that the person they admire isn't infallible. Celebrities are not gods.
I am not a Jay Electronica fan, but I have been aware of his impact on rap. Coming on to the scene in 2007 with his debut mixtape, he made waves with his EP which sampled old movie scores without adding any drums to them. While he occasionally dropped a single or did a feature every now and then, he remained mainly silent for the past 13 years.
But then suddenly, seemingly out of nowhere, Jay Electronica finally dropped his debut album on Friday, Mar. 13, "A Written Testimony."
The record is flooded with big names; guest appearances from Travis Scott, The-Dream, James Blake, and James Fauntleroy, and production credits from hip hop legends No I.D., The Alchemist, Swizz Beatz, and even experimental rock group, Khruangbin.
And yet despite the amount of star power and hype that surrounds this record, I cannot help but feel that it doesn't live up to what it could have been.
Now, some of you are saying, "of course." How can any record live up to 13 years of hype? A debut album by an already well-established artist especially. But, this record isn't even good, it's undercooked and even terrible at times.
It's funny that the record's intro begins with the lines, "I don't wanna waste any time" because it seems a lot of what this record does is exactly this. It's an odd thing to say that a 39-minute record can feel long, yet this record shockingly accomplishes this. A lot of the beats don't go anywhere other than being an off-puttingly, calm sample loop played over and over. Even the tracks which have more going on are ruined by what seems to be bad mixing on purpose. The beats exist in a weird claustrophobic space between too clean and too dirty. It isn't lo-fi or hi-fi, it's in between, and all the producers' and guests' contributions feel anonymous in a non-intentional way.
These decisions feel like an attempt to recapture the raw and semi-unmixed ideals of Jay Electronica's drum-less EP. However, Jay didn't make tracks that fit this aesthetic most of the time and neither did his producers. He even overuses stock GarageBand applause sounds in another attempt to call back to his EP which also used these sounds. However, with the frequency that these sounds are used, it feels annoying. It doesn't evoke an atmosphere, it just feels like a slap in the face callback put in for no reason.
Now this isn't to say that Jay Electronica doesn't bring in some good bars now and then, his rapping is often the best part of this record. However, in an odd turn of events, it feels like Jay Electronica is barely on his own debut album. Instead, we seem to spend more time with another Jay on his same label, JAY-Z.
JAY-Z is the surprise guest on this album, but he's more than just a guest as he is on all but one track (not including the intro). JAY-Z is needlessly stuffed onto this album, his contributions add nothing and I would argue that without him, this album would be a lot better. The two Jays have almost no chemistry with each other, as they barely interact or trade verses. In fact, on one song, "The Neverending Story," the song stops and then starts again just to slide in a pointless JAY-Z verse. Without this, we would've gotten a song that would have not only served its purpose, but would have maybe even been the best song on the album.
"A Written Testimony" is an album oozing with great ideas, creative samples, and good bars. However, the album's delivery and use of superfluous guests and contributors seem like a bit of a backward step as opposed to a forward one.
I'm patiently waiting to see what Jay Electronica does next, and I'm hoping he learns from the mistakes that he's made on here.
Rating: 2 stars out of 5
Leave a Comment
About the Contributor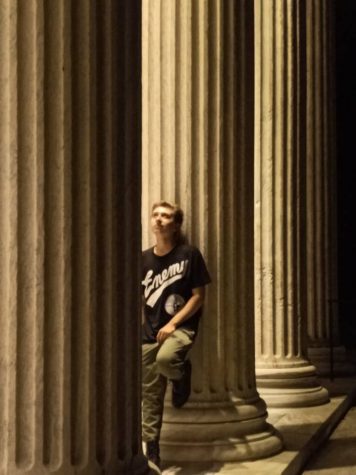 Jack Seda-Schreiber, Entertainment Editor
Jack Seda-Schreiber is the entertainment editor for The Impact News.

Born in New Jersey, Jack has an almost encyclopedic knowledge of music and a wide...