Tame Impala's "The Slow Rush" Stays True to Its Title
Tame Impala has always been a tricky thing for me. Sometimes I'll absolutely fall into their soundscapes, and there are other times where I find Kevin Parker's voice grating to my ears. I'll be the first to admit, I got into this one-man band late in the game, only listening to them after I had heard everyone praise their breakthrough third album "Currents." While I didn't enjoy "Currents" as a whole, I found myself very fascinated with the album before that one, "Lonerism," which was almost the complete opposite of what the sound of "Currents" was.
Because of this, I didn't know what to expect from this record. I heard two of the pre-release singles, "Patience" and "Borderline" and I wasn't impressed. It felt like Kevin was going in an even poppier direction than he did on "Currents."
We open with what might be the strongest song on the record, "One More Year." Starting with an ominous chopped up manipulated choir, we then go into a dark ethereal dance beat. It is, by far, the strongest indicator that this record is going in a new direction. Kevin seems to address being in love as doing the same thing repeatedly.
The next track, "Instant Destiny," is slightly more familiar for Tame Impala, but it feels like new territory. There's an almost "old Kanye" and Tyler, The Creator influence on this track. On this song, Kevin's voice sounds better than it ever has. Possibly aided by a vocoder, he sings about acting on impulses while being in love with someone. It's about the joy of being alive. That feeling of living forever because you are so happy with someone. He says this as the drums, synths, and bass groove happily as their everlasting love slowly drifts into the stratosphere.
Now, while "Patience" is no longer on the record, "Borderline" is, albeit, in a very different fashion. The song got re-recorded and was made more electronic; an odd move for an act known for its psychedelic soundscapes driven by live bass or guitar. It feels like it doesn't fit. Its production seems annoying. The chorus feels great at first, but as it goes on, it gets more and more irritating.
It seems as though this song serves no place on this record, and that synth flute is, by far, one of the worst synth sounds I've heard on a record in a long time. However, all sins are forgiven on the next track, "Posthumous Forgiveness." This track shouldn't work. Aided by a guitar riff that's very reminiscent of Childish Gambino's "Redbone," this is Kevin's take on the classic love song soul torch ballad. It has all the hysterics, however, of a cheesy Aerosmith song trying to do the same thing, and a long outro about him meeting Mick Jagger.
Yet, despite all this, it somehow works.
Maybe it's how good the production is with the drums being the center point outside of the vocals. Every time the drums hit, all the other instruments seem to duck out of the way, as if they are afraid of it. There's a weird sense of dread that only escalates when some loud, buzzy synths take over the song midway through. And when the outro hits, a kick-ass breakbeat, amazing synth sounds, plus a very brief and understated guitar solo, create such an amazing mood that I'm willing to forgive the fact that it probably doesn't need to be a part of this song.
Then we get into "Breathe Deeper," which is the first straight-up dance song off this record. The drums are amazing, the hook is superb, the bass is groovy. It's all so perfect. The way this song is sequenced at the beginning reminds me very much of The Avalanches, another group that tries to experiment with making dance songs similar to how Kevin is doing here.
You can get lost in this song's groove, such a perfect mold of spacey psychedelics and old school disco. Suddenly at the end, a snippet of another song cuts in and then cuts out, treated in the same lo-fi fashion that the "Lonerism" record exists in. Then after that, we suddenly get an LCD Soundsystem-type synth dance groove that molds back into the song. Then the song morphs into another song again in the "Lonerism" mold. And then suddenly we are in "Tomorrow's Dust."
Everything about this song is beautiful. It reminds me of the '60s in a way that only Tame Impala can. As the track gets overtaken by some beautiful ARP synthesizers, it suddenly ends and we are back into the groove of "Breathe Deeper." This time, however, the groove sounds like it's echoing from a distance; as though you went to the bathroom to call your friend during a concert cause you needed a breather, which is exactly what the woman on the recording does.
Going into probably the best stretch of the album, we have the song "On Track." This song, for one moment, perfectly recaptures the feeling of "Lonerism" with the emotion in Kevin's voice and the badly recorded piano. As the song goes on, it gets more into something off of "Currents." The mix becomes drenched in phasers (a very "Currents" move) and we also get the dancey pianos, organs, and synths we have been getting from the previous tracks. It's almost like a meeting of the different Kevin Parker's we have seen throughout the years. Halfway through, the song goes into a breakbeat.
This is followed by "Lost In Yesterday," a song that feels like an even better version of stand out "Currents" track, "The Moment," with its '80s Michael Jackson "The Way You Make Feel" vibe. The hook, the drums, the bass, the guitar, the synth solo – it's all so superb. After that, we get "Is It True," which reminds me of the oddball dance music Talking Heads made in the early '80s with its oddly treated saxes, synths, and percussive groove. The saxes especially add a brilliant touch near the end of the song where the groove slowly builds back up.
Then it's "It Might Be Time," which starts off sounding like a Gorillaz track with its minimal drum machine synth groove but then builds into the hardest and crunchiest groove the band has done in a long time. The drums and the distorted bass and synths here could easily fit on a dark gothic post-punk record. That's how hard it is. The starts and stops on this track, while Kevin belts the hook, give me chills. As the song abruptly cuts off, we get the song  "Glimmer," which caps off this phenomenal run. It's short, electronic, danceable and it doesn't even sound like what you expect a Tame Impala song to sound like.
The final track, "One More Hour" is simply odd. It almost seems like a bunch of incoherent thoughts were cobbled together. Starting with a piano very similar to the final notes on The Beatles' "The End," the track slowly escalates into some grand and glammy guitar stomps and then into a drum groove that feels as much out of place as it feels like it fits. Kevin's lyrics feel almost secondary to what's happening, yet they are definitely important. It's very disorienting.
It's a weird way to close the album. Honestly, you could have gotten a more satisfying feeling closing on "It Might Be Time." Then "Glimmer" acts as a weird outro to the record. However, I think "One More Hour" is trying to wrap up the concept of the album in an artistic fashion. But it doesn't fully work. The album doesn't feel like it tried to build up its concept or motifs to earn a strange and difficult "concept album" ending.
An ending track can often shape how you feel about a whole record, and that's why I leave Tame Impala's "The Slow Rush" with a strange feeling. This feels like a brilliant left turn for Kevin Parker. However, like most of his albums, it feels a little disorganized and a bit too long. I'm sure over time that the impact this album has on me will grow. Maybe that's why it's called "The Slow Rush."
Rating: 3 3/4 stars out of 5
Leave a Comment
About the Contributor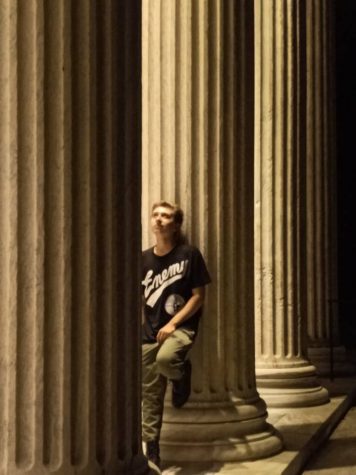 Jack Seda-Schreiber, Entertainment Editor
Jack Seda-Schreiber is the entertainment editor for The Impact News.

Born in New Jersey, Jack has an almost encyclopedic knowledge of music and a wide...