Getting Hooked onto Surf Fishing
After my experience this past summer of surf fishing for Fluke at LBI, I am glad my passion for fishing never wavered.
I have been fishing pretty much my whole life. Ever since I moved to 3rd grade, it was just a thing I was introduced to when I joined Cub Scouts as a kid, and have enjoyed it ever since. From the moment I cast my first line out at my local Arboretum, it's just been an activity I would always seek to do whenever I could. An arboretum is essentially a small park dedicated to various trees, but some have small ponds and the town I moved to had one close enough to the townhouse I lived in for most of my childhood. That is essentially where I fished from elementary school, up till middle school then past high school as a Boy Scout but even past that, as I had a few fishing friends that accompanied me on those trips.
The Thiekle Arboretum was where I would be fishing during most summers back then, as there was a point in time when I would just fish there with my friends for a few weeks, almost a whole month straight during one specific summer. It would be stocked full of trout, bass, sunnies, catfish, and later on, carp and koi. The usual species of fish are found in any freshwater pond in the northeast. This is where my love for fishing started and as much as I still occasionally visit my hometown and the arboretum just because, my interest in fishing after high school into college expanded vastly beyond what I thought was possible at the time. The days of waiting for that subtle or aggressive catfish or carp/koi bite on a warm summer day with the fountains going are long gone, as those carefree summers will surely be missed.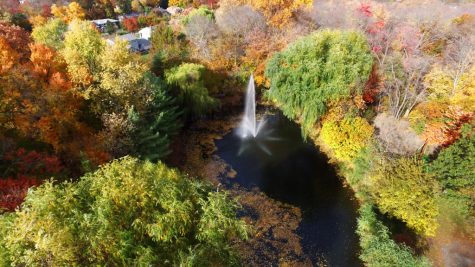 As memorable as those days were, another unforgettable fishing trip was when I was at Rutgers (prior to transferring to Mercy) and went on a collegiate bass fishing tournament with the bass fishing club at one of the bigger lakes I have ever fished at, Lake Champlain in New York/Vermont during the fall.
I was such a novice at the time, as I literally had a cheap spinning combo that was not even close to what my fishing buddies used for the tournament, but it was the only rod I had from my high school days and it got the job done. Even though we didn't do well in the bass fishing department, it was the first time going on a bass boat and it was the first time I ever caught a pike, let alone a massive one at that.
I seriously still don't know how that didn't snap my line or my rod to this day, I guess I was just lucky or it was just meant to be caught that day, cause it fought like a giant wet sock that I barely could get in the net. Ever since that moment, I became pretty obsessed with bass fishing and upgrading my gear, as well as expanding my horizons on where to fish for the big ones that were accessible to me at the time.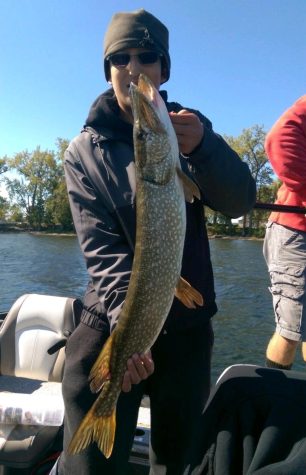 While there have been many ups in my personal fishing endeavors, there are plenty of downs where I did lose the big one or just didn't do as well as I hoped. That never stopped me from trying new places or just trying to go out and fish in general, as I mostly fished at my friend's lakehouse after that, as well as local public places with mixed success. With better gear, I was able to catch fish in freshwater the way I wanted to most of the time, but despite starting with fresh water and as much as I liked bass fishing, there was just something about surf fishing that I just wanted to do, but didn't have the resources to go do it. The concept of being in nature's element and casting into the ocean waves just appealed to me.
Occasionally, like once a year or once every other year, I would go out on a saltwater party boat with my dad, sometimes others as well, to fish for one of the best-tasting fish from the Atlantic Ocean, in my opinion. The fish is called the summer flounder or is referred to as the "fluke" around the Jersey Shore and up north. The boat fishing I did a few times was a fun experience I had with others, but it was pricey and if we would come up empty that day, it was just not worth doing consistently after a few outings of not the best luck.
In terms of keeping fish, I followed all the rules and regulations with keeper sizes and bag limits for saltwater but for freshwater, I usually pass and go catch and release. But with fluke, there is usually some change every few years and each state is different for summer flounder because it is one of the more sought saltwater game fish on the east coast.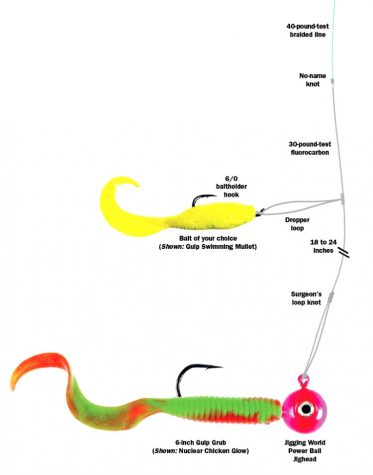 Even though I did attempt to shore fish a few times on the beach for smaller fish species like Kingfish (aka "Whiting" which are also good tasting) or other game fish like Bluefish off the jetty rocks by the inlets, overall it was more of a hassle than anything else due to snagging on the rocks or just not dialing into the bite consistently for other fish species.
The normal way you fish for fluke with scented plastics like GULP, whether it is on a boat or on shore, is some arrangement of a normal hi-low rig, with one hook on the top and a bucktail jig or a normal jig on the bottom. There are many modifications to this depending on the conditions and water depth so I won't go into that but that is the basic premise. This is a totally different way to fish for fluke as opposed to living minnows or dead bait like squid, which has its uses in certain applications.
Pretty much, all you do with this setup is to cast it out to holes in the surf and to jig/reel it in front of a fluke that is ambushing prey on the bottom and hope it doesn't pass up an easy meal in front of its face. You also have to insure that those jaws, which hold relatively sharp teeth, don't let go in the surf while you are reeling it in by keeping constant pressure on it. This type of shore fishing doesn't restrict you from catching a jumbo fluke either, as more boats search for the "doormats" in deep water, while the surf has untapped potential. You might have to weed out more short fish in comparison but I rather get more bites regardless and more spots to cover.
Overall, my outings to my friend's beach house in LBI, this past summer changed my total outlook on the type of fishing that I want to pursue and it was everything I was looking for.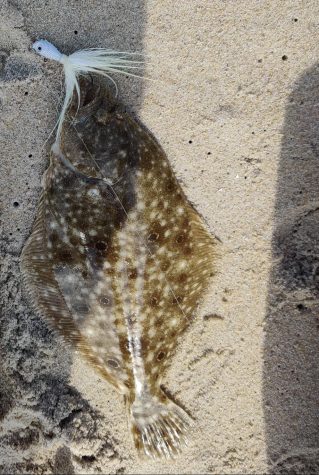 This method I was fishing for fluke with is sporty, as I was essentially using freshwater gear with some saltwater modifications and I was using a lighter rendition of the normal rig that is shown above, making it easier to cast and detect bites in the waves. You can go heavier to get more distance during low tide but during the change between tides and during high tide, the flounder are sitting right at the bottom very close to the wave breakers. I was told at the tackle shop to go lighter than you would think since you tend to get more bites with the bait having a slower fall rate, making it easier for them to easy and chase from the bottom up.
Flounders have both eyes on the top of their head, so looking for deep pockets is where you will most likely find them as they sit in the troughs between the sandbars. Just having the essentials of this rig and the GULP baits was all I really needed before my treks out to the beach, as it is a cost-efficient way to fish if you can tie your own rigs. Tides matter, but usually I went in the mornings to get first light and more time to walk on the beach, looking for potential honey holes. Some of those walks by myself on the beach, even if it was a grind at times, were enjoyable and brought the adventurous aspect of fishing that I missed somewhat.
Although it seems like a complicated process, it's all worth it for that early morning walk on the beach alone just to see the gorgeous sunrise, and to see a fish on the end of the line was just a bonus.
After doing a lot of my own research and looking up this type of beach fishing, whether it was articles online or through countless YouTube videos or talking to locals the tackle shops, I was determined to try this new type of fishing out this summer, as it certainly paid off better than I ever expected.
After a few days of just catching a few short flukes, I took home my first keeper that just measured just at the legal length (17 inches) to take home, as it felt great to get finally rewarded on one of the last days I went after all that trial and error, in the beginning, to end up with dinner at the end of it all.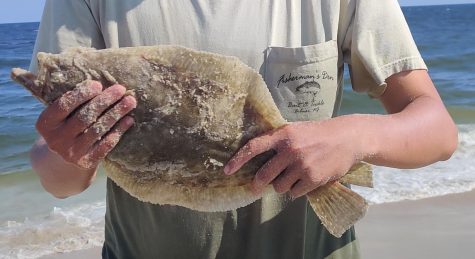 After a morning of catching a few shorts in the early morning, I decided to go back, take a nap, then head off again in the middle of the day during high tide.
My friends were already going to the beach to chill and tan anyway so I went, not expecting much.
With all the crowds of people in the middle of July on a humid bright day, I really was doubting myself and I wasn't sure if I could catch anything in these circumstances with the rough surf.
After my friends left and with not much to show for it other than a missed bite, I decided to fish some more and venture on my own, as I was getting many small bites but not landing anything for about an hour. That is when the big one hit, like a tank and I almost couldn't believe it. This fish came out of nowhere close to my feet in the waves and as soon as I measured it and made sure it was the keeper, I went back to get more ice on the cooler and to tell the others what I had accomplished. With a tired body after walking miles across the LBI shoreline and casting for hours each day for a few days straight, it felt good to check something off my fishing to-do list, as my passion for casting a line grows evermore.
Leave a Comment
About the Contributor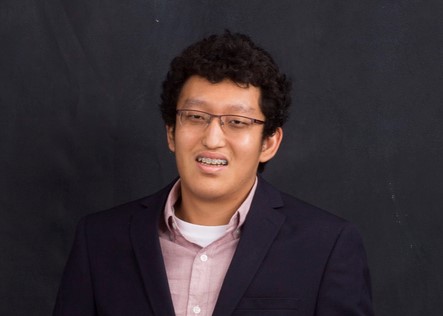 Andrew Kim, Impact Staff
Andrew Kim is a senior majoring in Journalism. Transferring and switching majors a few years ago was a big risk but it has been well worth it so far. Andrew...