Japanese Singer Ado Is Making Waves in the J-Pop Music Industry
Ado made her music known in the J-Pop industry last year, as this is only the beginning for the rising star hailing from Tokyo.
Anonymity is a way bigger concept in Japan compared to the West and for some, it's just for social media and privacy purposes.
But for Ado, it's a way of making herself truly known.
So who is Ado?
Well, the only given information we have on her is that she was born in Tokyo, is 20 years old currently, and her birthday is October 22. That's pretty much it, based on information stated on her profile on Cloud Nine, a Japanese artist management company.
Back in 2017, that is where it all started. As an utaite.
An utaite in Japan is considered a cover artist online or a digital singer/vocalist that posts covers of other songs. Specifically, on the Japanese video-sharing website called Niconico.
Niconico is essentially Youtube but just for Japanese covers of songs for anyone to play their rendition of. At least, that is my interpretation. And it is sort of a social media as well, as singers like Ado get their inspiration from seeing others on the site and wanting to cover songs like them. It sort of is a platform between professional and amateur, while the site can feature both for sure.
That is how Ado got interested in covering or making her music back in 2014 when she was watching these covers on a 3DS, which had Niconico. Some of these cover artists did not show their faces, which is where Ado got the anonymity from, as she is one of the biggest J-Pop stars that is doing this and got her name to fame as a YouTuber.
But before YouTube, she sang a cover of "Kimi no Taion" in 2017 on Niconico, which got her noticed and was featured on other artists' singles and/or albums in 2019. The Japanese mass media company, Pony Canyon, had her on a compilation album, as she participated and released two songs leading up to 2020, where she made it big and made her debut from utaite to professional.
She still sings on Niconico at times and makes sure to show tribute to her humble origins with her early Japanese fans. Ado has also gotten to streaming on YouTube (almost at 5 million subs) and other platforms lately, playing games or just talking with her subscribers/followers, as it can be a way to get to know her by doing something non-singing related.
But in her singing, it's obvious there are two sides to the story with her journey to getting to the top.
Using an anime avatar to represent her, Ado, who was about to turn 18 at the time, signed with Universal Music Japan aka UMG on October 23rd, 2020, and in the same year, she would be officially under a new global music brand and network, Virgin Music Label. Now under the largest division for a foreign company in Japan handling music distribution in the world, for her first-ever major single, Ado linked up with notorious Vocaloid producer Syudou to bring something different.
Something unique. Something that brought the aggressive and inner rage out of Japan without getting carried away. In came the hit song, "Usseewa" which broke the music charts in Japan when it first came out, as the music video currently has over 270 million views on YouTube.
Her debut smash hit peaked at the top of Billboard Japan Hot 100 and the single reached 100 million plays only after 17 weeks. I think fans of hers like I am, love this as one of the best features of her singing, and it is what makes her voice unique compared to many other singers like her.
Range. So much range.
Her music can go from a beautiful ballad to letting the rage monster out to funky uptempo rapping all within the same song, as it simply seems like there is no limit to what Ado can do musically as a vocalist.
It is essentially perfect or close in whatever way you think and listens to it, and it's at a level that blows me away every time without fail. Whether it's the lower angry growls and boastful and proclaiming shouts to the soft, higher pitch notes and falsetto she can hit with incredible accuracy (pardon my vocal terminology), Ado has been on some sort of constant repeat for me, at one point or another.
Something else that stands out is the production and whatever beat or instrumental she, or the producer she is working with, chooses, as it matches Ado and her voice perfectly (as her singing also complements the production itself). Most of the production has roots in the older, classic use of instruments, but with a modern feel that is perfected to its final form in every song. Or at least that is how I interpret the use of their instrumentals, cause no matter the song, it's just a guarantee for me that it's going on the never-ending playlist of J-Pop/ J-Rock.
Her style and multi-faceted persona as an artist are defined in her first debut album, which is 14 songs, 2022's "Kyougen," as the name "Ado" is a supporting character from the Japanese comic theatre Kyogen. Ado talks about it more in her feature documentary interview as a candidate for "Youtube's Artist on the Rise," as she was chosen next to, funny enough, DaBaby, the famous rapper from North Carolina. Also in 2022, Ado won "Best New Asian Artist Japan" for MAMA or the Mnet Asian Music Awards, in which K-Pop often dominates the categories yearly. I figure this is just the beginning for her in winning accolades.
Ever since a friend on Discord told me to listen to her back when everyone was indoors due to quarantine and bored out of their minds, her songs are just in my mind rent free. It probably is just me, but back then, I fell out of favor with Western music, no matter the genre, even if I'd enjoyed it for years prior.
I am not sure why this happened then and to this day, I don't know the cause. Maybe I just liked anime and/or Japanese music back then but I just didn't know it and to what extent.
But what is more surprising is that I love any J-Pop/ J-Rock over whatever genre of music nowadays, English or not, despite not knowing a damn word of what they are singing in the lyrics or what they are talking about.
The vocal sensation Ado continues her takeover of J-Pop, as she released a teaser to her new single coming up shortly called "Ibara," as she links up with well-known J-Pop/J-Rock artist Vaundy.
Last month, Ado released her first single of 2023 "I'm a Controversy" and it has 10 million views on YouTube with famous Vocaloid producer PinocchioP. Last year, she also came out with catchy singles to cap the year off and did so with "Missing" with 4.2 million views and "Rebellion" with 9.1 million views.
But Ado's 2022 wasn't just for singles, it was the start of her massive rise in J-Pop. She was the singing voice for Uta, the soulful lead character in the 2022 anime film One Piece Film: Red, and produced an eight-song album for the film that first came out in August of last year in Japan. These songs also charted at the top of the Billboard Japan Hot 100 for a while, as "New Genesis" peaked there for several weeks.
With the One Piece Film: Red coming to the United States and other countries in November, it was announced a month before that Ado inked a deal with Geffen Records, as she celebrated her 20th birthday, making it the third year of her professional music career.
This will allow her to release music in the States, as a global expansion in the plans for the J-Pop star. Geffen Records is an American label that is owned by Universal Music Group and has an imprint through Interscope, with prominent artists in their label history. She posted a voice tweet about her new record label when it was announced, as Ado tries to flex her English speaking, appreciating her fanbases across the world.
— Ado (@ado1024imokenp) October 24, 2022
Ado still thrives in the dark and even took part in her second live concert in Japan last summer at the Saitama Super Arena, in which she sold out 20,000 tickets. You can see her performance of "Odo" live on YouTube. With more tours in Japan to come and potentially globally now, Ado signifies virality with just a single song that started it off. Singing and performing behind the shadows, Ado's rise to fame and notoriety as a vocalist and hit singer is truly one to remember, one that transcends language barriers. One that impacted me was when I started listening to J-Pop and J-Rock or whatever you consider anime and Vocaloid music.
All I know is I kept going on the J-Pop route a few years ago and haven't looked back to this day. There are plenty of great artists in Japanese music that I have listened to in no particular order (like LiSA, Reona, Zutomayo, Aimer, Yoasobi, Amamiya Sora, Sangatsu No Phantasia, Ano, etc.) and have my fair share of praise for, but I don't think one will make an impact as much as Ado and what her introduction did for me.
Ado is just different.
Leave a Comment
About the Contributor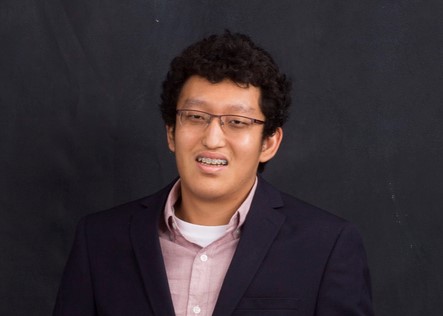 Andrew Kim, Impact Staff
Andrew Kim is a senior majoring in Journalism. Transferring and switching majors a few years ago was a big risk but it has been well worth it so far. Andrew...