Lamar Jackson Returning to Baltimore Next Season Makes Sense
Why does Lamar essentially have no public interest from any team, other than the Ravens from their end, despite free agency starting more than two weeks ago?
There are many potential scenarios for how this can go down and plenty of ways Lamar Jackson's saga with the Ravens can either continue or end abruptly.
And there isn't a timetable for any of this to happen anytime soon, till at least the summer months after the draft when he has to sign his franchise tag. However, a few weeks after Baltimore put the non-exclusive tag on Jackson, he tweeted this out weeks later stating his frustration with the team.
This does not mean Jackson is automatically not a Baltimore Raven.
There are plenty of examples of players disgruntled with their contracts, to then play for the same team the following year (i.e. San Francisco 49ers wide receiver Deebo Samuel before he signed an extension last offseason). However, this is a different circumstance, as Jackson being on the non-exclusive franchise tag could give him options if another team is willing to offer, and if that is the case, it would fall into one of those rare circumstances as a quarterback under this type of franchise tag to not play for them.
in regards to my future plans. As of March 2nd I requested a trade from the Ravens organization for which the Ravens has not been interested in meeting my value, any and everyone that's has met me or been around me know I love the game of football and my dream is to help a team

— Lamar Jackson (@Lj_era8) March 27, 2023
With the non-exclusive franchise tag, teams (with their original first-round picks this year and next) that are interested have to talk with Lamar and his camp to come up with an offer sheet that Baltimore has to either match or decline within seven days of being offered.
If the Ravens match, they keep him at that price but if they don't, Baltimore receives two firsts (one this year and one next).
But it doesn't have to go this route for Jackson to stay with the team, as negotiations have been and still are ongoing, so maybe there is a chance the two sides make ends meet with an extension.
However, if the Ravens and Jackson agree with the team they are trading him away to, all parties can negotiate the compensation to make it either less or more than two firsts, but Jackson would have to sign his franchise tag first (as a tag and trade type of deal). So this can get even more complicated than it is, as any type of decision could be prolonged from now till August.
As a fan of any NFL team, you may be wondering. Well, he is a former MVP and is a top-ten quarterback when healthy and certainly deserves a contract worth at or near the top of the league at the quarterback market.
Even from the quarterback-needy teams picking at the top of the draft, it just seems there isn't much movement on either front, despite Jackson's tweets, as the Ravens are still saying the same things they harped on a year ago.
Especially when Cleveland Browns quarterback Deshaun Watson was heavily pursued by multiple teams publicly and ultimately got what he wanted, even with all his red flags off and on the field.
The fully guaranteed contract.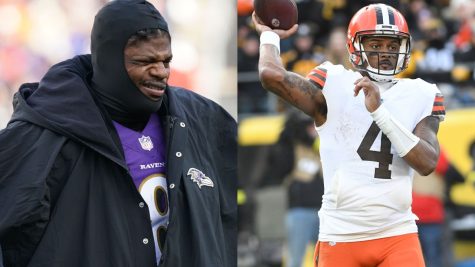 In comparison, Watson was sought after extensively, with teams knowing he would be suspended most of last season.
Watson also has two season-ending torn ACLs in his medical history, one in college and one in the NFL, not to mention his other injuries from Clemson that caused him to miss games.
In comparison, Jackson has only missed one game in college and twelve games total in the NFL, three with illness or COVID related, and the other nine were in regards to his sprained ankle and sprained PCL he dealt with the past two years (based on his medical history).
This is compared to Watson, who has been in the league for five seasons, not counting 2021 where he didn't play a snap before he was traded.
Not to mention, the former Houston Texans quarterback has a huge asterisk next to his name and was still heavily sought after, even with all those sexual misconduct accusations and lawsuits he's faced.
This isn't even taking the actual stats, games won, and playoff/MVP resume into account, as Jackson has Watson beat on that one in pretty much all counts. However, one of the main knocks on Jackson, ever since he was drafted, was his play style and whether it would hold up in the pros since his playing style is different from Watson's.
The ironic thing is even with him taking hits more as a ball carrier than normal pocket quarterbacks, the injuries he has sustained (PCL and ankle) occurred while the Ravens quarterback was in the pocket. I would even argue that staying in the pocket too long has caused some of these lingering injuries to occur since defenders are the closest to him and try to get him down before he takes off out of the pocket.
Anyone that has ever watched Lamar Jackson ever knows he just doesn't take as many big hits as you would think a running quarterback would. His elusiveness and awareness help him avoid the big shot and when Jackson is in open space, he just knows when to get down or go out of bounds or just simply contort his body where a defender can't get square into his chest or body as hard as he would want to.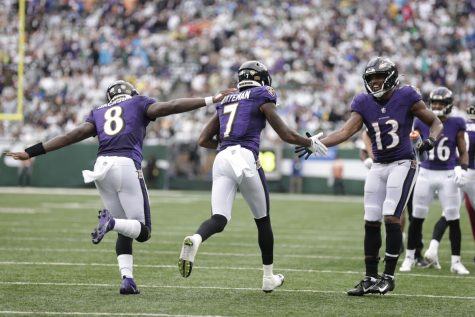 Despite this, even teams that need a quarterback to upgrade badly immediately came out to say and express their disinterest in pursuing Jackson or later explained that their owners and/or general managers were just not into giving away assets to them to give him a lucrative contract.
Publicly, maybe they said this as a farce to lower his price but it just doesn't make sense of the timing and for many teams to do this when there was no rush or reason to declare it.
But based on Watson's trade and what the Browns had to give up (three first-rounders and more draft capital) to then pay him fully guaranteed and even the Russell Wilson trade (two first-rounders plus more picks and players), why wouldn't they? Even the Matthew Stafford trade was a minimum of two firsts (and a quarterback swap with Jared Goff).
To pass on Jackson, a known commodity and All-Pro talent, when this was the minimum based on previous quarterback trades when they all re-signed to their new teams (even if they weren't on a franchise tag) is absurd. Especially for NFC teams who needed a quarterback, as the AFC is stacked at the position and it could change their franchise as a potential playoff contender right away.
Will Jackson get his guaranteed money or will the owners of other NFL clubs hesitate on giving up the compensation and cash it would take to acquire him?
While Jackson might not be seeking that, I would imagine teams may not be on board with either the length of what he wants or something similar (at least near or somewhat more than the Kyler Murray extension).
The obvious consensus reason a move hasn't happened yet is due to the guaranteed contracts, as owners of NFL clubs are adamantly against fully guaranteed deals and don't want Watson's deal to set the new standard.
The richer owners with the cap space and draft capital would benefit the most if they pursue Lamar, as the guaranteed money has to be in possession by the team, essentially in cash or what is known as escrow, when they propose the offer sheet.
But teams may think Baltimore might match whatever offer they sent to Lamar that is on the table, as the Ravens have only made one free agency signing (Nelson Agholor, sigh) and have been trying to get more cap by trading (Chuck Clark) or cutting other players on the roster (like Calais Campbell). Publicly, the Ravens have stated they want him as the quarterback for the 2023 season, and teams by proposing an offer sheet could be doing the work for them as Lamar can be seen as more valuable to Baltimore compared to other organizations.
But Jackson not having an agent made this complicated 100%, as it got to the point a non-official representative was talking to teams for him and the league itself had to send a memo to not negotiate with him, only with Jackson, and if the memo was not followed, the NFL itself would fine that team and potentially null and void any offer sheet proposed.
However, them letting the market decide Lamar's true value was a tactical move but a gamble, as Lamar tweeted what he did right before Harbaugh was set to talk to the media at the owner's meeting last week.
As this Jackson and Ravens drama goes on, it looks bad on both sides, if Jackson does end up on another team.
The draft is weeks away and if the Ravens don't ship him, this opens up a gateway for new potential teams to go after him, as the first-rounders you would have to give up would be for 2024 and 2025 (so teams that need a quarterback could wait) and teams that couldn't talk to him before would be able to post draft.
There is even the possibility that Jackson sits out since the Ravens can franchise tag him next and even the following year (and it's cheaper due to non-exclusive this year) if they want and get to the point.
But I highly doubt it, just cause he would lose out on so much money (about $32 million) for just this year, even if it is an injury risk playing under the tag.
In the hypothetical scenario, Jackson is moved, as a Baltimore Ravens fan, I would still be against it. But ultimately if he had to be traded, I think the Ravens should gun for a top-five pick, as four quarterback prospects are on a tier of their own in this year's draft class (give or take).
The more likely team that would trade for Jackson would be the Indianapolis Colts, who hold the fourth overall pick. So with Alabama's Bryce Young and Ohio State's C.J. Stroud (in whatever order) likely off the table, Florida's Anthony Richardson and/or Kentucky's Will Levis could be the next quarterback targets in the draft. Personally, I would favor Richardson's upside over Levis's if I couldn't get either Young or Stroud.
If somehow the Ravens don't go the early quarterback route and go in the mid to late rounds, Georgia's Stetson Bennett makes sense due to familiarity with the offensive coordinator in Monken, who Baltimore just brought in to replace former O.C. Greg Roman (don't get me started). It would be unfortunate if we never see Jackson in a non-Roman offensive scheme as a Raven, as it was one of the reasons Jackson had success early, but one of the reasons things fell apart the last few years, in terms of the scheme itself and the personnel, with free agency and the draft.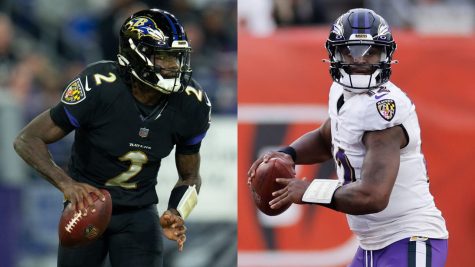 UCLA's Dorian Thompson-Robinson also could be a fit based on athletic traits Baltimore normally covets in their offense like Anthony Brown, the former Oregon undrafted rookie from last year. But those rookies would either sit right away behind or at least compete with restricted free agent and Pro Bowl (same amount as Jackson surprisingly) signal caller Tyler Huntley.
The former undrafted quarterback from Utah has had his moments in games the last three seasons, but I am not ready to go down that road of even the thought of Huntley as a full-time starter yet.
If this scenario took place, I would take it, as a fan, that the Ravens are taking a step back in 2023 and are fine with a reset year, as they could be looking to rebound the following season and get their new franchise quarterback if they get a high enough pick in 2024 if they don't select one in the first round the previous year, again only if Lamar is traded.
Hopefully, sometime this offseason, some of the questions like if the Ravens are the best option for the former MVP and if he wants to play next season will be somewhat resolved and put to bed. But if something happens, contingency plans need to be worked out if they decide to ship him off or if Jackson just doesn't want to play for them in the end due to contract disputes.
As much as it hurts me, I do want Lamar to get his money and get what he's worth at the end of the day, as I will still be a fan of his even if he leaves the Ravens. I have some lingering hope Jackson stays, regardless, nobody can doubt he achieved greatness in Baltimore during his MVP campaign.
From college to the NFL, Lamar Jackson is one of the most exciting players to watch all time when he has the ball, period.
Leave a Comment
About the Contributor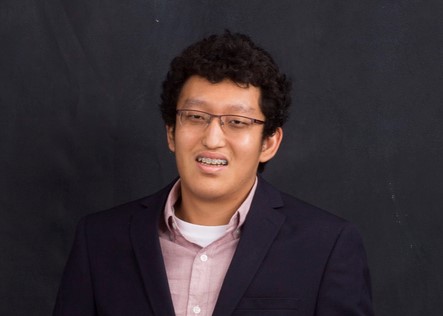 Andrew Kim, Impact Staff
Andrew Kim is a senior majoring in Journalism. Transferring and switching majors a few years ago was a big risk but it has been well worth it so far. Andrew...