Men's Basketball Pulled from ECC Tournament Due To Opponent's Failed COVID Test
The Mercy Men's basketball team (2-5) was set to face the Molloy College Lions on Wednesday night in the opening round of the ECC tournament after a previous opponent team's player failed a COVID-19 test.
One of D'Youville's student-athletes tested positive for COVID-19 after Mercy played them on Saturday. Due to the circumstances, 10 players on the Mavericks men's team have to quarantine and as a result don't have enough players to participate in the tournament game.
Mercy College Athletic Director Matt Kilcullen said there was nothing Mercy could do and it was out of the school's control.
"We played four women's home basketball games and four men's home basketball games this season, and we had not one issue until this past Saturday. We didn't know anything until we got the call from our opponent that one of their players tested positive Monday morning."
Mercy had to cancel the game because they had to quarantine and the East Coast Conference tournament started on Wednesday, with the Semifinals being on Friday. The conference can't wait on a team, so the Molloy College Lions automatically advanced to Friday's ECC Semifinals against the St. Thomas Aquinas College Spartans. They will play for a chance to get into the ECC championship as a 3-7 team.
This was going to be the Mavericks' first tournament appearance since 2016 and on the hunt to capture their first ECC title in program history. After finishing the season only stringing off two wins, the Mavericks were confident that they could have maybe stolen a game in the tournament. The team they were going to play in Molloy College was one of their two wins this season.
However, this can propel the team and motivate them to do better next season. After only winning two games during a season that was only a month-long, then their season being cut short due to unfortunate circumstances, it seems like the Mavericks couldn't catch a break all season. But, they still played together as a team and had good chemistry despite not having a preseason and only playing a total of seven games.
Sophomore guard Garrett Kirkland expressed what will motivate him and the team next season after the cancelation of the tournament game.
"My motivation is the fact that we'll have an actual preseason with a great group of guys. I truly believe, we have a great group where we can really build and create something special here."
Kirkland had a solid sophomore season he was second on the team in three-point percentage and free throw percentage and third on the team in points with 58 total points.
Kerwin Prince was the freshman standout for the Mavericks this season as he was named ECC rookie of the year and was just recently named second-team all-ECC. He is currently ranked second in the ECC in points per game and rebounds per game while also being ranked third in field goal percentage, right behind teammate Dayvon Cuffey.
"It's tough to end like this but things happen that's life," Prince said, "but I just have to move on and keep getting better and better every day."
Prince came to Mercy after being a standout high school player in Waterbury, Connecticut for Crosby High School.
Other players such as AJ Morales also expressed his hurt that the season was cut short.
"It's really tough to be cut short of playoffs, especially when you see other schools in our conference still playing. Other d2 schools across the country playing. It's not an easy pill to swallow, but we have to just keep controlling what we can control and get better."
The Mavericks showed promise this season. The players and the athletic department were confident that the team could have maybe done some damage in the tournament. But there is always next season. Mercy ended up being fourth in the conference in points and second in team rebounds. There only two wins came from beating Molloy College and D'Youville College in the season finale.
"First of all, we wish the young man from D'Youville a quick and speedy recovery. Second, we are devastated for our team's ability to continue the season, but it is a game we are missing and people worldwide have lost much more than that," said Kilcullen in a statement.
STAC (12-1) went on to beat Molloy, 110-75, in semifinals on March 5. It will face No. 2 seed Daemon College in the finals on Sunday. The teams split during the regular season and likely headed to the D-II NCAA tournament next week.
Leave a Comment
About the Contributor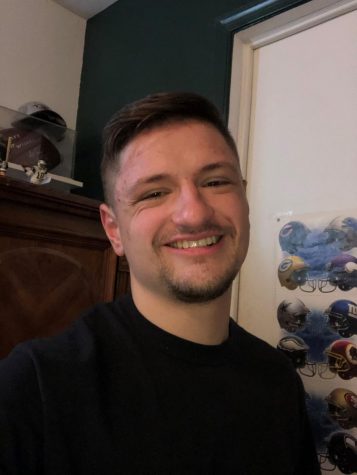 Alex Wendling, Impact Staff
A die-hard sports fan who is eager to learn more about the sports media industry. His dream is to one day work for a big sports news outlet. He is a die-hard...