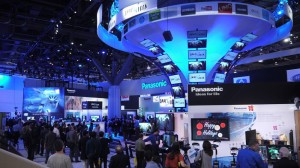 Sasha Majette, Staff Writer

January 31, 2013
The world's first Shape Shifting Tablet. One of the most talked about inventions from the 2013 Consumer Electronics Show is a tablet that produces a keyboard out of the screen. The display is so hard to describe that many news outlets are just calling it a screen that goes "lumpy" and when unactivate...
Tags: 2013, ces, illumiroom, innovation, inventions, nvidia, pebble, samsung, sony, tablet, technology
Andrew Kim
Andrew Kim is a junior majoring in Journalism. Transferring and switching majors a few years ago was a big risk but it has been well worth it so far. Andrew is from Glen Rock and loves writing about his...
Maya Wiggins
Maya Wiggins is currently a senior at Mercy College studying Media Studies. I love writing whether it is a song or a poem. Writing is my safe haven. She writes a column titled The Loner Galaxy
Michael Perrota
Adviser
Prof. Michael Perrota began teaching at Mercy College in 2005. Previously, he was a full-time reporter for North Jersey Media Group in the sports and news sections. After he began teaching, he worked in...
Sedoney Henry
Sedoney (Sid-Don-Knee) Henry was born in Jamaica but grew up in New York with a lifelong love for poetry. She's been writing poetry for years, as it always came naturally to her. She's a junior in the...
Alexis Lynch
Social Media Editor
Alexis Lynch is a junior majoring in Media Studies with a focus in Journalism. Living in Westchester, New York her whole life she has been very focused on the entertainment industry as well as sports,...
Julianna Ilise
Julianna Ilise is a 21 year-old. She grew up in Monroe, New York with her mother, father, sister, step-father and step-brother. She is currently attending Mercy college studying Radio and television production....
Estefania Salinas
Impact Staff
Estefania Salinas is a senior majoring in Media Studies: Radio & TV Production with a secondary concentration in Journalism. She is a passionate news reporter. She loves to get out in the field interviewing...
Jillian Simmons
Impact Staff
Jillian Simmons is a junior studying Television and Radio Broadcasting, with a secondary concentration in journalism. She has a passion for video editing and writing, and after graduating hopes to get...
Jess Brandt
Sports Editor
Jess Brandt is a Media Studies major specializing in Journalism. She is from the wholesome town of Folsom located in beautiful Northern California. She is a member of the Mercy College Women's soccer team...
Chevaughn Hurst
Impact Staff
Chevaughn Hurst is a senior majoring in media studies with a concentration in journalism. He grew up in Jamaica and migrated to the United States at the age of 6 years old. His friends and family call...