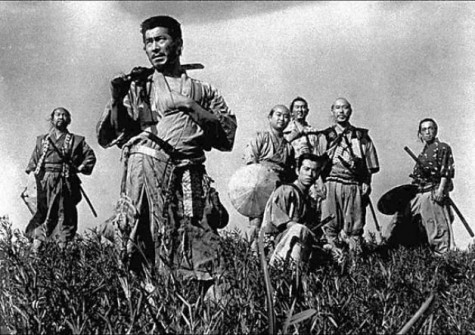 Rashaan Pace, Impact Staff

July 6, 2015

Filed under True Story
Akira Kurosawa's 1954 film, Seven Samurai, is a film in which many of the different dichotomies entrenched within Japanese society are critically and effectively addressed. Through intense character analysis and observation of plot,  one can approach  these various dichotomies from many d...
Staff Profile
Olivia Meier
Impact Staff
Olivia Meier, most commonly referred to as Liv, is a journalism student at Mercy College. And while she loves New York, she is a true Jersey girl. If she's not writing with a latte in hand, you can find...
Read all stories written by Olivia Meier
Andrea Loaiza
Staff Writer
The name is Loaiza, Andrea Loaiza. She is currently a junior in Mercy College on her way to getting her bachelors in Media and Journalism. She was the managing editor for her high school newspaper...
Read all stories written by Andrea Loaiza
Matt Reich
Impact Staff
Matt Reich is a guy constantly on the go who can't let a minute go unused. Born in a city in Texas, raised in rural Connecticut, and now he's trying to make it in New York. An avid comedy fan who follows...
Read all stories written by Matt Reich
Nicole Acosta
Staff Writer
Nicole is from the Bronx and is a journalism major at Mercy College. Her hobbies include discovering new places to eat, photography, listening to every current album you could think of, and re-watching...
Read all stories written by Nicole Acosta
Nora-Grayce Orosz
Impact Staff
Nora-Grayce is a journalism major from Yonkers. She is a music and pop culture addict who lives for concerts and festivals. In her spare time she can be found binge watching the X Files, photographing...
Read all stories written by Nora-Grayce Orosz
Jack Henry Johnson
Staff Writer
Jack Johnson (no, not the singer) Jack Johnson has always believed that his writing abilities would be crucial to his future. As a young student the only thing that he seemed to understand or really...
Read all stories written by Jack Henry Johnson
Tanisha Esprit
Impact Staff
Tanisha Esprit, also known as Tan Tan or T, is majoring in journalism at Mercy College. She is from the breathtaking island of St.Thomas, USVI. She enjoys the view of pages turning and the pen gliding...
Read all stories written by Tanisha Esprit
Karen Polanco
Impact Staff
Karen is dull and boring and that is why she can't write a bio. She lives in Connecticut. Or something. She edits videos fairly well. Rumor is she loves donuts. She can be reached at...