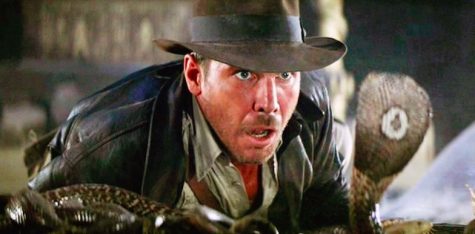 Stephen Lyons, Staff Writer

April 19, 2018
As readers of this column have noticed, I've done all TV series, it's time to change things up. The first movie series I've decided to watch, in this columnist's humble opinion, is the greatest franchise in the history of franchises. Indiana Jones is my favorite franchise of all time and I will s...
Michael Perrota
Adviser
Prof. Michael Perrota began teaching at Mercy College in 2005. Previously, he was a full-time reporter for North Jersey Media Group in the sports and news sections. After he began teaching, he worked in...
Valerie Lopez
Associate Editor
Valerie Lopez is the Associate Editor of the greatest publication on the Hudson. From upstate New York, Val enjoys expressing herself through singing and dancing. Along with this, comes a love for music...
Jared Naut
Impact Staff
Jared Naut is a junior majoring in journalism hailing from the town of Parlin, New Jersey. When Jared is not writing, you can catch him listening to his favorite acapella group, Pentatonix, or binge-watching...
Julianna Ilise
Julianna Ilise is a 21 year-old. She grew up in Monroe, New York with her mother, father, sister, step-father and step-brother. She is currently attending Mercy college studying Radio and television production....
Amber Perez
Impact Staff
Amber Perez is a Journalist major here at Mercy College. She is currently residing at The Bronx, New York and enjoys listening to music and reading books about romance. Her current favorite writing...
Michael Panteleo
Impact Staff
Michael Panteleo is a senior and studies journalism at Mercy College. He enjoys writing, watching, and playing football and basketball. He is a member of the Collegiate Scholars program at Mercy College...
Jack Seda-Schreiber
Impact Staff
Jack Seda-Schreiber is the entertainment editor for The Impact News. Born in New Jersey, Jack has an almost encyclopedic knowledge of music and a wide and diverse range of musical tastes. Jack not...
Estefania Salinas
Impact Staff
Estefania Salinas is a senior majoring in Media Studies: Radio & TV Production with a secondary concentration in Journalism. She is a passionate news reporter. She loves to get out in the field interviewing...
Jess Brandt
Sports Editor
Jess Brandt is a Media Studies major specializing in Journalism. She is from the wholesome town of Folsom located in beautiful Northern California. She is a member of the Mercy College Women's soccer team...
Dan Rebain
Impact Staff
Dan is a VERY TALL person, a sports enthusiast that can't stop talking about FOOTBALL, HOCKEY, BASKETBALL, SOCCER, and MMA. Also, he's making jokes on anything 24/7. He is a junior Media Studies major...