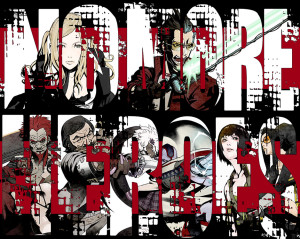 Joseph Torres, Impact Staff

May 15, 2012
While many people might look at gaming as infantile, we look at those people with our controllers held high and say this game is better than any show you watch on television. Books, Comics, and gaming are the only thing providing Hollywood with anything worthwhile. Adaptions are what Hollywood is known...
Michael Panteleo
Impact Staff
Michael Panteleo is a senior and studies journalism at Mercy College. He enjoys writing, watching, and playing football and basketball. He is a member of the Collegiate Scholars program at Mercy College...
Michael Perrota
Adviser
Prof. Michael Perrota began teaching at Mercy College in 2005. Previously, he was a full-time reporter for North Jersey Media Group in the sports and news sections. After he began teaching, he worked in...
Alexis Lynch
Social Media Editor
Alexis Lynch is a junior majoring in Media Studies with a focus in Journalism. Living in Westchester, New York her whole life she has been very focused on the entertainment industry as well as sports,...
Jess Brandt
Sports Editor
Jess Brandt is a Media Studies major specializing in Journalism. She is from the wholesome town of Folsom located in beautiful Northern California. She is a member of the Mercy College Women's soccer team...
Jillian Simmons
Impact Staff
Jillian Simmons is a junior studying Television and Radio Broadcasting, with a secondary concentration in journalism. She has a passion for video editing and writing, and after graduating hopes to get...
Julianna Ilise
Julianna Ilise is a 21 year-old. She grew up in Monroe, New York with her mother, father, sister, step-father and step-brother. She is currently attending Mercy college studying Radio and television production....
Andrew Kim
Andrew Kim is a junior majoring in Journalism. Transferring and switching majors a few years ago was a big risk but it has been well worth it so far. Andrew is from Glen Rock and loves writing about his...
Sedoney Henry
Sedoney (Sid-Don-Knee) Henry was born in Jamaica but grew up in New York with a lifelong love for poetry. She's been writing poetry for years, as it always came naturally to her. She's a junior in the...
Noelle Ramirez
Maya Wiggins
Maya Wiggins is currently a senior at Mercy College studying Media Studies. I love writing whether it is a song or a poem. Writing is my safe haven. She writes a column titled The Loner Galaxy