8 Films Every Humanitarian Should View
Around the globe film has been instrumental in bringing awareness to certain issues and even bringing about change. Here is a list of films, both recent and past, that every person who cares about issues surround human rights should take the time to see. All of these films are based off of real life events and are important in their respective places, thus their number placing on the list is of no significance.
8. Hotel Rwanda (2004)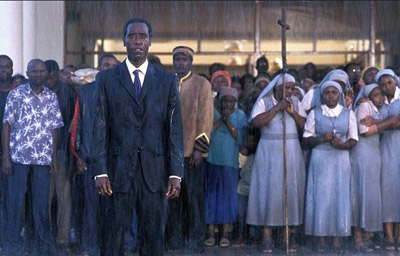 Hotel Rwanda is director Terry George's 2004 film telling the true story of Paul Rusesabagina's sheltering of thousands of Tutsi refugees during the spring of 1994 in which various Hutus slaughtered an estimated 500,000- 100,000 Tutsis. In response to the genocide, Rusesabagina, the manager of a hotel, and husband of a tutsi woman, puts himself in harms way by using his clout with the UN and high ranking Hutu members to procure the safety of these oppressed people.
7. Schindler's List (1993)
One cannot produce of movies dealing with issues of human rights and genocide and not mention Steven Spielberg's 1993 film Schindler's List. Much like Hotel Rwanda, Schindler's List is the historical drama which depicts Oskar Schindler, a German businessman's, attempts to prevent Jews from enduring the horror of the concentration camps during the Holocaust by offering them work in his factory. By extending his help Schindler saves thousands of innocent lives.
6. The Stoning of Soraya M. (2008)
Set in 1986 Iran, director Cyrus Nowrasteh's 2008 foreign film The Stoning of Soraya M. tells the story of a woman's brutal murder at the hands of her husband and community. After seeking to marry another woman, yet not being able to convince his wife to grant him a divorce, Ali, Soraya's husband begins to spread lies of infidelity about her around the community. The story is told by a character named Zahra, Soraya's aunt, who tells the story to a journalist, whose car has broken down in their area only a day after the events have occurred. Unable to prove her innocence, according to Islamic law, Soraya is buried up to her torso and stoned to death by her husband, two sons, and other member of the community.
5. Rosewood (1997)
Belonging to the same convention of film as Schindler's List and Hotel Rwanda, director John Singleton's 1997 historical drama Rosewood, staring Ving Rhames and Don Cheadle, brings to the cinematic screen the 1923 massacre of Rosewood, Florida. A white woman is beat by her husband and accuses a black male of the offense, which set into a motion a 7 day witch hunt for a man who doesn't exist with the African American community of Rosewood being terrorized and burned down in the process.
4. In The Time of the Butterflies (2001)
Based on author Julia Alvarez's 1994 historical novel of the same name, director Mariano Barroso's 2001 film In the Time of the Butterflies tells the story of the Mirabal Sisters, Las Mariposas (The Butterflies), and their leading of the resistance against Dominican dictator Rafael Trujillo. Not only does Trujillo massacre hundreds of hundreds of Haitians at the border, he oppresses his people, slaughters those who oppose him, and ultimately has three of the four sisters killed in a mountainside ambush with machetes and clubs. The film and book do well to highlight issues of gender inequality as well as basic human rights.
3. Boys Don't Cry (1999)
Hillary Swank, in director Kimberly Peirce's 1999 bio-drama, Boys Don't Cry, portrays Brandon Teena, a female who chose to live her life as a male. Based on true events, Teena arrives in Lincoln, Nebraska, links up with some locals, falls in love with a girl, and attempts to settle in.Though her anatomical sex is questioned, nobody throws it to the forefront until Teena is arrested and her identity is revealed in the local paper. Intolerant of Teena's alternative lifestyle, John Lotter (Peter Saargard) and Tim Nissen (Brendan Sexton III), carry out the brutal rape of Brandon Teena. When police choose to focus their energy on Teena's lifestyle rather than the crime committed against her it becomes clear she'll receive no help. While seeking refuge at a friend's house, she's found and shot to death along with the friend who gave her sanctuary.
2. Selma (2014)
Set in 1965 Selma, Alabama, director Ava DuVernay's 2014 historical drama brings to the big screen the protests, marches, and brutality endured by the protesters in the struggle to obtain equal voting rights for African Americans in Alabama. Though DuVernay has said it's not another Dr. King biopic, Dr. Martin Luther King Jr. (David Oyelowo), plays the central figure in the progression of the protests, the organization of the march which became known as "Bloody Sunday", and ultimately the 5 day, 54 mile March from Selma to Montgomery, Alabama.
1. The Normal Heart (2014)
Based off Larry Kramer's 1985 play of the same name, director Ryan Murphy's 2014 film The Normal Heart focuses on the rise of HIV/AIDS, "Gay Cancer", in the gay community beginning in the summer of 1981, a group of activists led by Ned Weeks (Mark Ruffalo), and their mission to solicit the government for funds for research in finding a cure. Ultimately, when it becomes evident that HIV/AIDS isn't an exclusively homosexual disease, but can indeed become transmitted heterosexually, President Reagan says makes a speech and says the words HIV, after three years of an epidemic and thousands of deaths in the gay community.
Leave a Comment
About the Contributor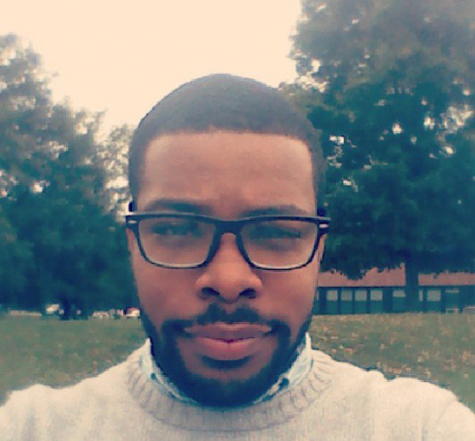 Rashaan Pace, Impact Staff
Rashaan Pace is a senior at Mercy College Majoring in Media Studies: Film/ Culture, and minoring in history. Rashaan is always looking for a new way to...