Top 15 New York City Professional Athletes All Time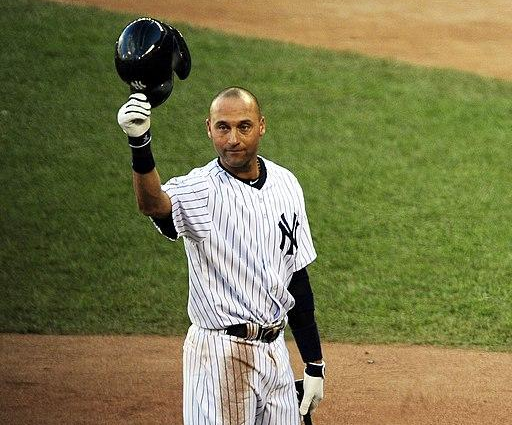 The best city in America is home to some of the greatest professional athletes of all time. With a grand total of THIRTEEN teams calling NYC home, there are tons of different options to choose from.
Now, I understand that the Jets and Giants play their games in New Jersey. Please relax. They still count in this series. Otherwise, we might as well make this list a top 15 Yankees list. Nobody really wants that. Also, the Devils, Islanders, Nets, and Liberty were all considered, along with New York FC and the New York Red Bulls. Nobody from these perspective teams made the cut.
Cutting down a list of all the best athletes in New York City to 15 names is no question a difficult task. This was originally going to be a top 10 list but I just couldn't leave some names out.
A star-studded athlete with a lot of personality isn't something that New York has ever truly lacked. The problem is picking the best.
15. Frank Gifford – New York Giants (1952-1964)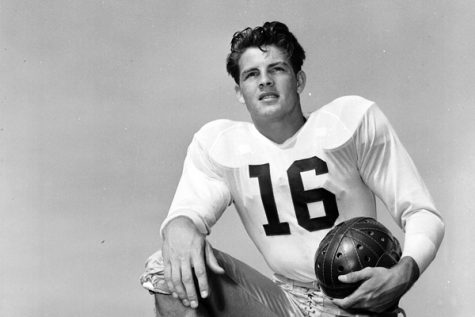 For sports fans born in this century, Frank Gifford's name might not ring any bells. He should still be regarded as one of the best athletes in NYC history, and the first true global star to every play for the New York Football Giants. Hailing from the University of Southern California, Gifford quickly established himself on and off the field. On the field, he tallied over 8,000 all-purpose yards and 77 touchdowns in an era dominated by defense. He is a part of one of the more iconic plays in NFL history, although this play resulted in him receiving perhaps the worst concussion documented by a photograph. But hey, any press is good press right?
Off the field, Gifford shined bright in the lights of downtown Manhattan. Constant press in the tabloids was nothing new for the California kid. He was a part of the first crew for Monday Night Football in 1970 and would go on to have a successful career as an analyst. While many will revere him for his work in the studio and his major presence in the nightlife of New York, it was his on the field play where he first stood out.
14. Henrik Lundqvist – New York Rangers (2005-2020)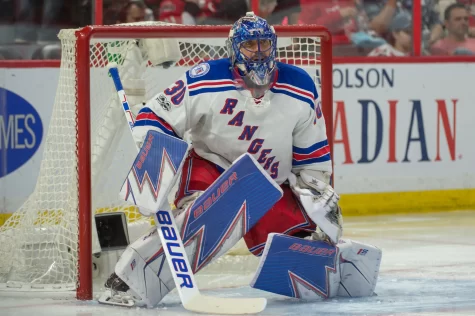 With over 450 wins and a career .918 save percentage, "The King" is regarded as the best modern-day Ranger of all-time. A native of Sweden, Lundqvist arrived in New York in 2005 after spending a number of years playing professionally in his home country. While with the Rangers, he lacked in personal awards given out by the league. While he was a five-time All-Star, he was only named to the First All-Star team once, which is the list of the best players in the league. Still, his impact on the Rangers is greater than any league-wide praise.
Lundqvist was named MVP of the New York hockey team a historic nine times over the course of his playing career. Lundqvist consistently was asked to carry underwhelming and underperforming Ranger teams to the regular season and playoff success and was often able to deliver all of that by himself. He may not be the best Ranger of all time, but he is more than likely the most beloved.
13. Willis Reed – New York Knicks (1964-1974)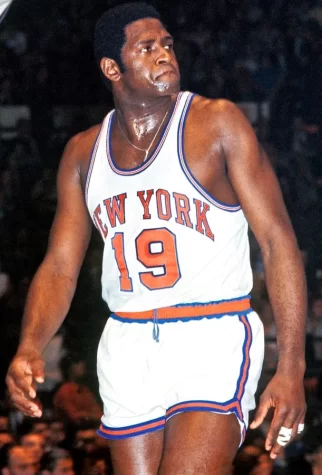 Before Willis Reed arrived in the Big Apple, the Knicks were criminally bad (shocking, I know). Playing at HBCU Grambling State, Reed arrived in 1964 as an unheralded second-round draft selection. Still, it didn't take long for him to be named Knicks captain and the catalyst for the most dominant era in Knicks history. Certainly not the flashiest of Knicks during his tenure, his grit and grind style was perfect for this era of basketball.
After being named to the All-Rookie team in his first season, he would be named to the next seven NBA All-Star games and an MVP win in 1970. Was he talented? Absolutely. But he certainly wasn't the most talented player on those Knick rosters. Still, it was Reed who was pushing these teams over the top. He led the Knicks to two NBA Championships in 1970 and 1973, winning series MVP in both. His number 19 hangs in the rafters to this day. He was named to the 50th and 75th-anniversary teams by the league and was voted into the Basketball Hall of Fame in 1982. His impact on the Knicks has current fans longing for the glory days to return once again.
12. Mariano Rivera – New York Yankees (1995-2013)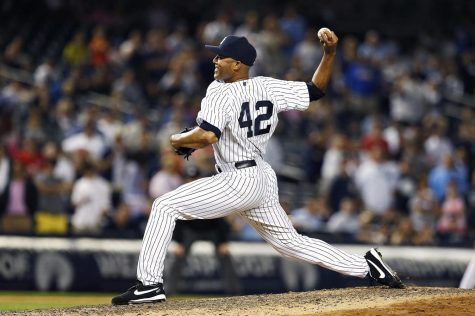 Without question, Mariano Rivera is the most dominant closer in the history of the MLB. While mild-mannered in a city that is anything but, Rivera was able to shine bright with his play. With "Enter Sandman" playing in the background, Rivera trotting out to the mound in the ninth inning is enough to give professional hitters nightmares. Arriving in 1995, Rivera was part of a group of young Yankee prospects that was expected to lead them back to the top after a disappointing decade in the 1980s. Rivera certainly did not disappoint.
13 All-Star appearances, five World Series wins, and 652 saves sit on the public record of the man many know as "Mo." Among those accolades, he was also named Reliever of the Year five times and was the MLB Comeback Player of the Year in 2013. After retirement, he was inducted into the MLB Hall of Fame on his first try as a unanimous decision, which was not done before and has not been accomplished since. A fixture in the White Plains community as well, Rivera certainly holds a special place in the heart of Yankee fans and New Yorkers alike.
11. Mickey Mantle – New York Yankees (1951-1968)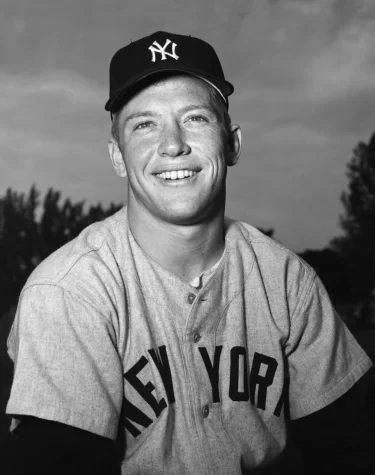 I know, another Yankee. Unfortunately, we have more to come. A switch-hitting, five-tool baseball player is incredibly hard to find, and Mantle did it as well as anybody ever has. Another quiet, mild-mannered athlete in the boisterous city, Mantle let his play speak for himself. Mantle was named to an MLB record 20 All-Star games over the course of an 18-year career, which I promise is actually correct. Yankee fans don't care about individual awards, though. They want rings. Mantle won plenty of rings.
Mantle was a key part of seven World Series wins during the 1950s and 1960s. His clutch hitting was extremely important to the high-powered Bronx Bombers. He holds the MLB record for most walk-off home runs with 13, which are among his 536 career homers. Aside from his powerful bat, his .984 fielding percentage was a huge part of the respect he received as a player. His number nine is among the many retired by the Yankees and he was inducted into the MLB Hall of Fame in 1974. Ask your parents or grandparents who their favorite Yankee is. I guarantee most will say it was "The Mick."
10. Patrick Ewing – New York Knicks (1985-2000)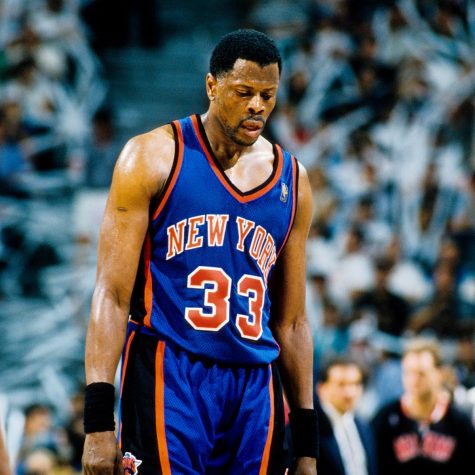 Everybody's favorite Knickerbocker kicks off the top-10 of this list. Many will hang on to the fact that Ewing was never able to deliver a championship in Madison Square Garden. But hey, you try and win an NBA Championship when you have to play against Michael freaking Jordan every single year. It's not going to go well. Even so, the native of Jamaica gave it his best shot.
After a stellar career playing for John Thompson at Georgetown, Ewing arrived in 1985 to great fanfare, as well as expectations (that draft was definitely rigged you can't convince me otherwise). While his Knick teams were never able to reach the top of the mountain, Ewing came pretty close essentially all by himself. He was named to 11 All-Star teams over the course of his career, has career averages of 24 ppg/11 rbg/2 bpg, and was named to the NBA's 50th and 75th anniversary teams. His towering presence made him stand out in a city full or oversized towers, and he is certainly the most beloved Knick of all the players post-1970.
9. Tom Seaver – New York Mets (1967-1977, 1983)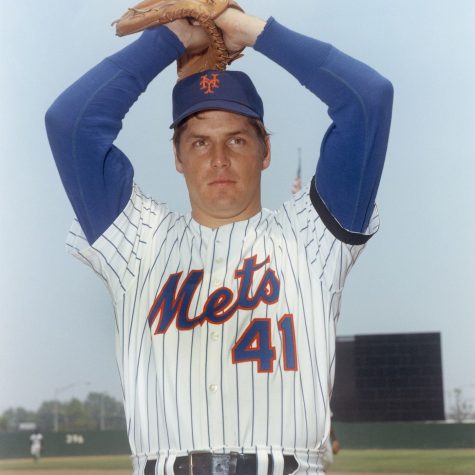 Finally, we get a player from the B-tier teams of New York. Before Jacob deGrom was the best pitcher in New York, that persona was held by Seaver. His nickname was literally "The Franchise." It doesn't get any better than that.
Seaver arrived at Shea Stadium in 1967 and quickly established himself as dominant, winning the league's Rookie of the Year award. He was an integral part of the Amazins' first World Series win in 1969, and continued to pitch masterfully well into the 1970s. He was voted to 12 All-Star games over the course of his career and won three Cy Young awards as the best pitcher in the National League. When his career was over, he had compiled 311 wins to along with a historically low 2.86 career ERA. Absolutely astonishing statistical marks.
Often declared the best player in the history of the Mets, Seaver was yet another New York superstar who shunned the spotlight and focused on his on-field performance rather than his off-field performance. Seaver was inducted into the MLB Hall of Fame in 1992 with the highest percentage of votes at the time. He is one of only two MLB players to be inducted into the hall as Met. His number 41 proudly sits in the outfield of Citi Field as a reminder of the best player the Mets have ever had.
8. Yogi Berra – New York Yankees (1946-1963), New York Mets (1965)
The five-foot, seven-inch, power-hitting catcher is one of the rare few who holds a special place in the hearts of both Yankee and Met fans alike. As a player, coach, and manager in the New York market for four decades, Berra seemed to be much bigger than his small stature would portray.
Arriving as a full-time Yankee in 1946, Berra quickly made an impact on a team that was already littered with All-Stars and Hall of Famers. He is regarded as one of the best-hitting catchers of all time, if not the best. He finished with 358 home runs and 1,430 RBIs to go along with a batting average of .285 for the entirety of his career. His play in the field was not too shabby either. He caught over 150 shoutouts as a Yankee and caught Don Larsen's perfect game in the 1956 World Series.
Speaking of the World Series, Berra holds the distinction of being on the winning side more times than anybody in MLB history with 10 total wins. We all know how Yankee fans like to talk about the number of rings they won, and Berra is their poster boy. As a manager, he was able to lead both the Yankees and the crosstown Mets to World Series appearances, although both were losing efforts.
Playing, coaching, and managing. Berra certainly left his mark on the game of baseball and in New York City.
7. Babe Ruth – New York Yankees (1920-1934)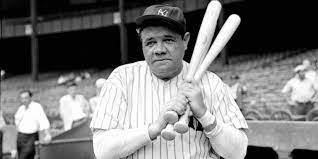 I understand that this seems low for a player with the iconic status that Ruth has in the game of baseball, but lets also all remember that before he was a Yankee, has enjoyed some of his best seasons first with the Boston Red Sox. Not a stain on his record, but certainly something to be considered when discussing the greatest New York City athletes.
As a Yankee, Ruth continued to be the dominant force that was promised when he was traded in 1920. Can you believe that he was actually traded for the funds to produce a Broadway show? Boston deserved to not win a title for 86 years. Anyway, back to the Bambino. As a Yankee, Ruth contributed to four World Series titles, and won his only AL MVP wearing the renowned pinstripes in 1923 while in New York. He also set the then single-season home run record in 1927 with 6o. A member of "Murderer's Row" Ruth contributed to a number of the most iconic Yankee moments pre-World War II, including calling his own home run in the 1932 World Series.
Ruth was also known for his off-field antics as well. Finally, somebody with some personality. He was frequent in bars and clubs throughout the city, and was actually a frequent patron of many African-American-owned bars well. Although Ruth wasn't always a New Yorker, he is one of best.
6. Joe DiMaggio – New York Yankees (1936-1942, 1946-1951)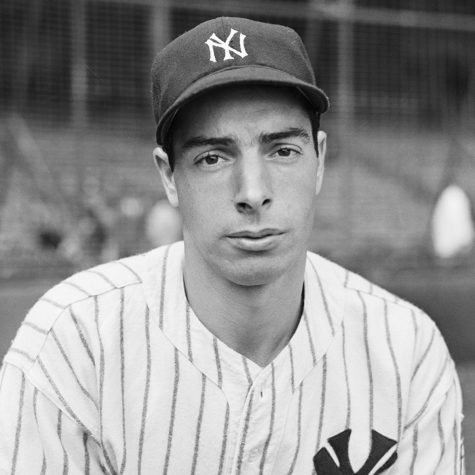 Marilyn Monroe's husband was actually a really good baseball player. In fact, there are many that will consider him to be the best player that ever lived. Even though he missed four seasons in the middle of his prime to fight in World War II, DiMaggio still put up mind-boggling numbers during his Hall of Fame career.
DiMaggio finished with a career batting average of .325, which is a ridiculously high mark, to along with 361 home runs and 1,537 RBIs. He was a 13-time All-Star, three-time AL MVP, and a two-time batting champion, along with leading the league in home runs and RBIs twice over the course of a season. And of course, he was an integral part in nine series wins for the men in the pinstripes.
Perhaps his most recognizable feat is his MLB record 56-game hitting streak that took place during the 1941 season. This record is perhaps the most unbreakable record in the history of sports, let alone baseball. His Italian heritage was endearing for the many Italians that were settling in New York at the time, and he is as much a celebrity in New York as he is an athlete.
5. Joe Namath – New York Jets (1965-1976)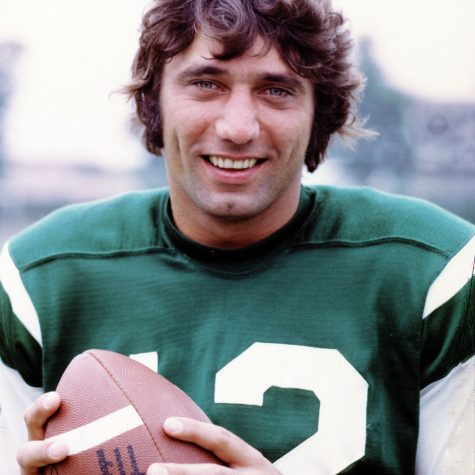 If you were looking for the perfect athlete to represent the city of New York, Namath is undoubtedly the guy. Flashy, personable, handsome, talented, yet erratic and arrogant the entire way. "Broadway Joe" is the personification of New York in one man. Namath is also perhaps the most important man in NFL history.
Namath was drafted in 1965 by both the AFL's Jets and NFL's St. Louis Cardinals (now Arizona). Namath spurned the big-brother league and signed with the Jets for a then-record $427,000 contract. In 1967, just his first year in the league, Namath became the first quarterback to throw for over 4,000 yards in a season, setting the mark for modern-day passers.
In 1968, Namath led the Jets to an 11-3 record and a berth in Super Bowl III. Against the highly favored Baltimore Colts (now Indianapolis) of the NFL, Namath led the Jets to greatest upset in sports history with a 16-7 win in which Namath won the MVP. An iconic shot of Namath running off the field that day in Miami is one of the more remembered moments in NFL history, and the moment that the AFL gained respect from the NFL on their way to their eventual merger in 1970.
Besides his on-field performance, Namath put up even bigger highlights off the field. Bars, nightclubs, restaurants, commercials, movies, Namath was a part of everything happening in the city. The guy even did a pantyhose commercial. And they say our generation is soft? All joking aside, Namath is the poster-child for what a modern athlete looks like, and his play makes him maybe the best player to ever put on a Jet uniform.
4. Lou Gehrig – New York Yankees (1923-1939)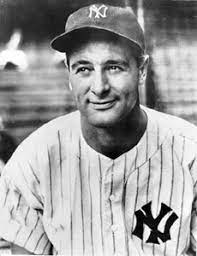 It may be controversial to put Gehrig over Ruth. Still, I firmly believe that Gehrig was the best player on the "Murderer's Row" Yankees. He just wasn't as boisterous when he was hitting long bombs. A native of New York City, Gehrig took over for an injured Wally Pip in 1923 at first base, and he didn't relent that spot until his retirement.
A seven-time All-Star, six-time World Series champion, and twice named AL MVP, Gehrig shined brightest in the Bronx for a number of years. He hit 493 home runs and finished just under 2,000 RBIs for his Hall of Fame career. Most notably, Gehrig played and started in 2,130 games, garnering the nickname "Iron Horse" in the process. This record stood until Cal Ripken Jr. of the Baltimore Orioles broke it in 1998.
What Gehrig is remembered for the most happened on the baseball diamond, but it wasn't a hit or fielding play. In 1939, Gehrig was diagnosed with ALS (also known as the Lou Gehrig disease). The disease forced him into retirement, and two years later Gehrig passed away due to the disease. In his final day as a player in 1939, Gehrig gave an impassioned speech to the Yankee fateful, and noted that he felt like "the luckiest man in the world." Now, if this speech doesn't make you just a little bit emotional, nothing will.
Gehrig personified New York in a different way than Namath did. He wasn't flashy or arrogant, but he was tough-nosed, gritty, quietly confident, and proud of his New York heritage. Iconic in every form of the word.
3. Mark Messier – New York Rangers (1991-1997, 2000-2004)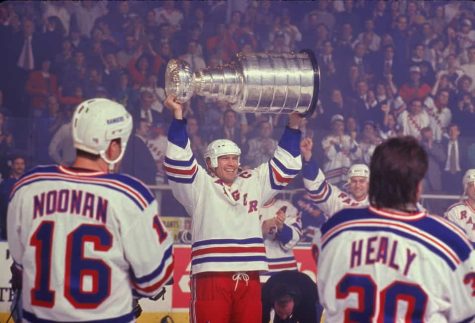 Unlike Ranger lifer Lundqvist, Messier only ended up playing nine seasons in a blue and red sweater. He certainly made those seasons count.
Messier arrived in the Big Apple in 1991 to great fanfare. After playing second-fiddle to Wayne Gretzky in Edmonton for a number of years, Messier was expected to become the leader of the Rangers quickly and lead them back to the Stanley Cup finals. Messier did just that in 1994, leading the Rangers through a dramatic playoff run where he netted a hat trick in the Eastern Conference Finals, and broke the the Rangers 54-year curse in a tight game seven win over the Vancouver Canucks.
Messier also put up strong individual numbers as a Ranger, putting up 693 total points over his overall tenure in New York. He also was named a team captain twice during his tenure, even when Gretzky arrived in the middle of his first run.
Everything that Messier was brought in to do in New York, he accomplished. That's what makes him third on the all-time list of New York athletes.
2. Lawrence Taylor – New York Giants (1981-1993)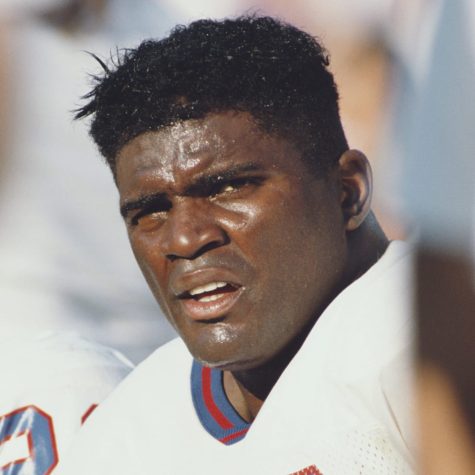 The original LT is not only the greatest football player in the history of New York sports, but he is arguably the greatest defensive player in the long and storied history of the NFL. Arriving from UNC in the 1981 draft, Taylor struck fear into opposing offensive lines with his lightning-quick first step and his powerful pass rush moves.
As the main pass rusher for Bill Parcells-led Giant teams in the 1980s and the early 1990s, Taylor alone changed the game-plans of so many offensive formations. In fact, Joe Gibbs of the then Washington Redskins created pass-blocking techniques to directly try and handle Taylor. They often didn't work.
Taylor finished with over nine sacks in nine of his 13 seasons in the NFL, including a then-record 20.5 sacks in the Giants first Super Bowl season in 1986. He was twice named NFL Defensive Player of the Year and was awarded league MVP in that same 1986 season.
Taylor's career has often been overshadowed by his troubles off the field. Addictions, arrests, and financial troubles have ruined the image of just how dominant Taylor was on the field. Still, Taylor defined New York football for over a decade, and his impact as a pass-rusher left a mark on the NFL that will never go away.
1. Derek Jeter – New York Yankees (1995-2014)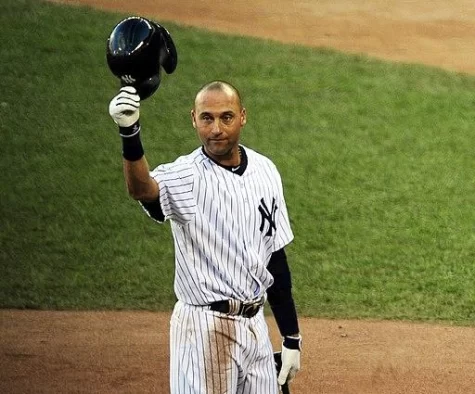 Did anybody expect anything really different? Call it recency bias, but Jeter's impact on the city of New York has never been seen before, even with all of the great Yankees that came before him. His performance on the field for the modern-day Bronx Bombers leaves little to be desired.
A lifelong Yankee fan who spent his summers in New Jersey watching them struggle through rare losing seasons, Jeter was drafted in hopes that his play would spark a turnaround. He did more than just spark it. He ignited a gigantic grease fire that wouldn't be put out until well into the 2010s.
Jeter's bat was his biggest asset, amassing over 3,000 hits and a career batting average of .310 over the course of his career. While his fielding was spotty in moments, Jeter's trademark jump-throws are some of the more iconic moments in Yankee history. His biggest moments often occurred when the lights shined the brightest. Jeter helped the Yankees capture another five World Series championships, including their last victory in 2009.
A near-unanimous first-ballot Hall of Famer, Jeter was also the perfect cultural icon that many expected the best Yankee to be. He was popular with baseball fans and non-baseball fans, even if he wasn't always so popular with his teammates throughout the course of his career. He was charismatic without even trying. Every man wanted to be him and every woman wanted to be with him. That's essentially what being a New York athlete is all about.
Say what you will about Jeter. Personally, I think he is just a bit overrated. However, his impact on the city of New York is unmatched by anybody, and he will forever be the measuring stick for all the great athletes that come after.
Leave a Comment
About the Contributor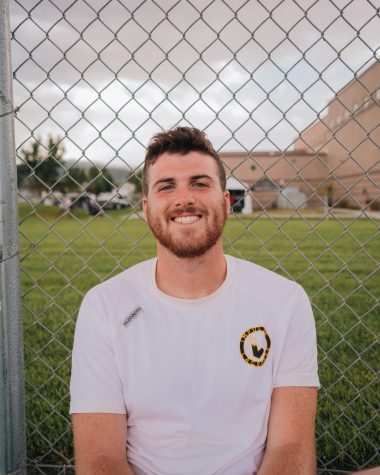 Zack Higgins, Impact Staff
Zack Higgins is a 5th year Media Studies major at Mercy College.  He is a previous student of Salisbury University, Onondaga Community College, and the...