Back At Madison Square Garden
If you're an avid New York Rangers fan like myself, you can understand the excitement I felt walking back into the stadium.
Last year, I went to a Rangers game almost every month, but I went a whole year without ever going to one and it was a very depressing feeling.
Now I know I am lucky enough to say that I can go to Ranger games when many people have probably been there to zero, but Ranger games are like a concert to me, it's an experience that I love and it's something that I look forward to.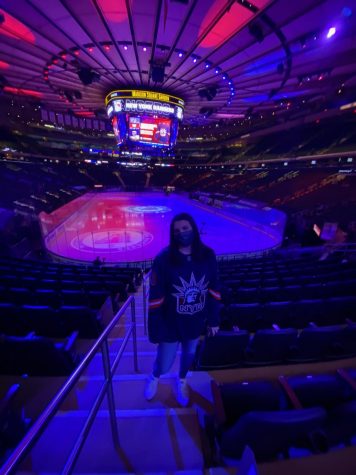 Luckily, New York state just opened up sports arenas and I happened to step in the world's most famous arena for the second game allowing fans. My boyfriend bought us tickets after refreshing the TicketMaster page over eight times and surprised me.
I jumped out of bed super excited to go back to the place that I love with my whole heart, Madison Square Garden. The Garden is truly my happy place. I have experienced some of the best feelings of my life there between wins, shootouts, and just being with people I love. It held so many memories and now I was finally back.
Driving into the city and seeing the iconic Garden was a feeling I'll never forget, I almost felt like crying. Before the announcement of the arena's opening, I felt like I was going to go this whole season without seeing the Rangers. Which of course, wouldn't have been an issue, there are bigger things to be worried about currently, but it did make me feel a little sad. I got the feeling of when you step off an airplane after traveling all day and just think, "man, it's good to be home."
Now there are some new procedures due to COVID-19, like providing a negative PCR test before you walk in the building, temperature screenings, and masks must be on at all times that we are not actively eating or drinking. These rules they have taken so seriously, and it makes me happy to see them taking these procedures to not only keep the fans safe but also the staff.
Once we were past COVID screening and security, everyone was so happy to see fans. They welcomed us with open arms and looked so happy to be back at work and seeing fan's faces again. Every encounter I had at The Garden that night was spectacular and it made life feel somewhat normal again. We got free t-shirts, "welcome back" from every employee we passed, and just happy faces from everyone we passed.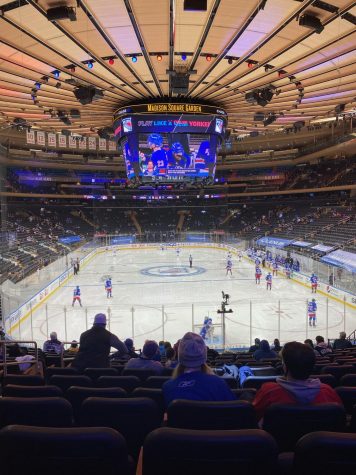 We walked to our seats and I just took a deep breath. I never knew how good it could feel to be back in my happy place after over a year without it. It felt the same but slightly different as I looked around the half-empty arena. MSG can hold up to 20,789 fans but in attendance, that night was only 2,000.
It was crazy to think that I was one of 2,000.
While there were cheers and that electric energy, it just wasn't the one that used to be there. You could hear the puck being hit, players chirp, and any conversations from the people around you. But I sure do know that the Rangers were happy to have their fans back.
I mean playing in MSG is cool, but the fans are what make the experience even better (or at least that's what I think and have heard).
The game was a fun one to watch, they scored within the first thirty seconds and I was in shock at how quick they were to score a goal. The electrifying goal chant filled the Garden and I felt at home again – dancing, jumping, and just feeling happy and forgetting about COVID-19 for the night.
The goal song wasn't the only chant being chanted though, The Garden had the first "IG-OR" chant of the season for our goalie Igor Shesterkin, "We want Eichel," due to the crazy trade rumors going around, and the simple "Let's Go Rangers."
Going there, I had no hopes of them winning. I knew I was going to just be there and enjoy the game but boy did they put on a show. We won 3-2 against the Buffalo Sabers and it was an electrifying feeling between two goals in the first and then one in the second. Not to only mention the fact that they won, but the goalie almost scored on an open net.
Being back at The Garden gave me hope for the future and for what's to come, all I will say though is New York has been so tough fighting COVID-19 and, of course, Let's Go Rangers.
Leave a Comment
About the Contributor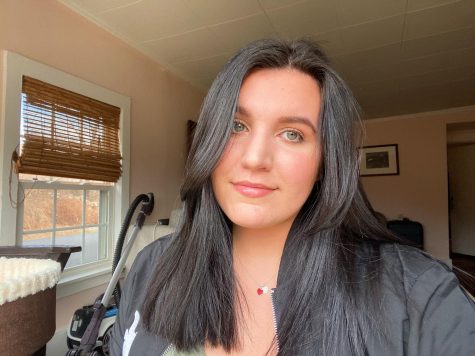 Alexis Lynch, Managing Editor
Alexis Lynch is currently a senior at Mercy College. At Mercy, Alexis is a Media Studies major with a focus in Journalism. She has gained experience that...