The Everafter Brings Pop-Punk and Personality to Mercy College
Mercy's newest up-and-coming band talks about the successes leading up to the release of their new EP, "Whatever's Bringing You Down"
In the back of a small bar in Brooklyn, a heavy pair of soundproof doors and curtains opens up to reveal a smoky venue, filled with the chatter and excitement of friends waiting to support their classmates in bands, fans of local music buying t-shirts and chatting about new releases, and regulars there to see who will be playing that night.
The four-piece pop-punk band The Everafter climbs up onto the stage, and within seconds makes it theirs. Drummer Danny Nugent starts them off with four hits of his drumsticks, signaling guitarist Rich Rivera and bassist Ryan Lare to start doing their thing. After a headbang-worthy intro, singer Cora Small comes forward and lets all her energy free with a burst of sweet yet powerful vocals, cutting through the distortion of the music surrounding her.
Although being a relatively new band (this was only their third official show), The Everafter have no problems showing off their passion, skills, and talent. But this isn't without hard work and over nine months of preparation to get where they are now: playing shows around the New York area, filming and putting out a music video, releasing a single, and preparing to come out with their debut EP, Whatever's Bringing You Down.
The band began with Small and Nugent coming to Mercy College after already playing music together for several years on Long Island.
"Danny and I were in a bunch of bands before this, we actually have known each other since ninth grade in high school. So Danny and I have always been playing music together, and we've always done music on our own. I think we just really had to find the right grouping of people," says Small.
Nugent chimes in, "We came to Mercy already technically in another band, and within the first semester, it just fell apart. We had members coming up here from Long Island– it just wasn't working. So we took a little time off from trying to be in a band, and we were discouraged."
That didn't stop them, though, from trying again. Being in the Music Industry and Technology Program, Nugent met up with Lare and Rivera, who were also in the program. They naturally became friends with psychology major Small and began hanging out.
Nugent goes on to recall the first song the four friends wrote together before they were even a band, saying, "We were in Cora's apartment one night. Rich picked up our acoustic and just started playing a riff. I said, 'That's cool!'
He knew Ryan played bass and figured maybe they'd try to write a song and record it. They went back to the dorm and in an hour had a full demo written out.
"Alright, we're making the band," Nugent remembered. "We were thinking of band names that night in the cafeteria."
That song ended up being the third song on their EP, titled "Altercations." From that point on, the band states that the formation of The Everafter was fueled by the excitement of the new music they were writing. They spent the summer of 2017 traveling back and forth from their hometowns to Mercy so they could record the EP in the MTEC studios– which led to a lot of travel time with Lare being from Philadelphia, Small and Nugent from the East end of Long Island, and Rivera being from Poughkeepsie.
"We would set a day every two weeks to get up knowing we have to record all day and hope we can get 'this much' done," says Lare.
Nugent reminisces with a smug face. "Twelve hour days, I'd bring the sleeping bag into the studio…"
" Danny would always bring a sleeping bag. I have pictures of Cora – she made a nest and just slept in the corner!" Lare remembers.
Small chimes in with laughter, "I set myself up!"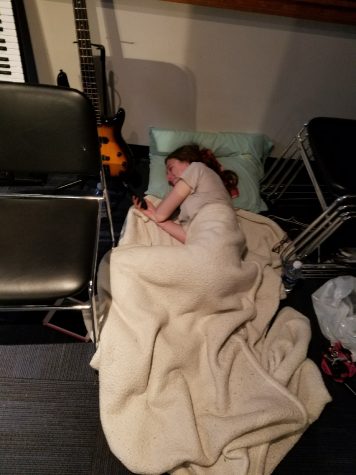 The songwriting process begins with Nugent, Lare, and Rivera all on guitar at the same time, coming up with rhythms, leads, and chord progressions, and once Nugent programs drums, they hand it over to Small to add her lyrics and melodies over the completed demo instrumental.
Small details her side of the process intricately. "It was a little weird at first, because before I was ever in a band I did my solo stuff, so I'm used to writing my own guitar parts … Having the perfect people that can put together awesome musical arrangements is really cool and it helps me a lot so I can put cool melodies to it."
"With lyrics, I just tell a story. Not to sound narcissistic but, it's normally about me," she laughs. "I normally try to tell a story, I try to make it vague. Having a good writing process with them writing really good songs makes it a lot easier for me."
The Everafter is lucky to have their own bassist Lare as a recording, mixing, and mastering engineer. His vision for the EP came together along with the writing. He doesn't know if he had a full-vision of the end product when it started, but it began to grow organically.
"One day I said let's track the drums for all of the songs right now. It kind of just grew as we went."
About the time they started adding guitars, he realized their stuff was shaping up sonically to bands such as Paramore and State Champs, but with a bit more lead focus.
"I modeled it off of those records," Lare states.
The Everafter took a huge step by hiring a professional videographer to film their first music video for the single "Call It A Night." For them, it was a way for them to introduce themselves to the world, and show everyone that they are fully dedicated and taking their career as a band seriously.
"We didn't want to have this really good sounding EP and then some makeshift music video. We all agreed that it bothers us so much when we see a band that has potential with writing and has a good recording but then has a horrible video. It's an instant turn-off. So we wanted to make a big initial investment and come out strong into the public eye," says Nugent.
The video, which was solely written by the band members, features lead singer Small encountering a slew of wacky characters on a night of speed-dating. An obsessed admirer, played by Rivera, stalks her as she tries to find her one true love. The Everafter's quirky and light hearted sense of humor shines through, along with the professionalism one would expect from artists that are serious about what they do. One might recognize some familiar faces in the video, as the band invited all of their friends from Mercy College to take part in the filming.
Check out the video here:
Leading up to the release of Whatever's Bringing You Down, the band has been playing shows in the New York area. They plan to keep playing and touring so they can gain more fans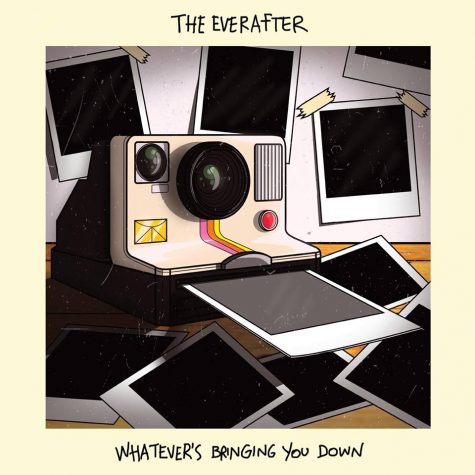 and befriend other bands.
"We have a good circle of friends that go to our shows, but just to see people singing our songs while we play is awesome," Rivera shares.
"For me it's like a natural high," says Small. "I feel so good in the moment, the lights hit you and everyone is there to hear your voice. That's such a powerful feeling, in such a good way. You wanna deliver something good to the audience. When you're up there and jumping around there's so much energy in the room.
"It's just so cool to be in a room full of people who like music and want to talk about music, and are just friendly and kind and interested in what you do."
"The support so far has been overwhelming. We're off to a very good start," says Nugent.
The Everafter have shows coming up Feb. 17 at The Platform in Beacon — March 11 at Revolution in Amityville — March 25 at Boontoons in Boonton, New Jersey — March 26 at Pauly's Hotel in Albany — April 20 at My Place Pizza in Poughkeepsie. Visit facebook.com/theeverafterny for more information.
Whatever's Bringing You Down comes out February 23 on all music platforms.
Leave a Comment
About the Contributor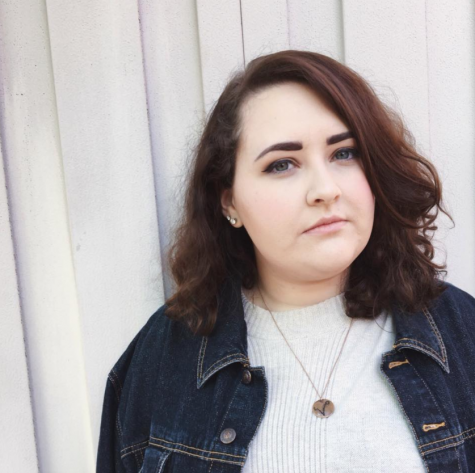 Kristin Millard, Impact Staff
Kristin is a musician, audio engineer, and recording studio assistant from suburban Chicago. She is constantly attending local shows to support her friends,...