Netflix's "The OA" Transcends Typical Sci-Fi Storytelling
WARNING: SLIGHT SPOILERS AHEAD
Classified angels, everchanging dimensions, near-death experiences, and age-defying relationships. These are definitely mind-bending experiences we don't usually have the authority to witness on a daily basis. However, if you are lucky enough to have access to a Netflix subscription, all you have to do to immerse yourself into this imaginative region is to click on "The OA." You'll thank me later.
This futuristic Netflix Original will catch the eyes of Black Mirror and The 100 lovers alike. The show debuted The OA: Part I in late 2016. It is created and executive produced by Brit Marling and Zal Batmanglij. Marling also takes on the starring role as Prarie Johnson. But as The OA: Part II recently revealed, Marling takes on more personas than we've ever imagined.
The program's Part I surrounds the life of Prarie Johnson, a woman in her late twenties who returns to her hometown under destructive circumstances after having been missing for seven years. She is discovered in a local hospital after having carried out a suicidal jump off of a highly trafficked bridge. Johnson, who awoke to her adoptive parents' presence, found it miraculous not only because she was alive, but because this was the first time she had ever seen their faces.
Johnson, despite having been blind before her disappearance, refuses to elaborate with her parents and FBI officials about her restored eyesight, indecipherable back scars, and her new wish to only be referred to as "The OA," which stands for " The Original Angel."
She then slowly assembles a team of five locals; four high-school teens, and a high-school teacher to whom she discreetly explains her life story, and simultaneously asks for their help. The mission she has to accomplish may seem out of the ordinary to most, but she sensed selfless qualities in them all that allowed her to become brave enough to share. She went on to state that in order to move forward in life, she needs their help to rescue her missing friends, whom she claims can only be saved by opening a portal into another dimension.
She eventually tells them that they have to learn a certain number of precise "movements" in order to properly open the portal to other realities.  This mental and physical process is one that doesn't phase the group. In fact, each member radiates a unique personality, which in turn, manifests into powers.
The show's casting process is truly one to appreciate. The beaming group consists of actor, Phyllis Smith, also known as"BBA," and is the teacher and "mom" of the group, despite having no biological children. As well as Irish native Patrick Gibson, who plays Steve Winchell, the so-called troubled "bad-boy" who is hiddenly affectionate. They also include Brandon Perea, who plays Alfonso "French" Sosa, an initial skeptic and closeted gay man, who also balances life as the primary caretaker of his mother and siblings. As well as Ian Alexander, who plays Buck, a visibly transgender man, who believes that anything is possible. Lastly, they added Brendan Meyer, who plays Jesse, a solemn teen who battles with drug addiction and is estranged from his family.
Each character has distinct personalities, which makes them that much more intriguing to watch develop. The interactions between opposite energies create more dimension in a storyline as one may not expect what would occur next.
The series started off with favorable critical reception and is still waving that flag after Part II's release on March 22. The second season explores the entirely new dimension that "The OA" is now in, and her continued quest to bring back her former captives, and seek revenge on her former captor. This season starts off by focusing on a different reality, meaning "The OA" is no longer known as "The OA" or Prairie Johnson.
While this mysterious new dimension that includes a missing person investigation, an online puzzle game, and an abandoned house with a supernatural history, it overlaps with scenes from the original dimension, in which "The OA's" five companions work together for the first time without her direct guidance, in hopes to find and assist her.
The alluring soundtracks compliment the mysterious yet emotional themes throughout both seasons. With artists like Beach House, Duran Duran, and Johann Johannsson, tranquil alternative and traditional orchestration music have now become trademarks of the show.
The idea of multi-dimensional traveling is a sci-fi conception that many may begin to believe is possible after deeply analyzing this show. Psychological pushes like these allow viewers to question reality and delve deeper into the possible phenomenon that we each have multiple personas in different time-bending dimensions.
No zombies or the typical alien storylines are manifested. "The OA" highlights the ancient tale of reincarnation but with a modern, technological twist. It presents an equal balance of realistic coming of age stories and scientifically exaggerated narratives.
Leave a Comment
About the Contributor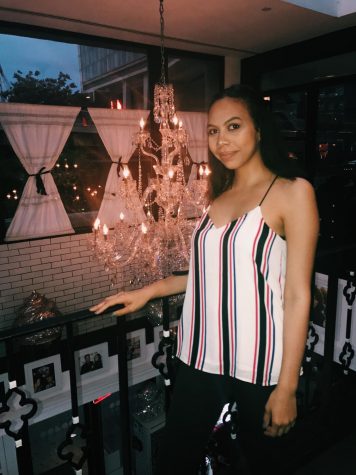 Nicole Acosta, Managing Editor
Nicole is from The Bronx and is a journalism major at Mercy College. Her hobbies include discovering new places to eat on a budget, photography, listening...