Nightcrawler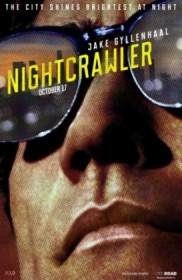 Another movie review…
"Nightcrawler" is a blood-boiling, pulse-pounding, modern thriller that keeps the audience on the edge of their seats. This film tells the story of a persistent yet struggling character named Lou Bloom (Jake Gyllenhaal). Gyllenhaal has been recognized for his mystique, lunacy and creepiness for this individual role yet people have seemingly forgotten similar roles he has played in the past. In the film "Donnie Darko" Gyllenhaal plays a character that is equally dark and profound, in "Zodiac" he plays an obsessive outsider, and even in "October Sky" he is challenged by the norm yet perseveres, making him a perfect cast for the mesmerizing yet disturbing Lou Bloom.
The film begins with Bloom cutting a steel fence in a restricted area where he is found by a patrolling security guard. Unthreatened by the guard Bloom attempts to talk himself out of the situation but eventually beats the guard and flees.   The next scene depicts Bloom attempting to sell the fence and several other stolen metals to a local scrapper. After trying to convince the scrap yard owner for a job, the owner is reluctant to hire a thief and all hope of living an honest life is lost for Bloom. Within five minutes of this film the audience is provided with everything they will find out about Bloom, and that's all that's needed.
On the way home, Bloom stumbles upon a car accident on a Los Angeles highway; he is stunned to see the wreckage, police and, oh yeah, a cameraman named Joe Loder (Bill Paxton) who is unaffected by the unfolding horrors and continues to film. While the accident captivates the audience, Bloom is captivated by opportunity. Curious to what Loder is doing, Bloom approaches him and all that was left to linger, were five words of advice: "If it bleeds, it leads".
Bloom is next seen scoping out a man on his bicycle, the audience is lead to believe that the bike would soon be Bloom's. After the camera cuts, Bloom is pictured riding the stolen bike in a pawn shop where he bargains with the clerk and walks out with a video camera and police radio.
At the beginning of Bloom's new business venture he interferes with first responders, is told to leave scenes, struggles with amateur footage and is often behind, what has become his competition, Loder. Although Bloom faces adversity and is once again struggling, it isn't long before he gets lucky and captures some decent footage. It is here when he presents it to Nina (Rene Russo) who is a washed-up news producer on the downside of her career. She befriends bloom and gives him advice, foreshadowing their imminent partnership.
As Bloom begins to improve his skills he needs help so he hires Rick, (Riz Ahmed) who is has similar qualities to Bloom in the fact that they are both struggling and in need of money. Rick is asked to do highly questionable and immoral tasks to ensure job stability. Their partnership grows but is eventually compromised.
Bloom conquers almost every obstacle he faces in the film: his competition, his financial situation, his occupation; yet, he can't conquer his manipulative personality and cutthroat mentality. He is a dark hero as the audience is convinced to root for him; he is devoted and passionate. Despite his repulsive decisions throughout the film, the audience connects to the struggling Bloom whose hardships are familiar and realistic, as is his line of work that is shockingly and disturbingly plausible.
"Nightcrawler" is an interpretation of modern society, it embraces the cliché "good news is bad news"; it mocks and jabs at modern methods of reporting and media and has a contemporary outlook on the obsessive demise of society. Gyllenhaal is compelling as he plays his best role. Sex, crime, humor and violence are all prominent components in this film, making it a must-see.
Leave a Comment
About the Contributor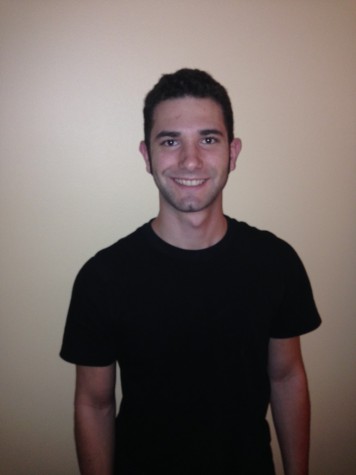 John Principio, Entertainment Editor
John Principio is a senior at Mercy College studying Public Relations. Even though he has never imagined himself as a writer, he has always loved to read...