"Happy Cleaners" featured at Mercy's 23rd Annual International Film Festival
Mercy College hosted its 23rd Annual International Film Festival this year from April 25th through April 28th.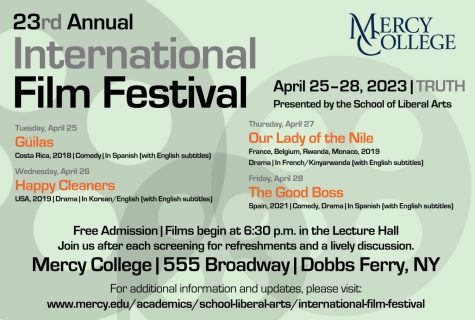 Every year, students, faculty, and community members gather to watch and discuss various entertaining and engaging exclusive movies from around the globe.
Sponsored by the School of Liberal Arts, the festival promotes foreign language study and fosters cultural awareness through its four-day screening.
Each screening is free of admission and refreshments are served (with a chance to win a raffle) on the Dobbs Ferry Campus in the lecture hall of Main Hall at 6:30 p.m.
It continues its annual tradition with the help of Film Festival Coordinator and Media Studies instructor Steven DeRosa, along with the rest of the Film Festival Committee and student volunteers.
The movies shown were the Costa Rican film Guilas, the Korean film Happy Cleaners, the French Film Our Lady of the Nile and the Spanish film The Good Boss.
For more backstory on a tradition that has been going on since 1999, read Impact Staff Writer and Managing Editor Diannah Plaisir's story on the film festival that came back after two years of hiatus due to COVID-19 last spring.
Each film is introduced by specialists in the field and is followed by a post-film discussion with guest speakers most of the time, but "Happy Cleaners" stands out this year, among the rest, and had its co-writers and directors there to field questions from the audience.
On the second night of the film festival this year, DeRosa introduces the co-writers and directors, Peter S. Lee and Julian Kim, for a post-film Q&A session after the exclusive viewing of "Happy Cleaners".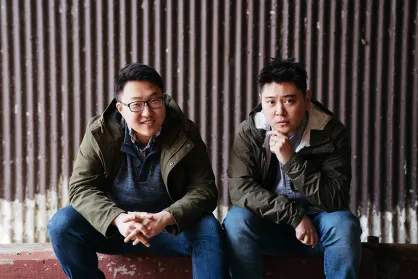 "The filmmaking duo from Flushing in Queens, New York, have been high school friends, and their passion for filmmaking and a shared mission to tell relatable stories blossomed into a working partnership."

"Their collaborative filmmaking approach in narrative short films, documentaries, and other video projects eventually allowed them to create "Happy Cleaners," their debut narrative feature-length film about the Korean-American immigrant experience."
According to the Korean American Story Organization, this Korean/English drama is a heartfelt story that celebrates the survival of immigrants, the experiences of the Korean American community, and the value of family. With both their backgrounds originating from Flushing, where the film takes place, Julian talks about how their personal experience went into the writing and how it inspired the movie.
"During my college years, I would talk with Peter a lot about the identity of the Korean-Americans, like, what are we? Are we Korean, or are we American? What does it mean to be American, and how does that experience define who we are? During the making of the film, we have talked about this for a long time. This has been a pivotal moment in trying to answer that question, and we realize the answer is not so black and white when it comes down to our identity, and if we are a gray color, we should just embrace that color. Maybe we are that morphed 'hyphen' generation where we are kind of the bridge of losing kind of that Korean identity but becoming fully American."
Despite its praise, the reaction from the Korean-American community to this film has been "two-fold," according to Peter. Both see it as a way to get talking about it or use it as a way to try to understand why, as Korean-Americans, we feel or are "wired a certain way" about how family life and how you grow up impact people.
"The first reaction is that there's been awe of being seen, where it's like, wow, our every lived experience is told and shared in this manner," Peter said. "But then it's kind of like, "Oh, our dark dirty laundry is being aired in public, oh my goodness."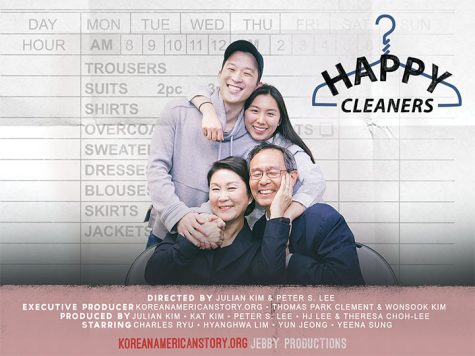 In their perspective, that is when "healing can occur" if a conversation can be had, despite some of the issues tackled in the movie can feel "too close to home" for some audience members.
Both knew that they had a pretty tough task on their debut feature, as things like the actors/actresses cast were difficult for them and some cuts were made due to the length of the film.
Other setbacks occurred, due to financial reasons, and had to settle with what they had in certain cases. The post-production and editing for this movie were also lengthy in the process, as they had to get creative in more ways than one.
This includes the soundtrack, as they wanted to find the music that would fit perfectly for this film.
According to an interview done with The Moveable Fest, Peter said "We wanted to work with a lot of other Asian-American artists within our community, so that was one very intentional way to work with as many people different people as possible."
This was specifically the case with the ending track, "Word to the Hyphen" by Year of the Ox, as it was made specifically for the film and captures its message of the struggling dichotomy of Korean-American immigrant families.
This is just a small section of the post-movie session with the co-writers and directors of the award-winning "Happy Cleaners," as the rest of the Q&A is listed below, thanks to post-film discussion moderator DeRosa.
Leave a Comment
About the Contributor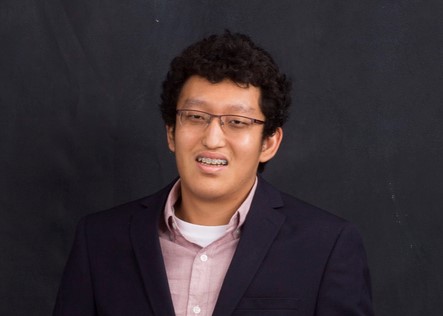 Andrew Kim, Impact Staff
Andrew Kim is a senior majoring in Journalism. Transferring and switching majors a few years ago was a big risk but it has been well worth it so far. Andrew...