Legal Age Students Question Dry Campus Policy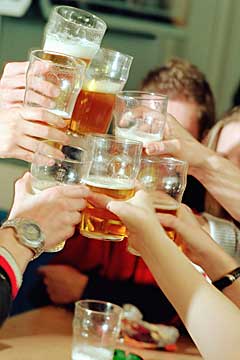 Students stumble into the dorms at 2 a.m. with a vomit covered shirt after a long night of drinking off campus. Since there is a bar right down the road, students put themselves in danger by walking back to campus in the middle of the night.
Most of the party life, however, is not so close to the school. Students find ways to travel to surrounding towns to party, but that leaves them with no way back.
So what should the students do? Get a cab where the taxi driver will take advantage of them and rob them of their money? Should they call up a sober friend to travel the distance to pick them up? What are the chances that they won't pass out before their friend comes to pick them up?
There are two types of campuses when it comes to partying. The two types are a "wet" campus, where legal-age responsible drinking is allowed on campus, and then "dry" campus where no students are allowed to drink on campus, even if they are of age.
One in three American colleges bans alcohol, according to a recent study by researchers at Harvard's School of Public Health.
Mercy College is classified as a "dry" campus, even if students are of age to drink.
However, that was not always the policy. Back when the school was first established, the drinking age was 18, and Mercy College allowed alcoholic beverages on campus, but not in the residential life. In fact, Mercy had a pub in Main Hall located where the Occupational Therapy offices are between the cafeteria and the library.
Dr. Ann Grow, Liberal Arts professor and former Dean, remembers the days when students would be allowed to drink a beer in the cafeteria after class if they desired.
"The pub was independently owned and was open Monday through Friday from 11 a.m. to 10 p.m. It was run by the cafeteria staff. During that time, we had school events in which alcohol was served," she said.
Yet decades later into 1980s, times were changing. Due to the deaths from consumption, a group of mothers formed together, becoming Mothers Against Drunk Driving (M.A.D.D)., with the goal to stop drunk driving among teenagers. Their lobbying changed the drinking age from 18 to the current 21 years old in New York State in December  of 1985.
And by eliminating a large number of the clientele, so went the Pub of Mercy College. 
"The change in the drinking age caused the owner of the pub to go bankrupt, and forced him to close the pub for good. Marriot took on the role of serving alcohol at events, but it wasn't the same. Events seemed to be geared more as dry events."
Around the same time of the policy change, Grow recalls, there was an increase in the residency requests at Mercy College. As the number of students on campus grew, the residential life at the time wanted to make the campus a "safeguard" for students, Grow recalls.
Many rumors float around campuses that Mercy College is dry strictly because it is a private college. Another rumor was that a major incident occurred on the campus such as a rape or a death, but Grow states that is the not true, and nothing public was disclosed.
"It was just a decision made by Student Services at the time to enforce the policy due to the growing number of underage dorming students."
Not all private colleges are dry. Many private colleges institute "dry campus" rules as they may be affiliated with churches that would not condone such behavior in any circumstance. In some states, laws exist which prohibit alcohol on all state property, including state college campuses.
Even though there is no drinking on campus by any age, Mercy allows its students to go out to party and drink and then come back to the campus intoxicated.
Their policy states that any use, sale, or possession of alcohol on Mercy College campus grounds is prohibited and is reason for disciplinary action, including immediate loss of housing and possible dismissal from college.
Students feel differently about what the college feels is right for the students and the campus. A 2001 Harvard study found that fewer students on "dry" campuses drink, but those who do indulge just as much as their counterparts at "wet" colleges. Many also feel that a "wet" campus may actually be safer since students do not have to drive and are safe on campus as opposed to frequenting bars.
 "Having alcohol in a controlled environment on campus has many of benefits. First, colleges can make a profit from allowing vendors to come to campus and safely sell to students at campus sporting events," senior psychology major Christopher Lang opinionated.
"That money can be used to support struggling department programs, given back to the students in the form of financial aid or used to fund those late-night shuttles."
Students believe drinking alcohol would build more friendships with people on campus, and introduce people whom they never met before at school. Parties, students feel, are a great way to meet new people, and more people become less shy when alcohol is consumed in moderation, were some of the student responses to The Impact.
Making a college "dry" is not going to stop college students from drinking. Statistics about students at other colleges dying due to drinking and driving are not enough to stop students from partying and indulging in alcoholic beverages on and off campus.
"Allowing alcohol on campus builds a stronger campus community. College can get pretty busy and intense, and after a midterm, students can then go to a party for a drink to unwind with fellow students," business major Laura Cerrone, who is a junior at Mercy, stated.
Even though alcohol is banned from the dorms on campus, some students party in their rooms anyway. If caught, students are faced with a fine or even loss of housing.
"We're not living during the Prohibition. We're college students; we're going to drink. What harm am I causing everyone else if I want to have one drink?" Cerrone argued.
Very few students feel that the school made the right choice in being a dry campus. When choosing a school to go to, prospective students are told of the conditions of the school upon attending. When paying for school, students are paying for the experience, and if students don't want the dry campus experience, then they are better off not choosing a dry campus.
"Students who drink should be more considerate about students who don't like alcohol. Whether it's the taste, the smell, or their actions portrayed after consuming alcohol," sophomore Jessica Dang, veterinary technician major, said, favoring the policy.
Other consequences of drinking on campus include having the alcoholic beverages taken out of the room by the Resident Assistant on duty at that time, and being written up. If a student with roommates chooses to have a party without the roommates present, the entire room is still written up. If a student is in the room where a party is being held, and that student is not drinking, he or she is written up as well.
"Alcohol being taken away by the Resident Assistants isn't wrong in the sense that beer is being taken away from us. It's wrong that, even though I am of age to drink, I paid for those beverages," Lang strongly protested. "I have a right to what I pay for, so if they school wants to return my $18.76, they can send me a check."
Leave a Comment