A Walk for Education and Prevention; Mercy College Partners with the American Diabetes Association and Local Community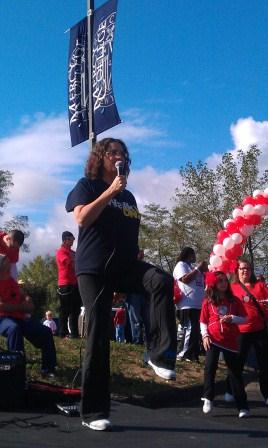 The Dobbs Ferry Campus was the site this year for the Westchester County arm of the American Diabetes Association annual Step Out /Walk to Stop Diabetes campaign. Hundreds attended from local communities along with college volunteers in an effort to raise $200,000 for the fight against the debilitating and potentially deadly disease.
Events began with a heartfelt rendition of the Star Spangled Banner sang by a Mercy College student.
With eyes closed and hand close to her heart, Tiffany Pressey, a 20 year old behavior science major, completed a performance that moved the crowd as everyone erupts into cheering, energetic clapping and hand waving as she finished her performance
Pressey primarily takes classes at the Manhattan campus. She was told of the opportunity to sing the national anthem at the event by a PACT mentor. It was a simple decision for Pressey to make, especially since diabetes was an issue dealt with by her immediate family. Both her father and aunt suffer from diabetes.
"My PACT mentor asked if I would be interested, and I said OK without hesitation."
After the rousing performance by Pressey, County Executive Robert P. Astorino  and  MaryJane Shimsky, Legislator, 12th District, came to the stage and addressed the crowd. Both of them thanked everyone over the loudspeaker and echoed thoughts that diabetes was a condition that afflicts all Americans regardless of geographic location, age, gender or race.
In her speech, Shimsky said "a large growing problem area is with our children and this disease.  We all need to actively promote more healthy lifestyles in order to combat diabetes."
Shimsky has a very personal reason that the fight against diabetes is particularly of concern to her.
Her mother suffers from it.
"My mother has type 2 diabetes and has been fighting it for 1o years now. It has been challenging and very hard to control, but we all are there for her and the family has become extremely educated about the disease."
Shimsky added why the Mercy Dobbs Ferry campus was chosen to host the event for the first time.
"Well, the campus itself is absolutely beautiful. Also, because it was in close proximity to the Hudson, Croton Aqua Duct and the Metro North Rail, it was just ideal."
After the short speeches by Shimsky and Astorino, it was time to get things moving and prepare for the two mile walk itself. Heather Buyers of Walk Lifestyle New York, took the stage to get the crowd warmed up for the walk. With the tune of Break My Stride, the 80s hit song by Matthew Wilder playing in the background. Buyers got the crowd limbered up and stretched out in a fun, if not spastic, series of exercises that everyone appeared to love, as people joyously followed her lead.
People clapped and cheered as they filed out passed the giant start/finish line under an ark of red and white balloons. The demographic of the crowd was as diverse as the face of America. There were families, individuals, and foundations consisting of people of all ages and races.
However, though the overall atmosphere was happy and festive, it remains that there is a very serious cause behind the event. Most everyone there was connected to diabetes in a very personal aspect.
Anna Carter from Walden, New York, is the president of a group walking that day by the name of Team Craig's Angels. The group's name is in honor of her father that passed away from diabetes on June 4. Her father suffered from diabetes since the age of 36 when he was diagnosed. He was 53 when he finally rested from his battle with the disease.
"My dad was a fighter and therefore we all fell in line to support him. He initially only had to get injections of insulin once or twice a day, but then started to get progressively worse. He ended up losing a leg and learned to walk with a prostatic limb. He soon lost his other. But being the fighter he was, after receiving a second prostatic limb, he again learned to walk. He refused to give into the disease."
Carter continued, "By the time of his passing, my father was on dialysis, heart medication along with a host of other medications to combat his condition. But through everything, he never gave up or let his spirits down.   He was an inspiration to us all."
After witnessing what her father went through, Carter makes it a point to educate everyone about the disease. She hopes to keep raising money each year for the American Diabetes Association and be up to raising $5,000 for 2013. She wants to double the amount raised each successive year after that.
There were a host of sponsors at the event such as White Plains Hospital, Walgreens, Duane Reade and ShopRite. Each one had a stand handing out information regarding diabetes and its prevention.
Emily Navarro is a registered dietician employed by ShopRite of New Rochelle. She explained some of the services that are offered by the grocery giant that many in the general public may not be aware of.
"Since every ShopRite is a co-op, not everyone has an in-store dietician, but the number is growing. Currently for this area, there are a total of 14 dieticians. We offer nutrition services, private counseling and teach people healthy eating habits. These services are offered free of charge and all you need to do is go to our website to see which store is participating.
That website is ShopRite.com/wellness.
Not only were there big corporations represented, there were also local small businesses present such as the Rachele Rose Day Spa with owner Rosa Calabrese and four-year employee Lisa Lomupo. They provided free back and shoulder massages to attendees as a contribution to the walk event. City Center Dance of White Plains also attended with owner Dina Giordano and her assistant Janine Greto. Their dance company provided four choreographed performances that the crowd cheered and tapped their feet to in rousing approval.
Calabrese said that in her dance company, there are two young people ages 11 and 14, which are pre-diabetic. She also has two other young people that are type 1 and use a diabetic pump that must be monitored. However, they all are able to perform without any hindrance. Her father is diabetic as well.
Greto, her assistant, says her mother has eight brothers and sisters that suffer from diabetes in varying degrees; however her mother is not diabetic.
Despite the varied background of event participants, sponsors or volunteers, the unity for everyone was the fight against diabetes and educating everyone to be aware about ways to prevent it.
Planner Susan Stein, Manager of Special Events and Fundraising, Westchester, is no exception and had some interesting facts concerning Walk to Stop Diabetes 2012.
"This event has been taking place for over ten years now. We have had it at several different locations in Westchester. This is the first time that we have had it here at Mercy College. When we looked at the data concerning participants, 80 percent were from Yonkers and since Mercy was so accessible from rail transportation, it was decided that this would be the perfect place."
Stein goes on to say that most of the volunteers are from the college and shuttle services were provided to move people from Manhattan to Dobbs Ferry.  She was extremely happy with the support received from the college.
As with most of the participants, Stein had a very personal connection to the fight against diabetes.
"Two days after last year's walk held at White Plains High School, I took the risk test and discovered that I was at high risk for diabetes. It runs in my family and I was overweight. I decided to take charge of my weight and committed myself to a plan to change for a healthier lifestyle. Since then, I've lost 80 pounds and not only drastically reduced my risk factors, I increased my self esteem and feel good about my appearance."
Then there is 65 years young business man Alan Arcuri. He owns Al's Coffee Coach, which is a mobile refreshment vender. He is proud to say that he is a Port Chester resident; born and raised. He is a jolly "young man" that provides free beverages such as cold water, coffee, tea and hot cocoa. Any of which one can add sugar or sweetener substitutes to.
Arcuri has observed some strange things when people come to partake of his offerings.
"I had a guy one time take sugar free cocoa and then add two spoonfuls of sugar. When I told him that it had artificial sweeteners in it already, he looked at me like I was crazy. I even had a young woman one time put nine spoonfuls of sugar into an 8 ounce cup of coffee. After jokingly making a comment, again, I got that look."
He then paused momentarily and shook his head in amazement.
"I have learned to not say anything and just let people be."
Asked why he has participated for the past 15 years, he simply smiles and replies with a sincerity that is so genuine, it can't be faked.
"Its just my way of giving back."
For information on diabetes please visit www.diabetes.org or call 1-800-DIABETES
Leave a Comment