Students Seeking Answers In Regard to KKK poster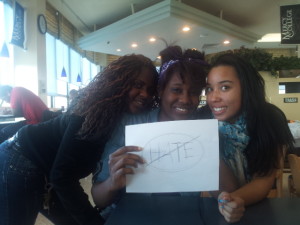 Since the discovery of  a recruitment poster for the KKK was found in the Westchester Marriot Hotel, on Nov. 30, 2012, students and school administration are responding to the incident with shock and determination to get to the bottom of what has happened.
Initial reports that the flyers were posted at the Dobbs Ferry cafeteria are incorrect.
Cesar Robles, Manager of Security and safety at Mercy College, is in the process of contacting individuals identified on the on the poster as contacts for the meeting.
Remarks on the poster included  a request for anyone interested to attend a local recruitment meeting that was to be held Saturday, Dec.1 in the town of Dobbs Ferry on the corner of Broadway and Elms street. It was also stated as an incentive for prospective members to continue with "This great tradition of lynching Negros."
As of now, there has been no official determination made regarding whether this was an actual tool for recruiting new members, or a hoax implicating individuals that were unaware that they're names had been used as contacts for the meeting. Those named on the poster were said to be part of the Mercy College Lacrosse team.
"Technically this is not considered a hate crime, but there are other legal ramifications should this prove to be some kind of joke," said Robles.
The poster raises two topics that immediately come to mind; first, should any group regardless of political or social affiliation, be allowed to hang or distribute non-violent  flyers on school property and secondly, what is the Mercy College policy on posting flyers on campus.
Priya Persaud, a Mercy College student said, "This is a diverse school and a private institution. I have lived in Westchester County all my life and never thought that racism was in this area."
Nicole Carcitto, another Mercy College student said, "Of course I don't agree with it, but it's freedom of speech."
With regard to whether or not any groups should be able to post non-violent flyers such as the soliciting of new members for groups like the KKK, students had a strong opinion.
In the Mercy College 2012/13 edition of  the Student Handbook, there is a section titled "Materials Distribution And Postings" which have guidelines for distributing materials and posting on campus.
"Permission to place posters and/or flyers anywhere on campus must be obtained from the Center for Student Success and Engagement. The circulation of handbills by individuals must have similar approval. Items must not be obscene, discriminatory, disruptive or offensive to the Mercy College community. In addition, all approved materials of any type must be posted on appropriate bulletin boards. Posting on doors, glass, cinder blocks, painted or marble surfaces is not permitted."
On Saturday Dec.1 at 11:00 a student started a post on Facebook about the poster. Some students did not know about this but through the power of Facebook students are becoming more aware of what occurred on campus.  Students have a not stop commenting stream on the poster. Some people like Lauren Martin believe "it's a 'harmful prank' that is still messed up… if it's a joke it's not funny at all."
On Facebook a student posted that she knew some of the lacrosse players, and she believes that they did not do it. Shaunté Shauni Sherrod was told that one of the people that was on the poster recently visited the police department.
One student James Fabio also believes "[it] wasn't the lacrosse team, rather someone trying to get the lacrosse team in trouble."
The person(s) that made this had a mistake a name was spelled wrong.
A student, who wishes to be unnamed, could not believe this happened, "This did offended me."
It is reported that the lacrosse team is not an all-white team.
View Comments (2)