Virtual Commencement Announced For Seniors
President of Mercy College, Timothy Hall, announced via email on April 1 that while the college has been closely monitoring the current COVID-19 situation, it has been decided to cancel all events and activities for the rest of the academic year, following the guidelines that have been set in place by the Centers for Disease Control and Prevention.
Commencement would be taking place virtually on Wednesday, May 20.
Hall gave reasons for the decision in an online video.
"Unfortunately the ban on large gatherings in New York prevents us from having commencement in May. In fact, the Westchester County building where we normally celebrate graduations is being transformed as we speak into an emergency hospital. I know this is discouraging and disappointing news for soon-to-be graduates, a lost experience with your family and friends, a loss you're probably grieving. Here's what I can say, though: Your achievement is worth celebrating and we intend to celebrate it, even if we can't all be present together."
Mercy College's commencement ceremony is usually held at The Westchester County Center is currently under construction to be converted to a temporary hospital, expected to hold 120 beds.
Despite not being able to book a venue, some students were displeased with the announcement.
"If someone were to tell you that your undergraduate commencement was being cancelled how would you feel? How would you feel if it was especially being placed online? Four years of work traded to a Zoom chat. Now, the arena where our commencement is being held, it's been turned into a center for the corona outbreak, which is a wonderful idea because we're in need of more testing centers. But the idea of all the work I did, just to be traded as a video call is devastating. If Mercy considered pushing the commencement for a later date, then everyone gets the commencement that they deserve," shares senior Olivia Nuttall, who seems to have a similar idea of what should happen with commencement instead of holding it only virtually.
The same day that the email was sent out, Mercy College's Instagram page shared the same video that had been linked in the email, and many current students as well as alumni made comments on the post, discussing their dislike for this decision. A new Instagram account has been created by the username of @reschedulegraduation and it currently has 40 followers and only one post, explaining the importance of having a graduation ceremony.
Others were understanding but hope for a live date to be rescheduled in the future.
"How do I feel about commencement being cancelled? I feel sad. I'm third in my family to graduate and I was looking forward to celebrating with my family. But I understand during this time, it's in the best interest for the college, and everyone else, that it be cancelled. But I do hope that they have a ceremony for this year's graduating class in the future," said Christina Heyward while giving her opinion on the decision made about commencement.
A petition was created with the title 'Allow the Class of 2020 to have an actual graduation!' and it currently has over 500 signatures to it and that number is climbing each day. Of all the people that have signed this virtual petition, many people have also made comments on it, expressing their opinions on the change in commencement for the year.
"The idea of walking across the stage at the end of senior year has always been the most exciting part for me and what I've been looking forward to throughout my four years of ups and downs with college. It's a moment that I won't ever get back. I personally feel it should be postponed for a later date and not taken away completely. I know for most of us, including myself, we wouldn't care if we had to wait until October to get the chance to walk across the stage at commencement," posted Kyla Gonzalez. "We'd all give anything for it not to be canceled, but it's out of our hands. I know there's lots of bigger issues going on in the world right now, but personally all I wanted was just for commencement to be postponed until after the whole situation with coronavirus was under control. A virtual graduation, if anything, should be an added part in graduation celebrations and I'm thankful for at least that under the certain circumstances we're facing right now, but I 100 percent do believe it shouldn't have become a replacement for commencement."
While a majority of students understand the reason as to why commencement will not be held, they are unable to understand why it cannot be postponed to a later date, rather than traded for a virtual ceremony.
"COVID-19 seemed like an issue far from home. We all just brushed it off not knowing the damage it was about to cause. School was my get away from all the problems at home, I truly enjoyed being at school. That day I found out classes were going to be online, I cried. But I figured we would all be back in April. I didn't say bye to my friends, faculty and professors. All of this really hit when we got the sad news: The rest of the semester will be finished online," explained Maria Herrera. "The Mercy Scholars scholarship initiated my senior year of high school, therefore making my fellow scholars and I Mercy's first scholars to graduate. It was an event where we were getting honored and our donors would have been present to congratulate us. It's sad to know that we are graduating virtually, I haven't wrapped my head around it yet and I probably never will. I was hoping commencement could be postponed so we can still have those pictures of us outside Westchester County Center."
After Mercy College had taken in students from the College of New Rochelle (CNR), many students from CNR expressed stressful processes to get settled at an all new school. Many students from the school that had transferred to Mercy College while trying to finish their degrees are not happy about the decision that has been made about their graduation ceremony.
"I'm a nursing student who not only had to go through my former college, the College of New Rochelle, closing but now our new college is choosing to not postpone, but cancel graduation. To get this degree, we have overcome so many obstacles and sleepless nights. It is unfortunate that we as students aren't valued enough by our college. Mercy choosing to only do a virtual ceremony is a true reflection of how they feel about their students," explains Abigail Martinez as she expresses how she feels about what is happening with commencement.
The concept of a commencement held at a later date has not been c0nfirmed nor has it been denied. The COVID-19 pandemic has officials tackling a multitude of issues since the outbreak began. Many Mercy College officials have stated how commencement is one of their favorite days of the year.
"Personally, one of my favorite moments of the academic year is when I stand on the stage and shake the hands of those who have earned their degrees, so this was one of the most difficult decisions I have had to make. However, the health and well-being of our community must remain the highest priority," says Hall in the email sent on April 1, 2020, as he sympathizes with those who will not get to have a traditional graduation such as the ones that Mercy College had held in years prior.
Leave a Comment
About the Contributor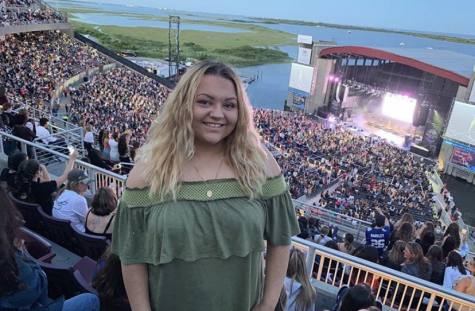 Jillian Simmons, Impact Staff
Jillian Simmons is a junior studying Television and Radio Broadcasting, with a secondary concentration in journalism.

She has a passion for video editing...