Mercy College Donates PPE Equipment To Montefiore Hospital
The Mercy College School of Health and Natural Sciences recently donated around 20,000 pieces of personal protective equipment (PPE), to Montefiore Hospital in Bronx, New York. After the state called on organizations to donate supplies, Mercy acted right away.
Karen Koziol, Clinical Simulation Director, and Christina Rossi, a Mercy Nursing Program staff member and the Director of the Nursing Labs for the New Rochelle and the Bronx campuses, organized the donations. SHNS Dean, Joan Toglia, and Associate Dean, Golisz, also played a role in organizing the donation effort.
Koziol, assisted everyone to find the supplies that the college could donate. "I was a staff nurse for 35 years, so I know what supplies and types of equipment are in use for patients hospitalized with COVID-19. It is also to know which supplies are 'real' and which are simulated and unsafe to use on human patients. For example, in the simulation lab, the patient monitors look real, but they cannot be used to monitor patients. The IV pumps are real, but the lab only has "simulated" IV fluids. I had to make sure that the equipment we sent to the hospital was safe."
Susie Moscou, Executive Director of Mercy College's nursing program, and Miriam Ford, Associate Dean for nursing at Mercy's Dobbs Ferry and Manhattan campuses, arranged for gloves, thermometers, thermometer probes, IV pumps, ventilator, ambu bags, surgical masks, N95 masks, gowns, head caps and shoe covers to be donated to Montefiore.
The two ambu bags that were donated will help the hospital provide a temporary breathing solution for any patients who can't gain access to a ventilator right away.
"The PPE will help protect the frontline workers who are helping to treat the patients, said Moscou. Also, the PPE will help protect the people who clean the hospitals, and anyone who works there."
Konrad Motyka, Mercy College Executive director for Campus Safety and Management, also contributed to the donation effort by transporting the PPEs from the campuses to Montefiore Hospital in the Bronx.
Montefiore Hospital is a clinical partner with Mercy College. Many faculty, adjunct professors, and alumni work for Montefiore and Mercy students complete their clinical rotations at the hospital.
"It feels good that we could donate, but it is unfortunate that the hospitals weren't able to get the supplies that they needed from the government," says Moscou. "It's something we would have done any way, but it is unfortunate that the state had to put out this call because they weren't able to secure it from the government."
Leave a Comment
About the Contributor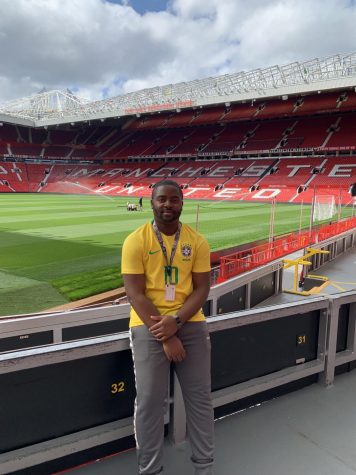 Chevaughn Hurst, Impact Staff
Chevaughn Hurst is a senior majoring in media studies with a concentration in journalism. He grew up in Jamaica and migrated to the United States at the...