How the Mav Market Continues to Help
The Mercy College Mav Market is a food and resource pantry that is dedicated to making a difference during this difficult time. The pantries are located at the Dobbs Ferry, Manhattan and Bronx campuses, but it has shifted to a virtually based setup because of the current coronavirus pandemic. The Bronx and Manhattan campuses are partnered with food banks in the city. At the Dobbs Ferry campus, they are partnered with Feeding Westchester.
All the resources from the Mav Market are available to students, faculty, staff, and alumni. The goal is to provide immediate needs and resources to anyone in the Mercy community that needs help. Some resources available to the community are food, toiletries, recipes, and other health and wellness resources.
Their mission is to reduce food insecurity, promote a healthy lifestyle, engage the community, and to be an inclusive space. The Mav Market has served over 20,000 meals to the Mercy community and have over 600 members since it began at the Bronx campus in 2017.
Mary Sherman is the person who oversees the pantry operations for all three of Mercy's Mav Market locations. Despite the difficulties, Sherman has made it her priority to meet the needs of the Mercy community. She has ensured the Mav Market's functionality so that students, faculty, and staff can get food and other personal items confidentially.
In response to the pandemic, Sherman and her team have created a list of food pantries and other resources spanning Westchester, Hudson Valley, New York City, Connecticut, and New Jersey. With the on-campus pantries being closed, Sherman continues to engage members, volunteers, and student leaders through email and social media by sharing information about health care and counseling services and how to apply for assistance. She also provides healthy recipes for anyone that needs it.
"Closing our physical space was a challenge because students, faculty, and staff had immediate needs for supplies," said Sherman. What we have been doing for about a month is that we are working with the people who are in need to locate pantries that are closer to their houses. In New York City, there are a select number of public schools that distribute three free meals per day. Our funding from the alumni foundation allows us to distribute $35 gift cards to the Mercy community and anyone in need. There is no restriction on what they are able to buy with the gift card."
A lot of the funding for the Mav Market came from student life originally, but they are no longer dependent on it. Mercy Mav Market has an Amazon Wishlist that anyone can use to buy essential items that are in high need for the pantry. The list ranges from food to toiletries. However, because of the pandemic a lot of the items that are on the Wishlist are not available on Amazon, pre-pandemic this was a large part of the donation base for the pantry.
One goal of the Mav Market is to expand their Amazon gift cards. Having more people donate to the alumni giving fund will help them get the gift cards to the people in the Mercy community who needs it the most. Any amount is suitable because everything adds up. Being able to distribute the gift cards will allow students, faculty, or staff members to get any essential items they need in these uncertain times that we are living in.
"I never like to think of myself as someone who helps people. I always say it is an honor to serve, said Sherman. Because every individual I work with I know that they have the power and strength to get through what they are going through. I always wanted to give back. I work on a great team of dedicated individuals.
To support the Mav Market- https://alumni.mercy.edu/mercymavmarket
Leave a Comment
About the Contributor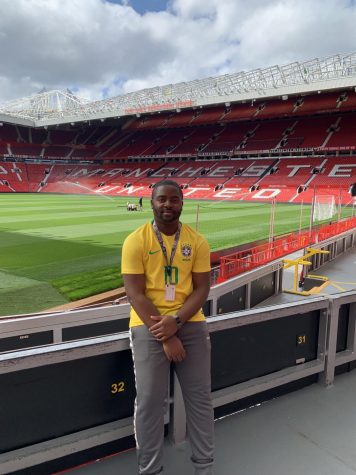 Chevaughn Hurst, Impact Staff
Chevaughn Hurst is a senior majoring in media studies with a concentration in journalism. He grew up in Jamaica and migrated to the United States at the...