What Will Graduation Look Like?
Graduation has become even bigger than academics, it's about making it through school with the pandemic now.
Shaday Rosario, a 2020 graduate stated, "Graduation has become a very sensitive topic for me."
Rosario lost both of her parents within two weeks of each other and her only chance to celebrate with them would've been last year. She understands the world was crazy and different but now she doesn't even plan on attending graduation for the class of 2020 if one is held.
"I do feel for the class of 2021. I would love to cheer on my friends and I wouldn't want them to feel the way I felt when Mercy decided to cancel commencement for understandable reasons," Rosario stated.
Graduation is one of the biggest moments in a student's college career, it is the realization that they are about to join the real world and start their lives. No more school, homework, and that comfort they have felt for years.
2021 has been very odd though and students do not know whether or not they will be having a graduation.
Joslaine Villavizar, a senior, reflected on how she would like to know more about what is going on for graduation.
"I'm a first-generation student and I was really looking forward to my family watch me walk across the stage," Villavizar stated.
An email was sent out by President Hall on Feb. 17.
"Dear Class of 2021,
Congratulations on persevering through this tumultuous year and earning your degree.  I know many of you might have questions about the format of the 2021 Commencement ceremony. I want you to know that the College is currently evaluating the ever-changing New York State guidelines on gatherings, as well as the rates of transmission of COVID-19 in the surrounding communities.  We hope to be able to make a decision that both honors this important milestone and ensures the health and safety of our Mercy community.  We expect to be able to share details about the Commencement ceremony soon.
As I've said before, one of my favorite moments of the academic year is when I stand on the stage and shake the hands of those who worked so hard to earn their degrees.  While our graduation celebration this year will likely look different than the traditional ceremony, what I do know is that this milestone will be a memorable event for you and your families.
Thank you for your patience and best wishes on the rest of the spring term."
This email gave hope to some students but on the other end was very short and to the point.
"It's been a long year overall and if an effort was put towards commencement day I'm sure a lot of people would be happy and thankful especially after this year," Villavizar stated.
Mercy College has yet to come out with another statement regarding graduation. The Impact has reached out to Mercy College officials to ask about what graduation was looking like. They declined to make a statement.
What we do know is that the regular graduation venue will not be used if there is in-person graduation. This is because the Westchester County Center is being used to distribute COVID-19 vaccinations.
In-person graduation is looking hopeful though especially with the new New York State COVID-19 guidelines. Sports arenas with a capacity larger of 10,000 can now be open, New York City restaurants have been open since Feb. 14, and more and more people seem to be getting vaccinated.
There are plenty of opportunities to have in-person graduation especially outside since it will be held in May. Villavizar mentioned the fact that the weather will be warm, there's plenty of room for social distancing, and it would be a beautiful ceremony.
To stay updated with all things with commencement check out the commencement page on Mercy's website and continue to check your Outlook emails.
Leave a Comment
About the Contributor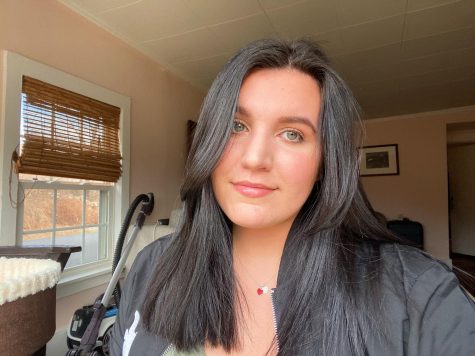 Alexis Lynch, Managing Editor
Alexis Lynch is currently a senior at Mercy College. At Mercy, Alexis is a Media Studies major with a focus in Journalism. She has gained experience that...