Local Ukrainian Residents Live In Uncertainty Following Russian Invasion
Yuriy braced himself for humiliation every time his parents dropped him off late at school. His parents would leave him yards away, and he would walk a long way to be shamed in front of his classmates.
At school, he was forced to do push-ups and sit-ups during a time when punishment was expected, and control was demonstrated by stripping away every ounce of their human dignity.
Yuriy was only 11-years-old when the Soviet Union collapsed, and these perceptions marked his life forever.
"They would say you have to be oppressed, and you have to feel for what you have done."
At 23, Yuriy Fizr left Ukraine to live in the United States, and in 2012 he graduated from Mercy College with a bachelor's degree in Accounting. He is currently the President of Tech and Innovation for SUMA Credit and the union coordinator for the Ukrainian American Congress Committee.
While Fizr left behind memories of oppression, he is still able to recall a time when the two countries still shared some cultural similarities.
The link between the people of Ukraine and ethnic Russians living in Ukraine is so strong, according to Fizr, that it has blended the two cultures together. The two groups share the same movies, languages, and other cultural items
Ethnic Ukrainians and Russians have had a long and complicated history involving their home nations. As far back as the 800s, both groups of people were in a loosely held federation known as Kievan Rus.
'We never felt like we were enemies because someone was speaking Russian," said Fizr.
The area today, which contains modern Ukraine, has since then fallen under Mongol, Russian, and later de facto Soviet occupation.
It was during this era of the Soviet Union that helped foster the seeds of animosity that exist, according to Fizr.
Many older Ukrainians experienced what is known as the Holodomor between 1932 and 1933. This large-scale famine caused the death of over 10 million people in Ukraine and abroad, according to the National Museum of the Holodomor Genocide based in Ukraine.
The Russian Federation officially denied what took place in Ukraine during Holodomor was genocide. Instead, they call news and information about it "extremist material." The United Nations has also not acknowledged Holodomor as a genocide.
Many, including Fizr, view the current War with Russia as an extension of this history of harsh treatment by the Russian government.
The war, which officially began with the full-scale invasion of Ukraine on Feb. 24 is the largest escalation of the Russo-Ukrainian War, an eight-year-old conflict that began with Russia's occupation of Crimea in 2014.
Before the invasion, Ukraine had and continued to fight Russian separatists in Eastern Ukraine.
"Even though there are good and bad Russians, we will always be suspicious because of what they have done for us."
One of the justifications used by the Russian President Vladimir Putin has used for the invasion of Ukraine has been the allegation of "Neo-Nazis" being present in the leadership of the Ukrainian government.
Roman Kozicky, the CEO of SUMA Federal Credit Union and Coordinator of Press and Public Relations of Ukraine Congress Committee of America Westchester Branch, views this as "nonsensical," noting how the current president of Ukraine, Volodymyr Zelensky, is Jewish and the previous president was half-Jewish.
He also points out how many accusations have been made by Russian leadership without any further evidence to support the claim.
"When absurdity finally comes in contact with the truth. Something has to give," said Kozicky.
However, among the groups participating in the defense of Ukraine is the Azov Battalion. This group was established in 2014 and was described in an article by the New York Times in 2019 as a "Ukrainian neo-Nazi paramilitary organization."
***
Kozicky was away for the week when he received the news of the invasion, for him worse than being away was not being able to drop everything and return to Ukraine to fight for his country.
The nights for Kozicky are restless, lost in thoughts of Ukraine's uncertain future. He watches the clock every night, praying that the morning will bring news that he knows won't arrive.
After years of conflict, he expected things to have changed by now, "all of sudden it's day four and five, and they are still holding on."
Now he looks forward to supporting those back in his country and the Ukrainian community here in Westchester. Kozicky is a strong supporter of all humanitarian aid, including those supporting war efforts.
"If you see someone being attacked by a wild animal, and you throw them a sword. That's a humanitarian act."
***
For local Ukrainians in Westchester, many still have family in Ukraine to who they speak frequently. Many of those back convey the realities of living next to a nation that they view with great mistrust.
One of these people is Fizr's brother-in-law, who used to work for a Ukrainian trucking company where he would often have to travel across Eastern Europe on trucking routes including Russia.
He and Fizr would speak about how when crossing the border into Russia, he would notice it even if there weren't any street signs.
"He will always tell me when you enter Russia you feel it. Like something is in the air you feel. Something is different. Your body cringes," said Fizr.
Kozicky also has family who still lives in Ukraine, they are some of the thousands of Ukrainians who have taken up arms in defense of their homes.
On Fab. 24, Zelensky mobilized all men ages 18 to 60 to serve in defense of Ukraine.
Kozicky's cousin is 58-years-old and in 2014 served in the army to fight in Eastern parts of Ukraine during the ongoing Russo-Ukrainian conflict. His cousin was out of the country with his sons on vacation. He could have stayed there and avoided the conflict completely but instead, he chose to stay and fight.
According to Kozicky, it was never even considered a possibility. The next morning his cousins and his sons ended their vacation to fly back to Ukraine. Since then, they have been serving in the defense of Ukraine.
"There is just amazing respect I have for them," said Kozicky.
It is not surprising to Fizr and Kozicky that civilians are taking up arms and returning to defend their homeland, as their country's pride has always been etched in their DNA.
"To a lot of us Ukrainians, this fight and struggle against Russia is ingrained in us on a molecular level," said Fizr.
Fizr and Kozicky, who at first weren't sure of Zelensky's leadership, now express gratitude and respect towards the president.
"Now actually seeing it happening is an amazing thing to witness. The world sees it and the world is amazed," said Kozicky.
Kozicky and Fizr view this Russian invasion as yet another attempt to erase Ukrainian identities.
"Not winning is not an option."
Through SUMA Federal Credit Union, Kozicky and Fizr have organized fundraisers and promoted local charity events for Ukraine since the start of the invasion.
"I'm immensely proud of my people. The spirit of unity of the country. One picture of this gives me chills."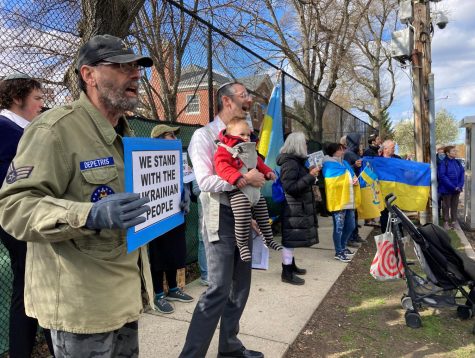 This sense of national pride births feelings of guilt for them. The guilt of remaining here in the U.S. while hearing of friends returning to their homelands to defend their pride and the family members who refuse to flee.
"I talk to my childhood friends, and they are making Molotov cocktails. And my sister is cooking and packing food to help refugees at the Slovak border," said Fizr.
He wrestles with thoughts of going back to Ukraine, but his wife reminds him there is more to live here, his children are here, and she knows that if he goes back to fight for his country, he would be making a one-way trip to his death.
"It's something deep inside telling me you should be there."
Leave a Comment
About the Contributors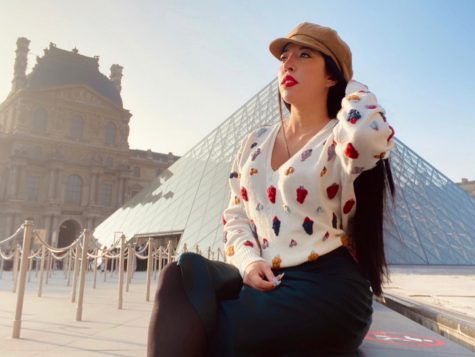 Nicole Alarcon, Associate Editor
Nicole Alarcon is a senior at Mercy College, majoring in journalism. Born in São Paulo, Brazil, she moved to the United States at 10-years-old.

Nicole...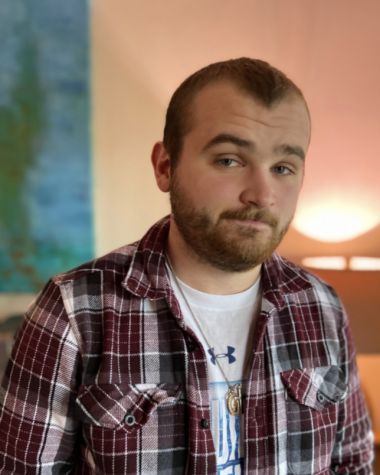 James Tiedemann, Managing Editor
James Tiedemann graduated from Mercy College in the May of 2022. He transferred there after graduating from SUNY Orange with his Associate's Degree in...