Mercy Health Society Hosts Event Supporting Ukrainian Relief
The Mercy Health Science Society hosted a fundraiser in support of Ukraine, the club raised more than $500 in donations and medical supplies that will be sent overseas to Ukraine. 
In addition to collecting donations and medical supplies, the Health Science Society also baked goods with Ukrainian flag. 
The event was organized by senior Inna Lemyzhanska, who's graduating this year with a degree as Physician Assistant(PA)in Health Science. 
"It's honestly horrible. The first time I heard of the war, I broke down crying," said Lemyzhanska. 
As a Ukrainian native, part of Lemyzhanska's family is still trapped in the middle of the war. Their only means of communication is through the phone, and it's both a blessing and a surprise for her when she's able to get through to them. 
"
"It's gotten to the point where when I talk to my family, it's not hey how are you, It's now, are you alive? Have they bombed you?"
— Inna Lemyzhanska
Lemyzhanska is grateful that she's able to assist the Ukrainian community even though she cannot physically be there.
"Being here, I know that I can still help a lot by collecting donations and by spreading awareness because I know there's a lot of Russian propaganda that goes out."
Lemyzhanska has been showing support for her country since the Russian invasion on Feb. 24, by sharing content that exposes the true horrors of the war. 
"I have been trying to keep everyone informed so that they know the truth and not the lies that are being told by the Russian media," she says. "It's gotten to the point where when I talk to my family, it's not hey how are you, It's now, are you alive? Have they bombed you?"
Other members of the Health Science Society also shared their support for Ukraine.
"It ties in with our professions in the future. We are here to help others so we are starting small and making a difference in the long run," said Maddison Delgado, a senior majoring in Health Science PA.
The group collected first aid supplies and a list of products for personal hygiene, the list of products requested for donation included; flashlights, batteries, wipes, diapers, toothbrushes, and toothpaste.
The Ukrainian Congress Committee of America (UCCA), in joint association with the United Ukrainian American Relief Committee (UUARC), has been assisting Ukrainian war victims and refugees since 1944, sending numerous medical supplies and humanitarian aid to Ukraine to assist wounded soldiers, displaced persons and orphans.
On March 18, the UUARC announced they were pausing the collection of donations until April 1, with the exception of medical, trauma, and hospital supplies. 
"Due to the overwhelming extremely generous response of caring people like you, we must stop accepting all donations until April 1," the announcement stated. "If you are currently conducting a drive, if possible, kindly hold the items, but if you are unable to, we will accept them."
The United Nations Office for the Coordination of Humanitarian Affairs (OCHA) published a situation report stating that oxygen needs remain critical in affected areas, especially for patients in hospitals. The report also listed an urgent need for trauma and surgical supplies, essential medicines as well as backup generators, and fuel for healthcare facilities.
Supplies can arrive in Ukraine through NATO countries that border Ukraine on the western or the southern part of the country, including Poland, Slovakia, Hungary, and Romania.
"There are certain humanitarian groups that travel to Poland and from Poland to Ukraine, now that every airport is closed, so they travel from the border of Poland to send the supplies, and only those groups are allowed to do that," said Lemyzhanska.
If the war continues, the Health Science Society students will plan to create more events supporting Ukrainian relief. 
"We appreciate all Mercy students and faculty who supported our fundraiser, thank you for helping us make a difference."  
Those who couldn't make it to the bake sale can still donate to the cause by contacting the Mercy Health Society through their Instagram page. 
Leave a Comment
About the Contributor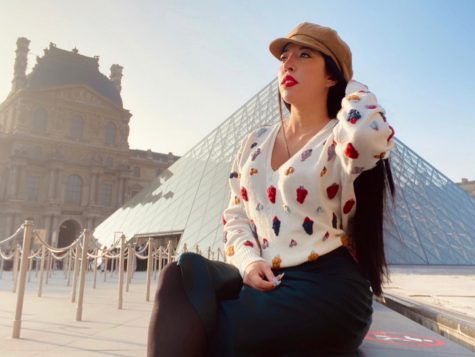 Nicole Alarcon, Associate Editor
Nicole Alarcon is a senior at Mercy College, majoring in journalism. Born in São Paulo, Brazil, she moved to the United States at 10-years-old.

Nicole...