Kevin Kruse, CEO and author, defines leadership as "a process of social influence, which maximizes the efforts of others, towards the achievement of a goal."
Mercy University started its annual Student Leadership Conference with this inspiring quote in Lecture Hall on Sept. 16. The student leaders on campus, from the leaders of the Fashion Club, Caribbean Student Association, Student Government Association, and more, gathered together to learn valuable soft skills and bond with one another.
The conference is hosted every year by Campus Life, run by the Associate Director of Campus Life, Victoria Costa.
Costa said, "Campus Life hosts the Student Leadership Conference every year to help get students involved in extracurricular and co-curricular activities."
She added, "We invite student leaders from all three campuses to learn more about what opportunities exist for them and the support that the Office of Campus Life can provide."
Encouraging student leaders has become a very significant mission and value Costa has spread during her time at Mercy. This stems from her vast experiences in her time at SUNY Oswego and Baruch College as the Secretary of Alpha Phi Omega, Vice President of the Italian-American Heritage Club, a peer educator, Director of Public Relations for the Student Government, the service and co-ed representative for Greek Council, Secretary of Lambda Pi Eta (National Communication Honor Society), and a member of Omicron Delta Epsilon (Economics Honor Society).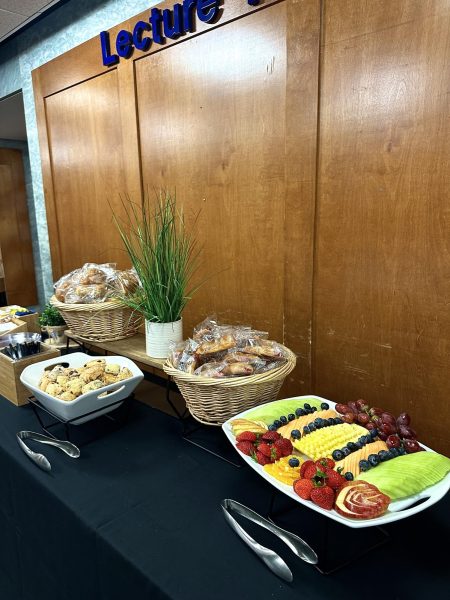 Costa tried to incorporate into the conference guest speakers, a workshop, and, of course, tons of food to make it more interactive for the students who attended. With an astounding estimated 40 clubs at Mercy, 12 clubs were represented at the Conference this year.
The conference began reviewing each club's financial budget. The Student Government Association, as well as Campus Life, provide money to clubs as requested for the events they host, apparel they may need, or other requests. The clubs can also raise money for their requests through fundraisers. However, with fundraisers only allowed to be cash-only, this seems to be an issue Campus Life is aware of and is brainstorming for solutions.
Costa also reviewed Mercy's new website, Engage, which replaced Mercy on the app CampusGroups. On Engage, all of Mercy's clubs and students can interact with each other, attend events, keep track of their club memberships, and discover unique opportunities at Mercy.
Mercy's Executive Director of Public Relations, Zodet Negron, spoke to the students about her role on campus and further into campus engagement. Negron also mentioned Mercy's community partners and their ability to even help students with internships.
The most interactive aspect of the Conference was the safe zone training run by Brittnay Crocco, the Director of Residential Life. Crocco said, "I am passionate about creating safe, inclusive and accepting spaces. It was an honor and privilege to present to the student leaders at Mercy. As leaders in their communities, they are in the unique position to offer support and be a peer role model."
"
I am passionate about creating safe, inclusive and accepting spaces.
— Director of Residential Life, Brittnay Crocco
The safe zone training educated the students on gender, sex, and sexuality, and provided LGBTQIA+ awareness through the lens of identity and communication. This included using one's proper pronouns respectfully, how to react when someone comes out to you, dealing with stereotypes, and more.
Toward the end of Crocco's presentation, the student leaders were able to identify, with courage and confidence, stereotypes relating to themselves and how they do and don't identify with their stereotypes. Crocco said, "The students were receptive to the content and the conversation flourished, with the participants often offering their insight and help to answer each other's questions."
The student leaders were able to effectively learn about the PRIDE community, the importance of making others feel safe and respected, and how to be active allies.
At the end of the Conference, the student leaders should have gained valuable skills in engagement, teamwork, and knowledge of gender, sex, sexuality, and the LGBT community.
"
Two of the most important skills in my eyes is you have an opportunity to learn about yourself and as always fun.
— Director of Campus Life, Alena Kush
The Director of Campus Life, Alena Kush, has past experience in her education as an RA and Captain of the women's basketball team. She said, "Two of the most important skills in my eyes is you have an opportunity to learn about yourself and as always fun..