OP/ED: Dormers And The Landing Residents Still Battling Over Noise
The Landing, the private housing unit beside Mercy College, has made numerous complaints about the residents being too loud and disruptive during all hours of the night.
"As long as I've been an R.A there has been a problem, but never a confrontational issue," said third year residential advisor Danielle Lambert.
She says there are only two houses in particular that happen to complain about the residents and they have the Residential Life phone number just in case they need to complain. If the staff doesn't solve the problem quickly, the Landing residents reach out to police. The police have had to show up about 10 times in the past couple of years to write citations out for students, said Lambert.
Yet it may be all for naught. This happens just to be a scare tactic that never really works because residents still yell out of their window at 3 a.m. Several notices have been given out last year from the Dobbs Ferry police warning the residents. It doesn't only become annoying for the residents of The Landing, but for residents of Mercy College as well.
While some believe that students who are loud deserve these citations and fines, others beg to differ.
"My opinion is that they chose to live beside a college," said Jackii Newman, a two year resident at Mercy College. "We have a lot of people who don't even live on campus, and this is a small school, so we aren't even that loud."
I agree with Ms. Newman when she says that it isn't fully the students' fault. The people of The Landing need to understand that this is a college and they can't expect students not to make noise.  Students should be considerate of those residents, but they can't be such sticklers either.
A building with 18, 19, 20 and 21-year olds is typically not a place to expect to hear silence by 8 p.m.
"It is tough because Mercy is expanding," said Lambert. "Are we wrong for having kids yell out the window? Yes. But this should've gone into their decision when buying a house next to a college."
A resident of The Landing, Barbara, who asked not to have her last name printed, said she is a bit annoyed with the noise situations. She has been living in the Landing since it opened 11 years ago and she seemed to have mixed feelings about living by Mercy College.
"The college has grown in the eleven years I've live here," said resident Barbara. "All the buildings used to be staff offices and not dorms, so this started a clash."
Barbara doesn't live close to the dormitories, but she claims she can still hear how "loud" the residents get, and she says it must say something since she doesn't live too close to the school.
Mercy College has existed long before The Landing did, so when people decided to move into the private homes, they knew the complications that could likely arise by living next to a college.
Mercy College is more than a dog park for the people of The Landing, although there is a sign that says "Do Not Enter" when heading into The Landing.
And vice versa.
It seems the college residents aren't the only ones to be invading someone else's privacy.
On one side is a large beautiful campus with open fields that allow dogs to trot and paths to jog on. On the other side, complete silence. Landing residents need to understand, it can be one way or the other. But not both.
"For what it is worth, I hope there could be a better relationship between The Landing and Mercy College," said Barbara.
I'm pretty sure various residents of both Mercy College and The Landing agree.
View Comments (1)
About the Contributor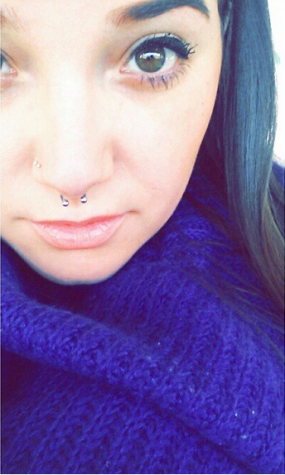 Erminia Errante, Senior Editor
Erminia Errante is FINALLY A SENIOR with an English Education major and a journalism minor. Living in Brooklyn, she has a passion for writing and loves...