OP/ED: Where Is #MeToo in Music?
The #MeToo movement has swept the entertainment industry as of late, with high power female figures like Rose McGowan, Oprah, Lady Gaga, and Viola Davis voicing their militant support of the victims of sexual assault at the hands of men; but unfortunately, this movement has yet to seep into all corners of the industry. The 60th Grammy Awards took place last weekend, and unsurprisingly, the ceremony came and went without much focus on the movement or the proposed solidarity that organizers had planned for the night.
Senior executives from Roc Nation and Interscope, along with a group of about a dozen other women, gathered prior to the award ceremony to organize a way to show solidarity with the #MeToo movement, according to Billboard. They came up with their own outward display, like the blackout silent protest of the Golden Globes, to allow attendees to show their support. White roses—pinned onto gowns or worn on wrists like corsages—would be the official #MeToo/#Time'sUp accessory of the Grammys.
When it came to "music's biggest night" however, it seemed as though support was tepid in comparison to the solidarity that Golden Globes attendees had shown. The initial booming excitement over the movement had trickled down to the Grammys and proved to be an overall underwhelming display of the dialogue we had sparked during previous award shows this season. The disappointment didn't stop at the lukewarm embrace of the white roses, however. When all was said and done, the 2018 Grammys, which had previously made headlines for having the most female nominees in recent history, had little to no actual female winners that night. While this can obviously be debated in terms of musical quality barring gender, it's clear that the Grammys, yet again, took the safe route and refused to acknowledge superior artistic ability in favor widespread reach and popularity.
There truly exists a larger problem within the music industry, and it can be perfectly summed up by Recording Academy President Neil Portnow's comments on what women within the industry must do in order to be recognized. "Women who have the creativity in their hearts and souls, who want to be musicians, who want to be engineers, producers, and want to be part of the industry on the executive level, [They need] to step up because I think they would be welcome," Portnow told Variety. When the President of the Recording Academy expresses views that amount to, "women need to step up" there's a clear element of misogyny there. The abundance of women in each of those roles currently in the music industry, and those who would die for a chance to make it, simply debunks Portnow's off-base and bazaar comment.
Beyond awards and accolades, which, if for no other reason merely serve as a congratulatory gesture of encouragement to continue creating meaningful art, there is also the more sinister side of the absence of the #MeToo movement within the music industry. When you have an industry that continues to promote and support domestic abusers like Chris Brown, XXXTentacion, Kodak Black, and the more recently disturbing case of Tekashi69, of course you're not going to have a safe and equal playing field for artists to break through. An article from the Daily Beast recently took a look at the disturbing phenomenon that appears to exist within the hip hop community involving rappers who are accused of domestic violence receiving a swell in their careers. It cites rappers XXXTentacion and Kodack Black as two artists whose musical influence skyrocketed amidst allegations of detailed and horrifying acts of violence towards women.
Looking at someone like Harvey Weinstein, a behemoth of the film industry for decades, it makes one wonder how many other 'Harvey Weinsteins' exist within the music world. When abusers like Weinstein have for so long been protected, immune or unconcerned with the possibility of their actions being brought to light, knowing how blasé audiences seem to be in regards to abusers, there can be no end to the cycle. Not to mention, if these awful, very public displays of violence towards women are not cause enough for the abrupt revokation of an artist's entire career, then what is to be said of the more private and subtler, yet just as damaging, cases of abuse and harassment? Artists like Kesha who may be facing wicked and manipulative behavior at the hands of their own label executives might resign to enduring abuse at the risk of stunting their career.
The paradox of the Grammys' "white roses" statement comes with knowing that this is an industry that has been largely unconcerned with the consequences for artists who engage in violent and abusive behavior. Chris Brown continues to tour, sell merchandise, and release music all for an army of fiercely devoted fans—many of which are still largely female. This speaks to the greater issue of internalized misogyny, which stands little chance of even being addressed if those who have the platform to speak out against this kind of vicious cycle do not actively use it to raise awareness. So, no, Neil Portnow, women are not the ones who have to "step up." It is the men, like yourself, who find themselves in positions of power, who hold leverage over the careers and lives of every artist in the business, to speak out against rampant inequality, condemn disturbing cases of abuse, and create a safe and welcoming atmosphere for every woman who decides to risk it all to make a living as an artist.
Leave a Comment
About the Contributor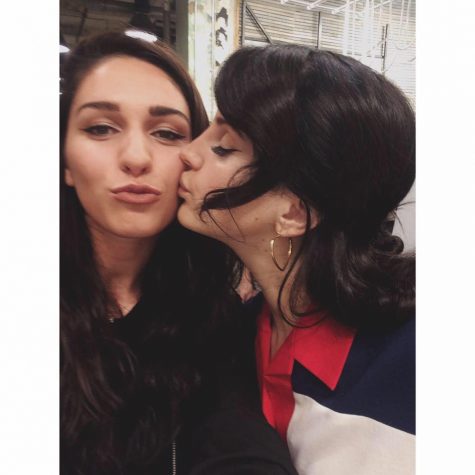 Nora-Grayce Orosz, Former Managing Editor
Nora-Grayce is a journalism major from Yonkers. She's a music and pop culture addict who lives for festivals and food. In her spare time she can be found...