I hate how much I'm about to sound like Stephen A. Smith. It bothers me. I hate to rain on the parade of happiness, the delusional euphoria that Knicks fans are happily swimming in. To throw this nirvana into a cold shower – for a lifetime Knicks fan who suffered throughout the embarrassment of the Isaiah Thomas era Knicks is bothersome. But here it goes- I'm gonna have to be the Grinch.
As Mike Lupica astutely pointed out the other day, to judge a basketball game after game 3 in an 82 game season is akin to judging a football team after the first half of the first game of the season (at which point the Jets were the most dominant team in the NFL and Mark Sanchez, the most dominant quarterback). It's ridiculous to the point of absurd.
Sure, there are things to like: team defense, good rotations (though if they continue to switch on screens with the frequency that they do, teams like Miami and Brooklyn will kill them), good ball movement, and most importantly- a commitment from Carmelo to be a facilitator and contributor rather than being the star of his one-man-show. Caesar's been serving Rome for the first three games and it's a beautiful thing to watch.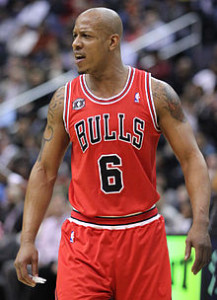 That said, how long do you think the underwhelming trio of Steve Novak, JR Smith, and Ronnie Brewer are going to continue to be viable second options for Carmelo? More to the point (and this was the biggest concern heading into the season for me), what do the Knicks do when Melo's cold? Or when he faces double teams? Who's the team's secondary scorer (if your answer to that question comes off the bench or is over 35, don't answer). The Chicago Bulls ran into that problem in the 2011 Eastern Conference Finals when Miami smothered Derick Rose and forced him to rely on the over-matched Carlos Boozer and Keith Bogans – (KEITH BOGANS) to win. The Knicks have plenty of Keith Bogans on this roster and that's NOT a good thing.
Carmelo Anthony barely makes the top 5 in polarizing NY Sports characters (behind Tebow, A-Rod, and Rex Ryan in my book) yet his make-up and attitude is one of the most analyzed in sports. He didn't buy in with D'antoni (who avoided confrontation like the plague) and it got D'antoni fired. He's bought in to Woodson's system so far. While they're winning and this is Melo's team, he's been happy but we have yet to have a fair gauge of how he'll respond to adversity or when the results of his doing the dirty work aren't as fruitful as they have been in the first week of the season. It should be noted that this is also Carmelo's first real training camp with the Knicks and that his performance in his first two seasons in NY should be viewed with that in mind.
Still, will the defense be able to withstand the arrival of Amare Stoudemire; a help defender with a frail body? Will Carmelo be this aggressive and invested in the defensive side of the ball throughout the season? Can the 30-something year old point guards stay in front of the younger, quicker, and considerably more explosive guards that are ubiquitous in the NBA today? Can Steve Novak guard ANYTHING?
The first three games showed a team that played with a veteran's savvy. Jason Kidd, Raymond Felton, and Pablo Priggioni have imbued this lineup with a sense of calm and poise that was conspicuously absent during the Jeremy Lin era. Of course, it's been three games. Allan Houston would be able to survive 3 games. The question that's plagued the Boston Celtics and every other veteran (read:old) team is- "will they hold up over the course of the season and into/through the playoffs?" There is no way of answering that question 3 games in.
Photo Credit: Jim McIsaac
Please, don't cite Rasheed Wallace for anything unless it's a conversation about age. The man's been retired for two seasons and has already resigned himself to the "Brian Scalabrine role". Though I think Woodson plans on using him more than that and 'Sheed has the potential to add the occasional three pointer and a little post-presence, he needs to work himself into playing shape LONG before we start counting Rasheed Wallace as a reason for success.
Don't bring up Kurt Thomas. He's been irrelevant for six years and had to check with league officials to make sure his arthritis medication wasn't a banned substance. He was a throw-in in the Felton deal, nothing more. And to give you an idea of how old he is, he was platooning with Larry Johnson last time he was here.
Look, happy that the Knicks are beating teams that they're supposed to beat is good. Lord knows they didn't accomplish that feet last season (remember the games against Toronto and Cleveland?). They won and they won soundly but beating a Sixers team without Andrew Bynum or Jason Richardson (except for the first two minutes of the first game) isn't exactly a report card that's going up on the fridge.
Hopeful is good, delusional isn't. The Knicks signed all these veteran players because the window for this roster is painfully small. As far as the Amare/Melo/Chandler Knicks go, it's pretty much now or never and I can guarantee you, they aren't hanging their hats on a 3-0 start either.