The Lightning Bolt
In sports nothing is certain, but an Usain Bolt win in a 100m and 200m race is pretty much a sure thing. When its Olympics or World Championship time, Jamaica as a country, pause to watch the great Usain Bolt run. If you're at work, you are looking for the nearest tv. If you're on your way to work, the bosses know people will be inevitably late because Bolt is about to run.
When its race time and Bolt is shown on the TV doing his usual pre-race celebration getting hyped the whole country of Jamaica goes crazy. This is what sets Bolt apart from every other Track and Field athlete. His charisma captivates his fans and audiences all around the world. Watching Bolt getting hype for the race gets you hyped also because of the magnitude of the race, knowing that in 10-30 seconds depending on the length of the race, Jamaica is about to win a gold medal.
When the starters gun goes off and the race begins, Jamaica is at a stand still waiting to erupt in euphoria. As Bolt starts striding down the track taking less steps than his opponents because of his height, he usually starts celebrating when he knows the win is secured. The whole Jamaica erupts in excitement. People running out of their houses banging pot covers or blowing horns is just a few of the unique celebrations we as Jamaicans do, when someone from our country wins a big event like a gold medal in the Olympics.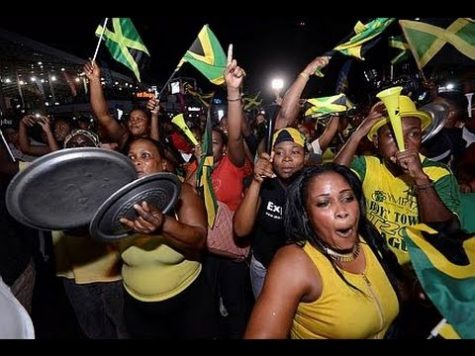 Usain Bolt is the Greatest Track and Field athlete of all time. His records that he set will be hard for another sprinter to break because of the mind-blowing times he clocked in the 100 and 200-meter race. Bolt's record in the 100m is 9.58 seconds. His record in the 200m is 19.19 seconds. Both records were set at the 2009 Berlin World Athletics Championships.
His accomplishments other than the world record times is endless. Usain is a 11-time world champion. At the 2008 Beijing Olympics Usain became the first man to set world records in three events, the 100, 200 and 4 by 100 relay. Bolt was the first person to win gold medals in the 100 and 200 at three straight Olympics. He has an impressive 8 gold medals from the Olympics in Beijing, London and Rio.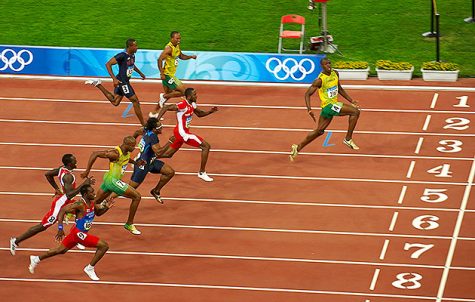 To put Usain's dominance on the Track in perspective, he won consecutive World Championship gold medals in the 100, 200 and 4 by 100 relay from 2009 to 2015. The only blemish Usain had during that time was when he got disqualified in the 100m for a false start. Bolt won a ridiculous 20 gold medals in 21 events he took part in at the world championship and Olympic between August 2008 and August 2016. That's a stretch of dominance that we most likely will never see again in the history of Track and Field.
The impact Usain has left on Track and Field will never go unrecognized. He has put the sport on his back and brought it to heights that will be hard to replicate by another sprinter. His impact can be seen by all the other sprinters actions on the Track. During introductions as names are being called you can see sprinters celebrate and doing their thing that gets them going for a race. Usain Bolt is a trend setter in that area because he was the first person that I saw dance and do different celebration during pre-race introductions. Little things like that is a big part of Usain's legacy.
Every sprinter always wanted to unseat Bolt, but they always came up short in their quest. To have that killer instinct and focus each race is what makes Usain the Greatest sprinter of all time. He took everyone's best shot and he always found a way to come out on top. Not all athletes can sustain that level of dominance over a sustained period. As a Jamaican I am glad I got to witness Usain's performance on the track because he made us proud as a small island country.
Usain Bolt is undoubtedly the greatest athlete to ever lace up a pair of running spikes. Respect, to him for doing it the right way every time he stepped foot on a track.
Leave a Comment
About the Contributor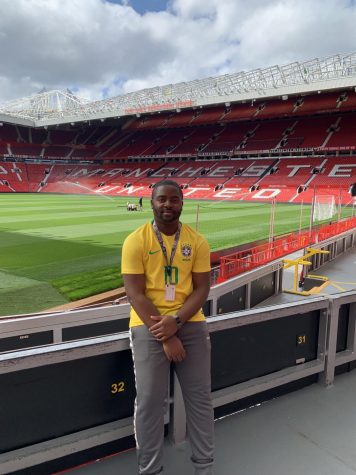 Chevaughn Hurst, Impact Staff
Chevaughn Hurst is a senior majoring in media studies with a concentration in journalism. He grew up in Jamaica and migrated to the United States at the...