The G.O.A.T Disscussion Is Over
In the lead up to Sunday night's mega showdown between the New England Patriots and Green Bay Packers everyone has been having the debate. Who is the best quarterback of all time?
Is the best quarterback of all time; Tom Brady or Aaron Rodgers?
This G.O.A.T debate shouldn't even be a question. This type of debate makes for great barbershop and TV discussions. However, the answer should be clear to everyone.
Tom Brady is the Greatest Quarterback of All Time and it is not even close.
Don't get me wrong, Aaron Rodgers is great, but he is not on Brady's level. People like to bring up the fact that Aaron Rodgers is more talented so that makes him the greatest QB ever. They say, "he has the most arm talent". "He can make all the throws"
My response to those people is that; pure talent doesn't make you the greatest of all time at the quarterback position.
Tom Brady is a three-time regular season MVP. He has made the all pro team three times. Brady has made the pro bowl 13 times. He was the first Quarterback to ever throw 50 touchdowns in a regular season.
Brady has been apart of a Dynasty that has spanned over 16 years. He is synonymous with being a winner. Tom has a regular season wins record of 202-57 compared to Aaron Rodgers who has a record of 97-51. Brady's record is insane because he only has 6 more regular season losses and 105 more wins than Rodgers. That goes to show you that if you compare team success Tom has Aaron beat by a long margin.
The Postseason is where players go from good to Legendary. That's were an athlete cement their legacy of being either clutch or a disappointment. Tom has consistently proven that the Postseason is where he elevates his game to another level. His postseason record is 27-10 while Rodgers is a mere 9-7. Brady has led his team to 5 Super Bowl championships and he won 4 Super Bowl MVPS. Rodgers has 1 Super Bowl Championship and 1 Super Bowl MVP. Comparing postseason success Brady has Rodgers beaten again.
Fans and Pundits all over the country like to bring up the fact that Tom has Bill Belichick as his coach while Rodgers have Mike McCarthy. Its true that Tom has the advantage of having the greatest coach of all time to bounce ideas off, but it is not fair to Brady that people slight him for that. People must realize it takes a special player to put up with Belichick. Players have often said that Belichick is very hard to work with because he is very demanding. They say it is a grind. I don't know how Rodgers would put up with a coach telling him that he needs to do somethings better after he threw for like 400 yards and 3 touchdowns. Brady deals with this on a weekly basis. His ability to not let criticism get to him is one of his biggest attributes.
Tom Brady makes his teammates better. He takes receivers that no one knows and turns  them into house hold names. Julian Edelman was a quarterback in college but changed to receiver when he entered the NFL. Putting in hard work and catching passes from Brady, Edelman has turned into a very dependable receiver. Wes Welker became a great slot receiver under the guidance of Tom Brady. Brady has consistently gotten praise from former teammates on how he has helped them become better players.
In Super Bowl 51 we got to witness the greatest comeback in the history of the NFL. Tom Brady engineered a legendary comeback that fans will never forget. New England was down 28-3 and Brady led them back to a 34-28 win. Brady threw for 466 yards with 2 touchdowns in the biggest game of the year. Games like these is what turn players into legends. Tom just enhanced his legend in this game. Not many quarterbacks could lead their team back from such a huge deficit in the most important game of the year. I'm not sure Rodgers could have done that.
I acknowledge that Aaron Rodgers is a great quarterback, but he is not at Tom Brady's level.
If I had one game to win, two-minutes left, game tied, I would want Tom Brady quarterbacking my team every time.
Brady is the most clutch quarterback in the NFL and he is the undisputed G.O.A.T.
On Sunday night he will prove it once again.
Leave a Comment
About the Contributor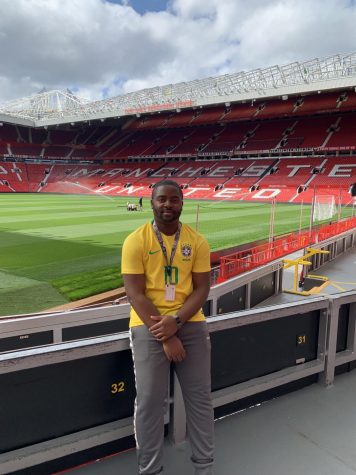 Chevaughn Hurst, Impact Staff
Chevaughn Hurst is a senior majoring in media studies with a concentration in journalism. He grew up in Jamaica and migrated to the United States at the...