The Downward Spiral of Antonio Brown
Antonio Brown was one of the most prolific wide receivers in this era of football. After getting drafted in the sixth round of the 2010 NFL draft, Brown worked hard to prove to everyone that he was the best wide receiver from his draft class. Each and every year, Brown improved statistically. He recorded six straight seasons of 100 catches and 1,000 receiving yards. Brown was simply unstoppable. He and Ben Roethlisberger had a great connection that was hard to stop when they were together on Sundays. Brown was on a Hall of Fame path until he a became distraction to his teams and the NFL as a whole.
Everything changed for Brown when he went live on Facebook, broadcasting to the world his head coach, Mike Tomlin's, speech to the team. Brown's move violated the locker room code because it was invading a private moment Tomlin was having with his team. This move also provided bulletin board material to the New England Patriots because of what Tomlin said about them in the video. Brown had an endorsement deal with Facebook and this was the reason why he went live in the locker room. This move to go live showed Brown's true intentions. It showed that he was in this for himself. He proclaimed to be a team player, but this one move showed his selfish intentions.
During his last season with the Steelers, Brown showed his true character even more when he became jealous of his teammate, JuJu Smith-Schuster's, success. Smith-Schuster winning the Steelers team MVP in 2018 was also a reason why Brown was jealous of the young receiver. He believes that he should get the ball on every play, but football doesn't work that way. To succeed in football, each individual has to be all in for the team and not just for themselves. Brown eventually forced his way out of Pittsburgh and found himself on the Raiders.
The Oakland Raiders were happy to have him until he started to create unnecessary drama that distracted the team. Brown froze his feet doing cryotherapy in France. His helmet grievance against the NFL was an uncalled-for distraction because every player had gotten one year notice that they needed to choose new helmets that fit the NFL standards. However, Brown used this as an opportunity to make everything about him instead of about his team. His antics and "all about me" personality began to turn fans off to him. It wasn't a good look for a future Hall of Famer to be behaving this way. He was always lauded by Jon Gruden as having a great work ethic, but he overshadows all of that with his foolishness off the field.
Everyone thought Brown would change after he was released by the Raiders and picked up by the New England Patriots. After signing with the Patriots, Brown was accused of sexual assault and rape allegations which he denies. He was allowed to play in week two for the Patriots and he performed great. Everything went well and it looked like he and Tom Brady were going to create problems for opposing teams. However, everything changed in week three, when Brown was released after it was alleged, he sent threatening text messages to one of his accusers.
Since being released, Brown has been going back and forth with a lot of people on Twitter. Just recently, he live streamed on Instagram a verbal tirade he directed toward police and the mother of his kids. Brown was arrested and charged with felony, burglary with battery, burglary of an unoccupied conveyance, and criminal mischief. He and his trainer were accused of beating up a delivery driver.
Brown is currently in a very dark place. He seems to always put himself in positions that lead him to trouble. He also always deflects blame and tries to say that its other people's fault. Brown has an entitled mindset that he picked up from his time with the Steelers, believing that because he is a star, there shouldn't be any repercussion for his actions. Brown is a Hall of Famer, but his actions in the last couple of years could stop him from being inducted into Canton. He needs to fix his life off the field before he thinks about trying to make an NFL comeback.
Leave a Comment
About the Contributor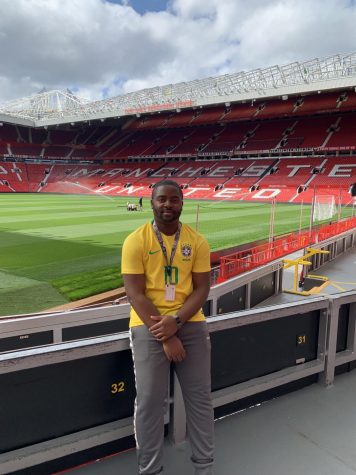 Chevaughn Hurst, Impact Staff
Chevaughn Hurst is a senior majoring in media studies with a concentration in journalism. He grew up in Jamaica and migrated to the United States at the...