Murder, Imperialism, and a Pigeon: The Story of Bill Bergen
In a sport of failure, Bill Bergen managed to be the worst.
January 31, 2019
Baseball, in the simplest way of looking at it, is a game of failure.
What I mean with this is, while I fully understand that task of hitting a speeding ball with a stick is difficult, the rate of success is so low, it's almost insane to think about. Imagine succeeding at your job only 30% of the time; for most professions, that would be embarrassing. But if you get a hit in 30% of your at-bats (or better stated as having a .300 batting average), you'll not only be considered average, you may even be labeled as one of the best at your craft!
But that's what makes baseball so amazing. You don't need to be a 6'6" farm-raised boy to be the best; players like David Wells, for example, best explain this. On May 17th, 1998, Wells threw baseball's 15th perfect game.
Think about that for a moment; Wells, the man who could pass for a white Carl Winslow cosplayer, accomplished something that only 22 other men have ever achieved in baseball history. While it's shocking to think about, it's also beautiful. But let's go back to my earlier idea.
So we've already established that baseball is a game where achieving success (a hit in this example) at a rate of 1/3rd will make you into a legend, but what if you succeeded even less than that? What if you were the worst ever?
Friends, allow me to introduce you to Bill Bergen.
Now, I understand that baseball is a subjective sport, where stats and numbers can be analyzed in ways that present different narratives, but I believe Bergen is, undeniably, the worst professional baseball player ever.
Perhaps you can say I'm being harsh to Mr. Bergen, but he's also been dead for 76 years, so I don't feel that bad (sorry Billy.)
In his eleven-season career with the Cincinnati Reds and Brooklyn Superbas/Dodgers, Bergen was so bad at his craft that it may initially surprise one to imagine how he kept the schtick up for so long.
But as I mentioned before, stats are only so telling.
The year is 1901: the American League is founded, President William McKinley is assassinated, Teddy Roosevelt ushers in the beginning of American Imperialism, and the Progressive Era is fully underway. In Cincinnati, they're gearing up to improve upon their 62-77 season from the previous season.
The Reds also have a new catcher, the 23-year-old Bergen. He isn't new to the world of baseball, in fact, many already recognized his name. But it wasn't for him, it was for his brother, Marty Bergen.
Marty did a lot in his baseball career: he was a fantastic defensive catcher, suffered from severe mental health problems, was decent at the plate, murdered his wife and children plus himself, received two Hall of Fame votes…
Wait. You probably had the same thought I did too: what kind of fucking name is Marty?
But in all seriousness, Bill's name was already slightly tainted from the evil act committed by his brother just a year before his Major League debut in 1901. But from what I could read and discover, this never seemed to come back around to hurt Bill or his career ambitions; judging by how his career ended up, it makes you want to believe that it may have even helped him (disclaimer: it definitely didn't.)
What I can say positively about Bill Bergen's career was that the guy was a fantastic defender. In a time where pitching and defense dominated baseball, Bergen was one of the best of his time.
Being able to throw a wickedly quick ball to second without even having to stand up, Bergan once threw out six Cardinals baserunners in one game. The man was as good defensively as catchers have ever been.
Bergen gave a sense of intimation to opposing players that benefited him greatly. Because as we're about to go through, offense wasn't Bill's thing.
Wins Above Replacement, or WAR, as it's usually referred to, follows one simple idea: how much more does one player contribute over the course of a season compared to a typical "AAAA" journeyman player?
While it's ignorant to use it only to decide which player was/is better, it is a valuable tool that can teach us a lot.
To give a quick scale for you to judge a player: 0 is considered "replacement level", 2 is starter quality, 5-6 is considered All-Star level, and anything higher can be placed in MVP talks.
Bergen's average WAR per season was about -1.5.
Over his 11-season career, Bergen accumulated a -16.2 career WAR. This is not only the worst ever, but it's the worst by a fairly decent margin. The next closest player to him is fellow bad baseball player*, Gus Weyhing, a man whose Wikipedia page's largest section about is him possibly stealing a pigeon (the 1800s were fucking wild, man.)
*-WAR is divided for pitching and batting. As a pitcher, Weyhing wasn't that bad, he even threw a no-hitter! Bergen just flat out sucked at his job; Weyhing just sucked at a part of it.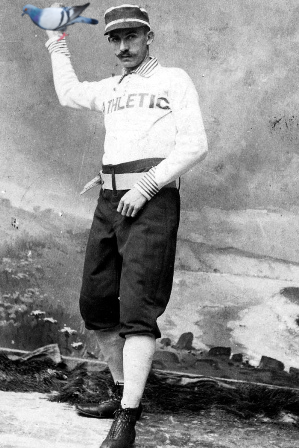 Remember that 1901 Reds season I mentioned before? Bergen's debut season? Well, they finished dead last.
How did our favorite player do? Well, he played in 87 games, which isn't bad at all for a rookie; the only problem was that for starters, he batted for .179/.199/.234 (batting average/on-base percentage/slugging percentage).
The average batting line is around .270/.320/.380, for perspective.
But compared to some of Bergen's teammates, he wasn't that terrible.
On an odd side note: Gus "The Pigeon Stealer" Weyhing was actually a teammate for Bergen in 1901; it was his last professional season.
I mean, Noodles Hahn and Bill Phillips combined for a .169 batting average, so Bergen wasn't alone in his inability to hit a ball with a stick.
The only problem was that Hahn and Phillips were pitchers.
In fact, the next closest position player to Bergen was Charlie Irwin, who hit .238/.285/.300. Compared to Billy, this makes Irwin seem like an MVP for the last-place Reds. If we were to put their difference in stats and add them to the averages I mentioned before, Irwin would be hitting .329/.406/.446, which puts just how bad Bergen was into context.
But perhaps this was just a rookie struggling in his first season? Maybe another full year of experience and knowledge would make him into a better batter? Nope.
I take that back. He improved. In just two seasons, he had raised his OPS (On-base Plus Slugging) from .433 to .518, an increase of .85! That's actually an incredible accomplishment, but not in a genuine, "good job!", kind of way.
It was more like a "Wow, you're the World's Tallest Midget!" sort of incredible. This would be his most productive offensive season during his career.
Bergen's "leap" in offense inspired Brooklyn to gain his rights for the 1904 season.
But in what has to be one of the biggest falls from grace (?), Bergen dropped his OPS down -.117 to .411. The worst offensive player in baseball had his worst season yet.
It only got worse for him. Sort of. He already was bad, it's like beating a dead horse to say he played even poorer.
From 1905 to 1908, Bergen hit .171/.187/.201.
For the sake of time, I want to bring us straight to 1909, the most interesting season of our hero's career.
Not only did Billy hit his second, and final, career Home Run (both were inside the park), but he had the worst offensive season in baseball history. With a batting average of .139, Bergen achieved the lowest for a qualified player, ever.
He also set the MLB record for the most at-bats without a hit with 46; this stood for 100 years. It's like Joe DiMaggio's record, except not as cool.
In 373 plate appearances, with only 48 hits, he had one double, one triple, and one home run. He was consistent in the worst possible way.
After the 1911 season, Bergen's career was over. With the arrival of Otto Miller to the Dodgers, the club didn't see the need for the .132 hitting 38-year-old who practically got out-batted by his pitching staff every season.
To this day, he has the lowest career batting average for any qualified player with over 2,500 plate appearances.
He worked around in the minors afterward, but that was it. There wasn't a dramatic turnaround, he never made it back to the show; he died on December 19th, 1943, at the age of 65, in his birth state of Massachusetts.
But there is something romantic about the career of Bill Bergen.
You always knew what you would get with him: excellent defensive, horrific offense. His teams were never title contenders, which may explain his 11-year tenure in baseball, but that doesn't really matter.
He batted and threw righty, never got hit by a pitch, only slugged two career home runs, and went over the "Mendoza Line" once.
I always grew up with my father telling me, "whatever you do, be the fucking best at it." Bergen represented that; he couldn't hit at all, but even until the end of his career, he was a terrific defender.
He also got to play professional baseball for a tenth of his life. That's not a shabby stat either.
There's a famous story involving Billy on his "shrine website" (http://alpepper.tripod.com/billbergen.html), where he was talking with the New York Giants rookie second baseman, Larry Doyle, before an at-bat.
The story goes that Bergen asked the young Doyle what he liked to hit. This normally would be seen as a dumb idea to share, but, confident, he told him anyway.
Doyle went hitless that game.