The Week From Hell:The Road To Recovery
Hurricane Sandy swept through the Ti-State area with so much force: houses, cars, and New Jersey's boardwalks have been destroyed automatically over night. Now the long clean up is upon us, and it doesn't seem like normality is arriving anytime soon.
After Sandy hit the Northeast, the aftermath of this storm is really what made everyone overly stressed. Gas is insanely hard to get. Long lines, an hour or more wait, people who need gas for their generators: it is just a mad house on the streets of New York City, New Jersey, and Westchester County.
On Thursday I got into a car accident with a guy who had two containers of gas sitting on the passenger side. I was so upset, first the power goes out and now I get into an accident. The important part is I am okay. I soon realized my problems were not all that bad after I saw what happened in Queens, Long Island and Staten Island.
On Tuesday, 41 million people in the Ti-State area where out of power. New Yorkers fled to libraries, restaurants, and relatives' homes who have power to charge their phones, computures, and tablets. Now during the first weekend after the storm power problems have seem to be brightening up, no pun about it. However there are hundres of thousands of homes and businesses that are still in the dark. In the New York Post on Friday an article with the headline "Power to the People." The sub Headline, "New York City's power will turn on this Saturday, everyone else Nov. 11" I read this at my dad's house (he has power) and I said, "November 11! That's nine days from today." On Friday night into Saturday CoEd fixed the power outage and now my house has power. I am very thankful.
Where I live in Yonkers, Westchester County Sandy's winds only knocked down tress and power outages. In New York the majority areas such as, Lower Manhattan, Queens, Long Island, and Staten Island winds ripped through parks, subways, and even over 100 houses by the ocean. In Battery Park located in Lower Manhattan, streets and subways are all sumbmerged under water. It's a good thing Mayor Bloomberg shut down the subway system and told people to evacuate their houses before the hurricane came on land.
The most devastated areas Queens and Staten Island got hit the hardest. Breezy Point, Queens is a little island off of the Queens burro. Most people that live there, live close to the Atlantic Ocean. However, the ocean isn't the only problem people are dealing with. 111 houses are no longer there. No the ocean did not swep them away, a fire broke out over night while the hurricane was at its strongest. It was a ripple effect, one house started to fire and the winds had enough force to pull the fames from one house to another. Govener Cuomo and NYC's Mayor Bloomberg opened shelters to Queens's residents during and after the storm.
To all those people who lost their house in this tradgey, I want you to know that it will get better. Hope is much stronger than a hurricane!
Staten Island, New Yorkers joke that it's the "Forgetable burro" but there is nothing to joke about after Sandy distroyed most of the houses on this island. On news stations families and neighbors are the only people that are helping one another. Before The American Red Cross hadn't visited Staten Island in the aftermath of Hurricane Sandy. The news had to report on residents who lost everything, even love ones. During the hurricane a mother and her two little boys, one two the other four where trying to fine shelter. According to news reports, She knoked on a man's door, but the man denied for the three of them to stay. Water was rising in her car so she put her two boys on the roof so that they would be safe, but the two boys got removed from their mother shortly after. The rescue team found the boys' bodies in a meadow a few days after. If the man allowed the two boys and their mother to stay while the hurricane was in affect these two boys would probably still be alive and the mother would be happy to hold her sons in her arms. After a week has passed the death toll from the storm is over 100.
To all the people how have lost a family member or love one my heart goes out to you. Losing a family member old or young is extremely hard to overcome, but you have to be strong.
Durning last week news stations like ABC, Fox 5 News, and NBC asked their viewers to donate $10 to The Red Cross to help raise money for people who have lose everything in the storm. Today on Good Morning America it was reported that ABC, the Red Cross, and Disney ABC have raised $16.8 million from donations. To all of you that have donated, thank you so very much. You have not only made the hurrincane victims Bleesed to have food, warmth, and shelter but you also made yourselves feel greatful as well.
Hurricane Sandy might have destroyed houses, cars, and hearts but natural disasters don't stand a chance when faith and hope are brought together by people who are united.
View Comments (1)
About the Contributor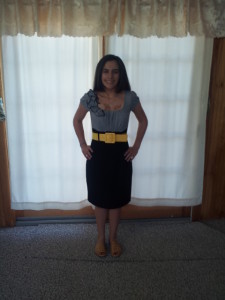 Molly Stazzone, Impact Staff
Molly Stazzone is a transfer student at Mercy College. Molly is a senior studying Journalism and Communications. She has interned at Westchester Magazine...