Jones Beach gets KISSED.
On September 22, 2012, Kiss and Motley Crue made a stop to Jones Beach on their tour, ironically called The Tour. I walked in and got my tickets then I went to go see were I'd be sitting as I was smiling ear to ear because I was going to see my heros, Kiss for a 3rd time. I went to get a shirt then came back to my seats on got ready for the show. At 7:00pm the show started with the opening act, british band The Treatment, I didn't care for them that much, I just couldn't wait to see Motley Crue and Kiss.
At 8:05pm, the lights went out and a spotlight flashed on the audience, the lights were on the crowd because Vince Neil and Tommy Lee were entering threw the crowd with two men with women sitting on their shoulders and were escourted by three bodyguards. As they made their way to the stage, they were met by fellow band member Nikki Sixx and Mick Mars. They ripped into their opening song. For about an hour they played hits old and new. At one point during the drum solo Tommy Lee spun around in his drum riser rollercoaster which flips upside down and then he picked a member of the audience to actually take the ride with him. Motley Crue had a stage show that would put Barnum and Bailey to shame it was literally a circus. They had water guns that sprayed the audience and ended their set with 80's hit "Kick Start My Heart". After that it was time for an intermission.
At 9:15pm, "Won't Get Fooled Again" by The Who blasted threw the P.A. system as Kiss got ready to take the stage. Then the lights went out and " Rock and Roll" by Led Zeppelin came on, as the signature Kiss Kabuki curtain was up and ready to go. The song ended and the famous airplane sound effect hummed threw the P.A. It was so windy and cold that the curtain actually fell down. The monitor screens came on and showed the audience that Kiss was on their way to to the stage and then the adrenaline rush starts, a voice over the microphone yells "alright, New York, you wanted the best, you got the best, the hottest oand in the world, Kiss. The Opening riff to Detriot Rock City starts and all pyro goes off and here is Kiss decending upon the stage like four super heros, Gene Simmons, Paul Stanley, Tommy Thayer, and Eric Singer, my heros. They played hits such as Shout it out Loud, I Love it Loud, Lick it Up, Love Gun, Black Diamond, their new single Hell or Hallelujah and the ever so popular Rock and Roll all Night. At the end of Firehouse, Gene Simmons came out and did his fire spitting trick, he almost caught his hair on fire because it was so windy out side the flame went back. Then before God of Thunder, Gene did his blood spitting routine and flew up into a mini stage up on the lighting truss, he did part of the song up there. During Love Gun, Paul Stanley flew out to a mini stage in the audience to sing part of the song there. They ended the show with Black Diamond, then came out to do a two song encore, the first being an oldie called Cold Gin and the second Rock and Roll All Night. At the end of Rock and Roll All Night, Paul Stanley came out with his signature Wasburn Guitar and broke in two and threw it into the audience then said thank you and goodnight. For fourty years Kiss has been the hottest band in the world and still is today, I know I'am a Kiss Army soldier, Rock on.
Leave a Comment
About the Contributor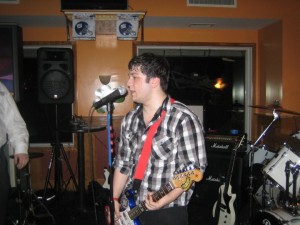 Rocco DeRose, Impact Staff
Rocco is a Sophomore and a Political Science Major at Mercy College. He is a graduate of Sacred Heart High School in Yonkers, NY were he actually wrote...