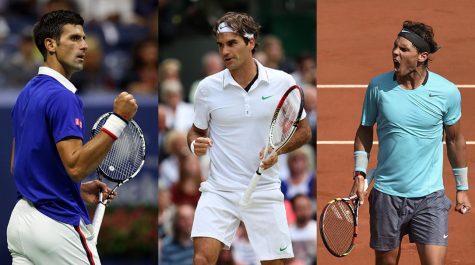 Brian Pineiro, Impact Staff

February 1, 2019

Filed under Brian's Banter
Whether you know it or not we have been and are living in tennis' golden age. Made possible by these three men and their marvelous accomplishments. See just how special they truly were and are!
Steven Keehner
Associate Editor
Steven Keehner is a media studies major with an unhealthy addiction to coffee and the British band, Oasis. Hailing from the mediocre town of Oyster Bay, New York, he was the Editor-in-Chief of his high...
Read all stories written by Steven Keehner
Daniel Lederer
Impact Staff
Daniel Lederer is a senior finishing his final semester on campus as a media studies student. Dan is an avid fan of movies and television, particularly superheroes, animation and Netflix. He also has good...
Read all stories written by Daniel Lederer
Michael Panteleo
Impact Staff
Michael Panteleo is a media studies major at Mercy College. He enjoys writing, watching, and playing football and basketball. He is a member of the Collegiate Scholars program at Mercy College and is...
Read all stories written by Michael Panteleo
Christina Galgano
Impact Staff
Read all stories written by Christina Galgano
Andrea Loaiza
Staff Writer
The name is Loaiza, Andrea Loaiza. She is currently a junior in Mercy College on her way to getting her bachelors in Media and Journalism. She was the managing editor for her high school newspaper...
Read all stories written by Andrea Loaiza
Valerie Lopez
Associate Editor
Valerie Lopez is a small town Hispanic girl from upstate New York who has big dreams and endless potential. She is a journalism major going into her sophomore year, hoping to one day write for Time magazine....
Read all stories written by Valerie Lopez
Jared Naut
Impact Staff
Jared Naut is a junior majoring in journalism hailing from the town of Parlin, New Jersey. When Jared is not writing, you can catch him listening to his favorite acapella group, Pentatonix, or binge-watching...
Read all stories written by Jared Naut
Ellis Joshua
Impact Staff
Ellis is a junior Media Studies major who is looking to become either a sports writer or sports broadcaster after he graduates. He believes writing for the Impact will help him achieve his goals and give...