The Three Man Tennis Show
An In-depth Statistical Look at The Dominance of Novak Djokovic, Rafael Nadal, & Roger Federer.
Sunday morning, 3:30 AM EST to be exact, I woke up to my alarm blaring. No, it was not to walk the dog or even worse go to the gym as some brave souls do. No, I instead turned on the television to ESPN 2: the only lifting I was doing was of the remote control.
Two tennis greats would have squared off Down Under in the final of the Australian Open. One of tennis' four major yearly tournaments they collectively know which as the Grand Slam. Both were eyeing a piece of history.
A win for the number one ranked tennis player in the world, Novak Djokovic, would mean surpassing American tennis legend Pete Sampras' Grand Slam Men's Singles Champions record of 14.
Rafael Nadal, the world's number two ranked tennis player, would be the first man ever to win the career Grand Slam (all four major tournaments) twice!
The Spaniard blood in me was rooting for Nadal, but I knew I was in for an epic battle between two giants of the sport. Djokovic knew of my waking up at 3:30 AM and in a little over two hours "No Djok" swatted away "Rafa" 6-3, 6-2, 6-3 in straight sets. For those who may not understand what this means, Djokovic beat the brakes out of Nadal.
My eyes bloodshot red from the exhaustion stared at my television screen after this beat down and all I thought was "These are two of the greatest the game has to offer." Oh, and I have not even mentioned arguably the best one out of the bunch, Roger Federer. I could go on for days talking about their greatness but instead, I want to show you.
Novak Djokovic
Let us start with the most recent winner of the bunch. Djokovic's aforementioned thrashing of Nadal has now put him third all-time in career Grand Slam men's singles champions with 15. Can you guess who number one and two are?
The victory also marks Djokovic's seventh Aussie Open title! His staggering 14 Grand Slam singles titles since 2011 nearly double that of second place Nadal's, 8, in that time. The 31-year-old has been the number one ranked player of the world since November 5 of 2018. With him back at 100 percent, there are no signs of him relinquishing the mantle soon.
Rafael Nadal
While the beginning of this post may make it seem like Rafael Nadal plays second fiddle to Djokovic do not get it mistaken, The lefty, depending on who you talk to, may be considered one of the greatest tennis players ever. Bias aside, the 32-year-old ranks second all-time with 17 career Grand Slam single's champions. Nadal is also the king of clay as he has 11, yes you read that correctly, 11 French Open titles alone!
For perspective, his French Open titles alone would rank tied for 6th all-time with Swedish Björn Borg and Australian Rod Laver. Another great sticking point to "Rafa's" résumé is being the kryptonite to Roger Federer's Superman. He has a 23-15 record against the great Swiss, including a 9-3 record in Grand Slam tournaments; he needs work on the overall record with Djokovic as he is only 25-28, however, their 53 matches are most between opponents in the Open Era and to be even with another all-time great is not necessarily a bad thing.
If anything, it should strengthen his case with his head-to-head dominance with the man I am about to talk about.
Roger Federer
Roger Federer needs no introduction. The 37-year-old grizzled veteran's laundry list of accomplishments and records is, for lack of a better word, unbelievable.
His 20 Grand Slam titles rank number one all time. Federer has won a men's record eight Wimbledon titles, a record five consecutive US Open titles. He's one of eight men, along with Djokovic and Nadal, to have achieved a career Grand Slam. Federer has also reached a record 30 men's singles Grand Slam finals, including 10 in a row from the 2005 Wimbledon Championships to the 2007 US Open. Federer has also won a record six ATP Finals, 27 ATP World Tour Masters 1000 titles, and a record 21 ATP World Tour 500 titles.
These are only a few of them too! Pretty much any tennis stat you look up expect Federer's name at or hovering around the top. Federer won his first title back in 2003 and his most recent in 2018. Over a decade and a half of greatness and he may just have enough left in the tank to have the number of his career Grand Slam titles be legally old enough to drink.
***
The combination of Djokovic, Nadal, and Federer account for 37 of the last 45 titles won since 2008 when Djokovic captured his first. Including winning the last nine overall and winning the calendar Grand Slam five of the past 11 years. Whether who you think will be the greatest of all time once the dust settles is for a whole other post, but one thing is for certain; When listing names of all time tennis greats Novak Djokovic, Rafael Nadal, and Roger Federer will have the numbers one, two, or three right beside them.
Leave a Comment
About the Contributor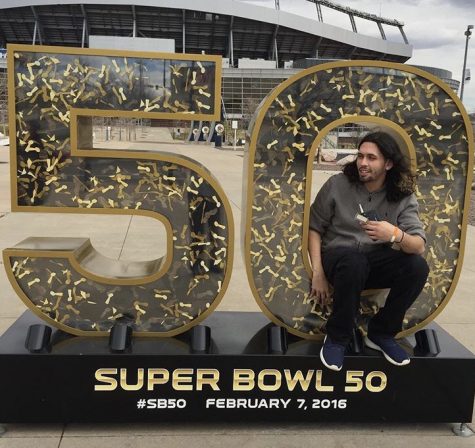 Brian Pineiro, Impact Staff
Brian Pineiro is a senior... finally. After a brief hiatus, Brian is back and more determined than ever to pursue his degree in Media Studies. This does...