Staff Picks: Best Shows to Binge Over Holiday Break
The holiday season is fast approaching. We're all running around finishing up semester projects, shopping around for the perfect gifts, and trying not to go crazy from stress. Soon though, we'll all be able to relax and enjoy a nice break from the hustle and bustle of the semester, and that means time to binge watch. We've compiled a list of some of our favorite, bingeworthy shows to watch so find as many streaming log in's you can and get watching!
1. Bojack Horseman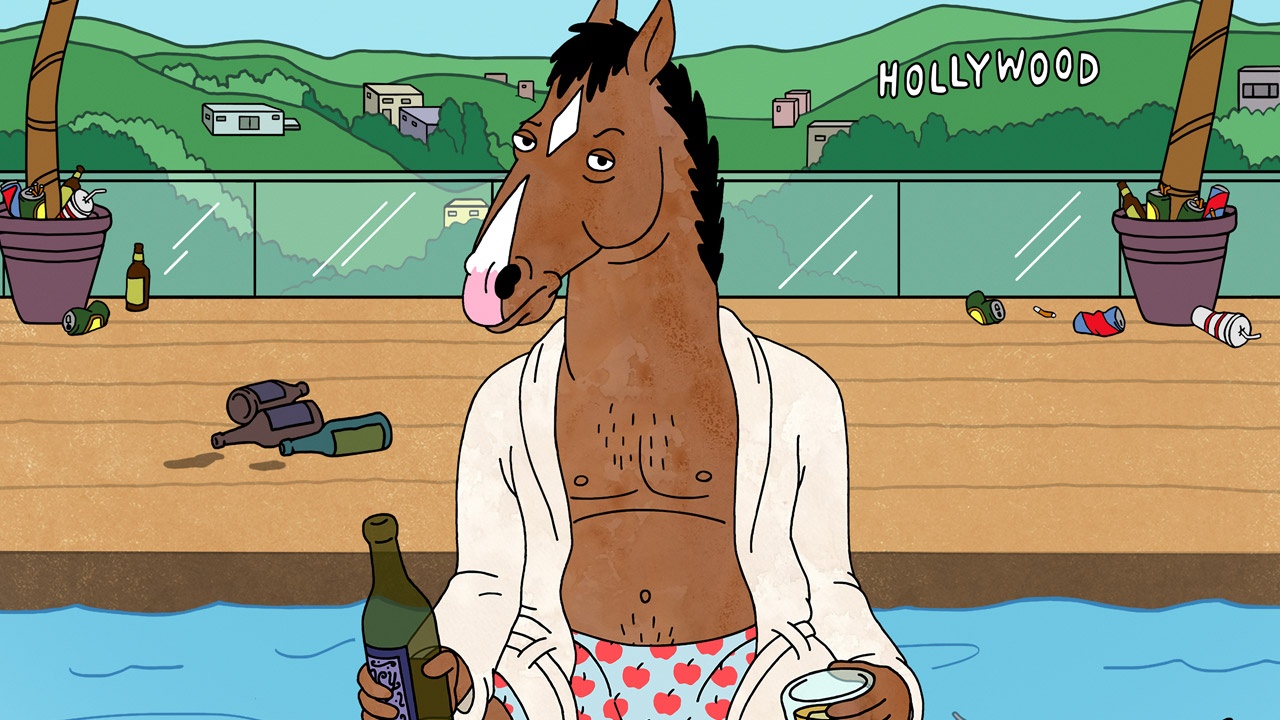 Network: n/a
Stream On: Netflix
Seasons: 4
When asked to pick what show one should binge, I have, and always will point them to one show: BoJack Horseman. If I were to tell you about a show that followed the life of a horse-man hybrid, his rise and fall from being the star on a 90s sitcom to a drunk, and his journey back to the top in Hollywood, it would sound a little stupid. To be honest, it is a little stupid, but that's what makes BoJack Horseman brilliant.
The show takes an excellent satirical view of Hollywood. It analyzes those who make it what it is and those who consume it; whether it is over-importance of how celebrities view themselves or the hypocrisy of us as a society, BoJack Horseman can successfully look at these aspects of popular culture in a hilarious manner. The show thrives in its ability to subtly reference these into each episode. But for as much as the show is lighthearted and humorous, it can also take on serious topics. Issues like abusive relationships, drug abuse, sexuality, and mental health are also themes in BoJack Horseman. Despite the show existing in an unrealistic universe, it acts as one of the most realistic shows I've ever seen. It can go from taking itself lightly to seriously in a few moments. It's both refreshing and unique to watch.
What's also enjoyable is how consistent the show's jokes are. Viewers should pay close attention during each episode, as you'll likely see something happen in the first season only to be referenced again in the fourth. This adds so much more to the universe of BoJack Horseman and it makes the series feel that much more authentic.
In an age of repeated storytelling and jokes throughout the TV and films we consume, BoJack Horseman continues to push the limit of what can be achieved through a backward, alcoholic, and self-destructive reversed-centaur. With four seasons and 40+ episodes, this is more than enough content to make this the ultimate binge-worthy show. —Steven Keehner
2. Shameless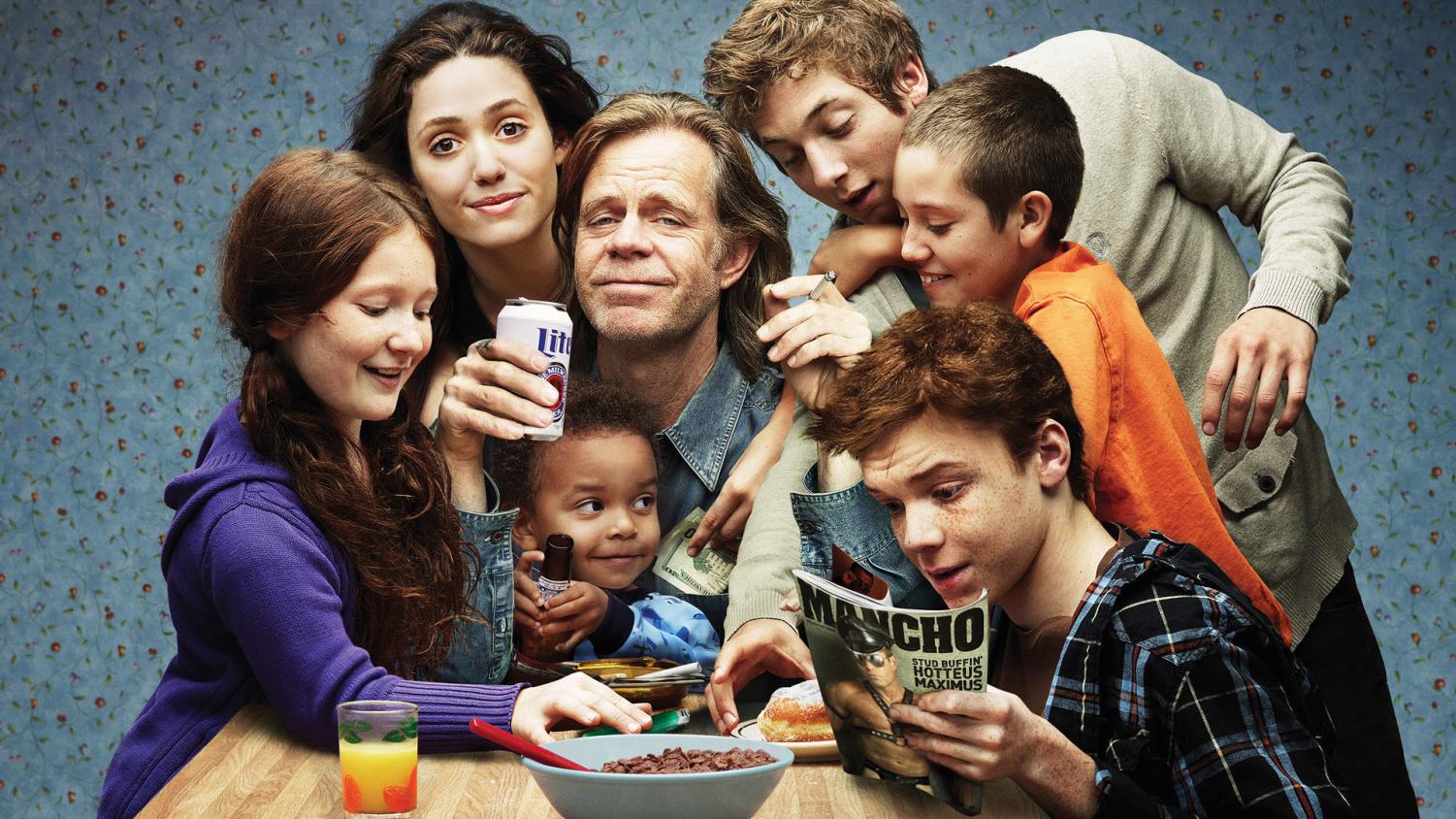 Network: Showtime
Stream On: Netflix
Seasons: 8
Christmas is a time when the true, unfiltered family dynamics are laid out on the table. The crazy uncle we wish would drink his eggnog and not talk about politics, the twisted cousin we're only happy to see on holidays, or the grandmother who dotes on the grandchildren, but is a menace to their parents, all end up making an appearance. Not to mention, the friends we invite over to give us cover and provide them relief from their own family. On your break of holiday cheer and good tidings, Shameless is the show to binge.
The seven, soon to be eight, long-running show on Showtime follows the f****d up, dysfunctional lives of the Gallagher family led by eldest daughter, Fiona, because their father, Frank, is an alcoholic deadbeat who's actions range from hiding the death of Great Aunt Ginger to keep receiving her Social Security checks to sneaking his way back into the country from Mexico after losing his wallet. Rounding out the Gallagher family is Lip, Ian, Debbie, Carl, and Liam who have stood by each other, in their own special family way. Joined by neighbor couple, Kevin Ball and Veronica Fisher, and a collection of characters that make up the working class neighborhood on the South Side of Chicago where they live.
The series is a must-binge because its reminder we all could have much worse family members, even more, it is admirable and worthy of praise for how Shameless depicts storylines, such as, (**SPOILER**) Frank leaving his mother in the care of never-leaves-her-house Shelia Jackson who goes on to smother Frank's mother with a pillow after asking to die, Debbie dealing with the struggles of becoming a teen mom, or Veronica finding out she's unable to become pregnant so her and Kevin's solution is for her mom to become pregnant with Kevin's child. (**END OF SPOILERS**)
Shamless' brand of twisted escapism relies on its realistic portrayal of lower class dealings. From the trials of the foster care system and alcoholism in families, to its depiction of everyday people ("not blue collar, it's no collar") trying to get by any way they can, the show becomes relatable. The most poignant scenes occur when Fiona reveals the sacrifices she's made in order to raise her siblings, and the dynamic between Ian and Mickey Milkovich, who's relationship is far from stereotypical same-sex relationships in other shows. The series is a perfect blend of dark comedy and a tale of family strength. —Matt Reich
3. Friends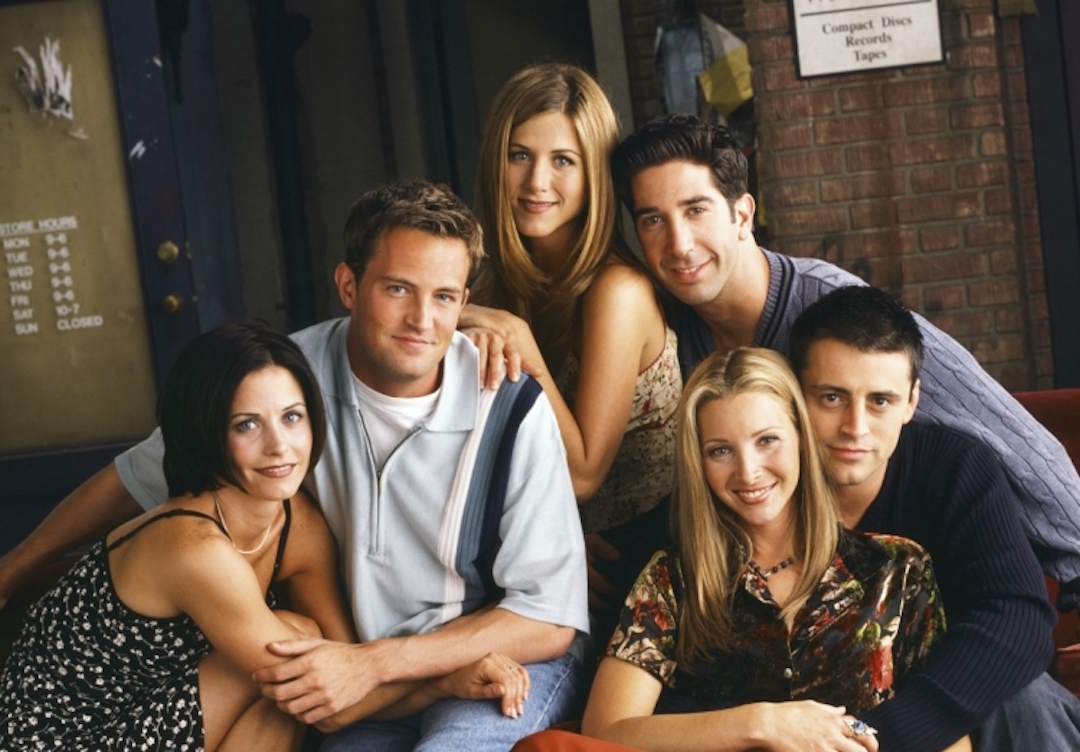 Network: NBC
Stream On: Netflix/Amazon Video
Seasons: 10
Sure there are plenty of good TV shows to binge nowadays, but let's not overlook one of the most iconic series of the past. Friends is one of the best shows to have aired, hands down. We all have a Rachel, a Chandler, a Monica, a Joey, a Ross and a Pheobe in our friend group. We can all relate to one of the characters in some way, whether you're a shopaholic like Rachel, have smelly cat like Pheobe, can't stand sharing food like Joey, living in an ugly naked guy's house like Ross, being a neat freak like Monica, or being sarcastic like Chandler.
Friends like the ones on Friends are the type of people everyone needs to be surrounded by. Remember those times you actually had a deep conversation with your friends or made a memory you'd never forget? Watching Friends will allow you to relive those moments. Friends also has some of the most memorable quotes ever. Who can forget lines like, "We were on a break" and Joey's catchphrase, "How you doin?" I kid you not, every episode of Friends is guaranteed to make you giggle. While it heavily relies on its comic side, it also covers some real issues. The TV show talks about relationship problems, smoking issues, reliving high school years, fat shaming, struggling to have a career and everything in between.
What makes Friends so great is that you can relate in some way. The issues discusses in the show are real, and you feel like you are a part of this group of friends. The best thing is that they use real problems or situations and make them funny so you can also enjoy it and have a laugh while relating to a tough subject. Do yourself a favor, go watch it. Relive those great jokes, and if you've never watched Friends… um… what are you waiting for? Go now! — Andrea Loaiza
4. Dexter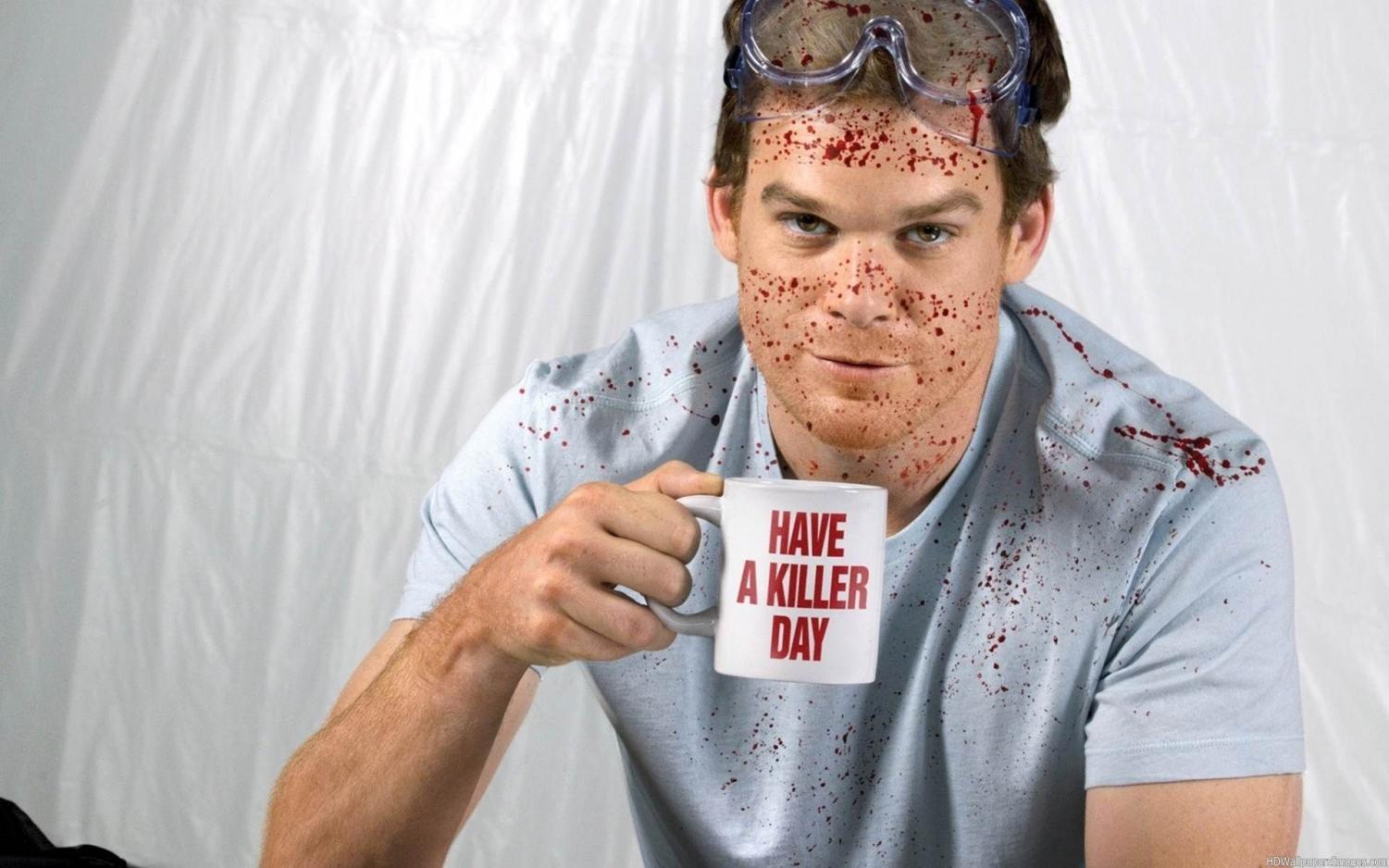 Network: Showtime
Stream On: Showtime/Amazon Video/ Netflix
Seasons: 8
Dexter Morgan isn't your typical party-going Miami resident. By day, he is a calm, collected, blood spatter analyst with the Miami Metro Police Department, and by night, he is an eagle-eyed serial killer. Now, before making any harsh assumptions, Dexter only kills people who are guilty of heinous crimes, specifically victims who get off the hook. Being employed in the area of forensics gives him an advantage in his late-night activities.
Dexter's gruesome tendencies stem from the brutal murder of his mother by a chainsaw, which happened right in front of his eyes at only the age of three. The only person privy to his dark secret, Harry, a former Miami Metro cop and his late adoptive father, taught Dexter ways to control his natural passion for killing in a way that will never get him caught. He kills in plastic wrapped rooms and cuts his victims' bodies into small-scale pieces and disposes of the evidence in garbage bags, dropping them into the ocean never to be found.
The seemingly emotionless Dexter, played by the remarkable Michael C. Hall, isn't really interested in being a supportive younger brother, friend or boyfriend. He could care less about being intimate with any human being, but has to falsify normal feelings to affectively live his double life without suspicion. His sister Debra (Jennifer Carpenter), takes over some aspects of the show with her sarcastic and unfiltered personality, trying to keep her father's Miami Metro legacy alive. During this eight season long series, each one connects with the previous season from before so this is definitely one of those shows that your favorite or most hated character is reprised in some way. As Dexter balances his life as a master of disguise, there are instances where outsiders become suspicious, and at some points, discover his identity. This series follows Dexter deciding between protecting his identity and killing innocent people (which is against his "code.") Now, if Dexter's life outlook isn't obvious to you by now, this may help clear it up: "They make it look so easy, connecting with another human being. It's like no one told them it's the hardest thing in the world." —Nicole Acosta
5. Deadwood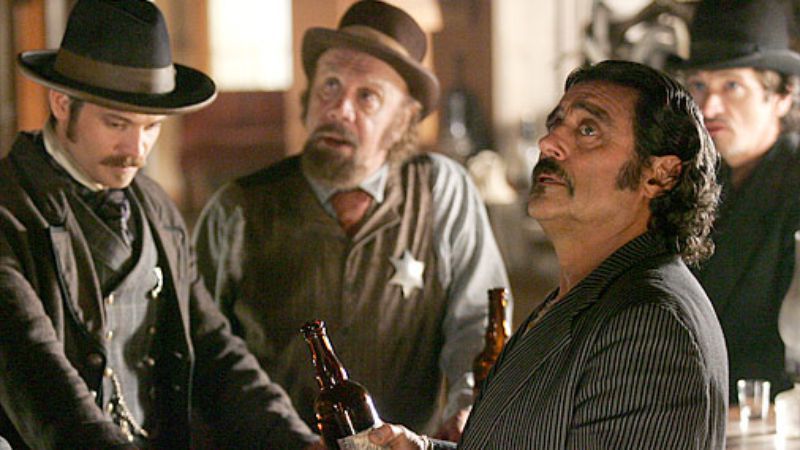 Network: HBO
Stream On: HBO Now
Seasons: 3
We didn't know when and we didn't know how, nor did we know who would win. But we knew eventually, Bullock and Swearengen were going to fight.
It took all the way up to Season 2, Episode 1, for saloon owner Al Swearengen to lean over his balcony and taunt the good sheriff about his affair with the widow Alma Garret, only to be met with an icy cold stare that typically translated into a Seth Bullock beating.
"You would not want to be staring like that… at me," warned the whoremaster.
"Be where I can find ya," Bullock said with controlled rage.
"I…ain't going no place."
The thirteenth of the 36-episode run of HBO's Deadwood may not be the most pivotal in regard to storyline, but is by far the grittiest and encompassing of the series. Ian McShane and Timothy Olyphant play the two protagonists who are on a collision course since episode one. Before they could politically form an alliance (How else can Dakota Territory prospectors in 1870 combat meddling Pinkerton Detectives and mining tycoon George Hearst?) our beloved character are going to have to fight and teach each other some respect.
This is no super hero movie with special effects. It's an ol' fashioned slobber knocker with mud, blood and hell of a lot of curse words.
Now you might say you hate Westerns, but this is a Western in setting only. It's a show of political maneuvering and some of the greatest one-liners ever delivered on television.
Like when Swearengen slapped and then lectured newspaperman A.W. Merrick after he moaned and groaned about being in despair. "The world ends when you're dead. Until then, you got more punishment in store. Stand it like a man. And give some back."
The dialogue is as close to Shakespeare on modern television as its gets. There is a romance to the language that makes characters like Calamity Jane, "Wild" Bill Hickok and Wyatt Earp no longer just history book references.
Don't worry ladies. There are love affairs as well. The Trixie-Sweargen-Sol dynamic. Charlie's love for Ms. Stubbs. And that damn Bullock-Alma relationship which will rip you to pieces.
"(He) wants me to tell him something pretty," Al Swearengen says in the final episode to his lackey Johnny as he scrubs a pool of blood on the floor in the final episode after murdering a co-worker out of necessity.
Life ain't pretty, Al would say. But neither is Deadwood. But its words and visuals are angelic, and through this historical fiction binge viewing, we may just figure out how ugly and pretty real life can be. —Michael Perrota
6. Great British Baking Show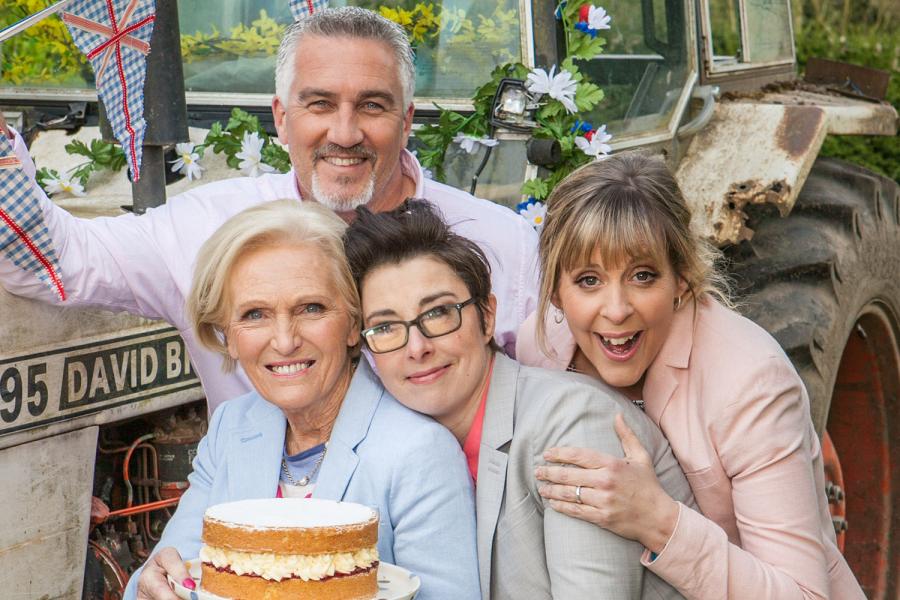 Network: BBC/PBS
Stream On: Netflix
Seasons: 8
Nothing can quite put me in a more soothing mood than pouring myself a cuppa and queuing up some Great British Baking Show. This British reality baking competition is the perfect, bingeworthy show to relax and unwind in your downtime over the holidays. The adorable Mary Berry and smooth-toned Paul Hollywood judge the delectable desserts that contestants whip up in hopes of becoming Britain's best amateur baker.
The charismatic co-hosts, Mel Giedroyc and Sue Perkins, provide that unmatched, British quick-wit and help out the bakers during the different rounds like, pastry week, technical challenges, and the high-stakes showstopper challenge. The program has actually become quite a significant staple in British culture, and has reignited an interest in baking across the country.
Set in the iconic baking tent in the picturesque Cotswolds, bakers create original recipes and inventive takes on traditional baked treats to wow the judges. Interestingly enough, the parallels between a British reality competition and an American one are quite comical. Unlike American reality shows, Great British Baking Show rarely emphasizes competitor rivalries and drama to engage its viewers. This series frequently shows fellow contestants cheering each other on and helping their fellow bakers out, which is a nice change and just so British. So settle in for a binge, but be warned, the creations look so scrumptious that it'll have you itching to bake your own Mary Berry-inspired treats. Ready, Set, Bake! —Nora-Grayce Orosz
7. Grey's Anatomy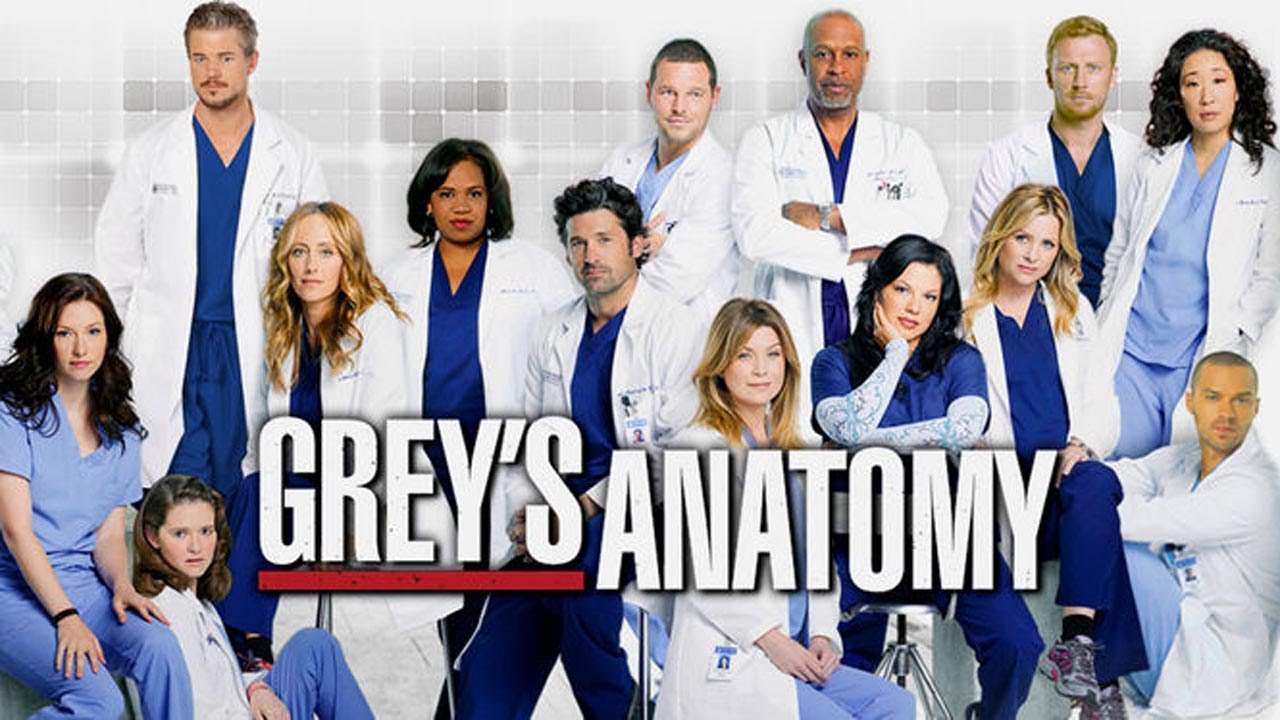 Network: ABC
Stream On: Netflix
Seasons: 13
Before anyone rolls their eyes, just hear me out. Grey's Anatomy centers around the lives of the staff at the fictional Seattle Grace Hospital, later renamed Grey-Sloan Memorial, as they become seasoned doctors trying to balance relationships and saving lives. While the surgical scenes might not be those with a weak stomach's cup of tea, you can't help but keep your eyes glued to the television while they make the first cut.
Season 1 started out with five surgical residents: Meredith Grey, George O'Malley, Cristina Yang, Alex Karev, and Izzie Stevens and fast forward to this year's Season 14, (**SPOILER**)only two remain. (**END OF SPOILER**) Crazy right? The mind of Shonda Rhimes is not one that can be easily understood, and I for one can attest to the fact that she loves to take her viewers on an emotional rollercoaster.
From tears of joy, to tears of grief when your favorite character gets killed off, Rhimes knows how to open the Pandora's box of emotion. Not only do you learn more about the human anatomy than you would ever think that you would need to know, but you also find yourself identifying with certain aspects of the character's storylines. Soon you won't be calling your best friend your 'best friend' but 'your person' and before long, you'll learn that no problem is too big that a random 'dance it out session' can't fix. With the holiday break coming up, a Netflix account will surely come in handy. The last 13 seasons are available on the streaming service and will keep you busy for days. The drama covers some topics that most dramas wouldn't even touch, but don't let me give it away. Check it out for yourself and make sure to always remember one thing. In the infamous words of Dr. Derek Shepard, "It's a beautiful day to save lives." —Chelsea Renay
8. Criminal Minds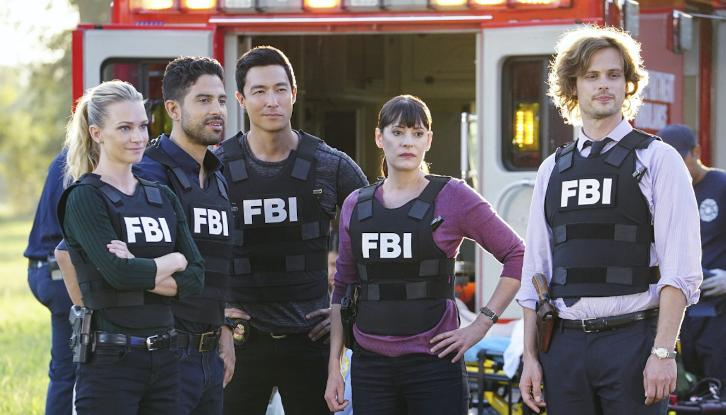 Network: CBS
Stream On: CBS.com/Google Play
Seasons: 13
This crime drama is the perfect cocktail of quirky and chilling tales. Criminal Minds features the Behavioral Analysis Unit (B.A.U) which is run by Special Agent Hotchner (from season 1 through 12) and his team of brainiacs as they analyze the country's most abnormal criminals and the way their minds work, often predicting what their very next move might be.
It is the perfect series for a serial killer junkie as the elite FBI squad pick apart and delve into the mind of hundreds of criminals. This show has made it to my binge worthy list because of the wide variety of characters it has to offer. There's Spencer, the team's super genius, Penelope who is the agencies computer whiz and of course, Derek, the classic FBI hunk, and many more. Every episode stands out with their ability to make you laugh, cry, and fear for your existence in a quick 45 minutes. Even though the show is currently on its 13th season, it has yet to lose its magic. Criminal Minds will have you on the edge of your seat, wishing you could start a new career as part of Hotchner's team with each episode. —Liv Meier
Did you watch one? Lets us know your thoughts.
Leave a Comment