The Time is Now for Baker Mayfield
"See an blind, Hear an def," is a quote we say in Jamaica and this means that you shouldn't get involved in things that don't concern you.
Baker Mayfield should take advice from this quote because it always seems like he is running his mouth about things that don't concern him. If he doesn't have anything good to say, then he should just shut his mouth.
Mayfield is one of those players that do a whole bunch of talking but don't back up their brash bravado on the field. Mayfield enjoyed a good rookie season that saw him break the touchdown record for a first-year player. Mayfield threw 27 touchdowns and 14 interceptions in his breakout rookie season.
The Cleveland Browns have long been one of the worst franchises in the NFL. With their franchise in a state of flux, the Browns were able to get the number one pick in the 2018 NFL Draft and with that pick they selected Mayfield.
After Mayfield took hold of the reins as the quarterback, the Browns enjoyed a fair amount of success in his rookie season. They went 6-7 in the 13 games he started for them as QB. This type of record was a big achievement for the Browns, and many people predicted that heading into last season they could be a potential playoff team.
During the 2019 Free Agency, the Browns acquired superstar wide receiver, Odell Beckham Jr. Cleveland made more splashy signings and trades throughout that free agency period, which allowed them to bolster their roster. They had arguably one of the best collections of talent going into the 2019 season. Mayfield had everything he needed to be successful on offense. He had two all worldwide receivers, two great running backs, and an excellent tight end.
The first misstep Mayfield took during last season, occurred in the training camp where he talked about another player's money. Mayfield criticized running back, Duke Johnson Jr., for wanting to be traded. His comments were addressed by the veterans in the Browns locker room because he jeopardized another player's earning potential. Mayfield also criticized the Browns' medical staff for the way he believed they handled Beckham Jr.'s injury.
A lot of sports pundits believed that this Browns team had the talent to make a deep run in the playoffs last season. I was one of the people who believed that Mayfield could lead the Browns to at least the AFC Championship game, but I was completely wrong.
Last season was an epic fail for Mayfield and the Browns. They went 6-10 during the 2019 regular season. Their coaching was horrible all around, and their QB play was straight trash. Mayfield threw 22 touchdowns and 21 interceptions last season. His stats should have been way better with the type of talent he had surrounding him on the offensive end. Mayfield's completion percentage went down to 59.4 percent. Elite QBs generally have a higher completion percentage. For Mayfield to reach elite status, he needs to cut down on his turnovers and raise his completion percentage.
Heading into the 2020 NFL season, it's now or never for Mayfield and the Browns. After adding tight end, Austin Hooper, and offensive tackle, Jack Conklin, in free agency, Mayfield has all the help he needs to lead the Browns to the playoffs next season. He even got a new head coach after his team hired Kevin Stefanski.
Last season served as a humbling experience for Mayfield. Some of his teammates were even talking about the Super Bowl, but they were humbled after they suffered numerous humiliating defeats that had everyone shaking their heads.
If he starts to lose the trust of his players, then it will be hard to gain it back. He has to start proving himself on the field, because pretty soon if he doesn't, a lot of people will call him a bust and the Browns will have to start the process of finding another franchise QB who can lead them to wins.
Mayfield needs to start carrying himself like a CEO and do less unnecessary talking that will bring distractions to the team because it is "put up or shut up" time for the entire Browns organization. Less talking and more action should be the Browns' motto for the upcoming NFL season.
Leave a Comment
About the Contributor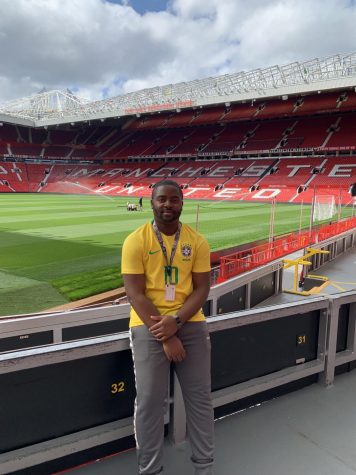 Chevaughn Hurst, Impact Staff
Chevaughn Hurst is a senior majoring in media studies with a concentration in journalism. He grew up in Jamaica and migrated to the United States at the...