Kylie Jenner Friendzones Travis Scott
And why I think the break-up is a conspiracy.
A beloved celebrity couple just called it splitsville yesterday, and the Internet is shaking.
Kylie Jenner and Travis Scott have called it quits and fans are trying to decide if it's for publicity or if it's for real this time. The two have been together for two years and have a daughter named Stormi Webster who is a year old and will be two in February.
As everyone knows, Kylie and Travis have been in a rough patch before so this could not be the ending for the couple.
Even though it was confirmed by multiple sources, Kylie came out and spoke on the situation on Oct. 3 to explain and discuss the rumors.
Jenner's Twitter states, "Travis and I are on great terms and our focus right now is Stormi !! our friendship and our daughter is priority."
She then followed up the tweet to address the rumors about being seen at the studio Tyga was one of her former ex-boyfriends.
The internet makes everything 100 times more dramatic than what it really is. There was no "2am date with Tyga". You see me drop two of my friends off at a studio that he happened to be at.

— Kylie Jenner (@KylieJenner) October 3, 2019
Now, I think the whole breakup is a conspiracy, and it's helping the two of them get more views with all the important things that are happening in their lives.
As everyone knows the Jenner's love to be in the limelight and likes the focus to be on them whether it be the Tristan scandal, arguments between the Kar-Jenners or even the baby daddies that come with the family-like, Scott Disick.
Between Jenners's make-up and skincare line and Scott's music career, the two are busy and needed a boost of publicity.
The names haven't been mentioned in the media since Scott's Netflix documentary went live at the end of August.
My conspiracy is that Kris Jenner is behind all of this to get her daughter- and son-in-law more publicity that they need since it's been quiet.
KylieSkin had a restock on Oct. 3 and there is a new season of Keeping Up with the Kardashians so the need for publicity is real.
Jenner's makeup line hasn't been doing well, but, it still sold out because of the fanbase she has.
She needed the boost and her name in the headlines to make everyone check her socials for people to see her restock so she can sell out again.
Not only are there important jobs going on in Jenner's world but there is a new Travis Scott single coming out on Oct. 4 which is two days after the news broke of the break-up.
Scott's team has come out and said that it is just a near coincidence that this happened at the same time but if we are thinking of a timeline, news broke about their first break a couple of days before Scott's Netflix documentary came out.
I think the time that he dropped it and the time of the breakup really couldn't have been any better planned by publicists and managers. The song has been wanted by fans for weeks even months, including me but his name in the media gave it extra boosts to those who don't follow Scott or Jenner on social media.
The song that came out was first sampled by Jenner herself in her make-up line drop which just connects the conspiracy together even more because the song is about Jenner.
One lyric read, "When I'm with you, I feel alive. You say you love me, don't you lie."
This shows it's more about his love life than about anything else, so was it planned to drop it after the break-up or was it truly a coincidence?
As always, Kris Jenner is always up to something to make her daughter's fame light up in the matter of a split second. That's why I truly think she was behind this.
The Kar-Jenner's needed the drama for this season of Keeping up with the Kardashians because it wouldn't be a season of KUWTK without a husband or boyfriend drama. Last year, the season finale was all about Khloe Kardashian finding out about her now ex-boyfriend Tristan Thompson cheating on her with Jenner's best friend, Jordyn Woods.
Everything mentioned above also made the drama even better to happen between the Travis Scott single "Highest in the Room", KylieSkin, and Kylie's make-up line, Kylie.
Kris Jenner, I give you props for how fast you work, because the devil works hard, but you work harder.
Leave a Comment
About the Contributor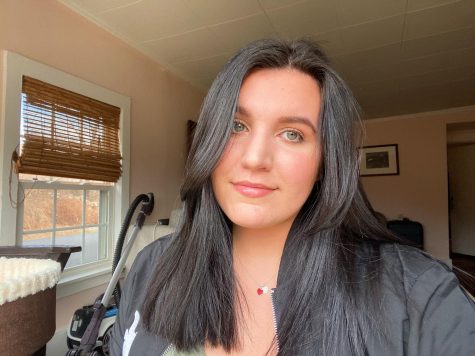 Alexis Lynch, Managing Editor
Alexis Lynch is currently a senior at Mercy College. At Mercy, Alexis is a Media Studies major with a focus in Journalism. She has gained experience that...