A Conversation With Actor Edward Hibbert
Edward Hibbert is most prominently known for his appearance in the ever-so-talented Christopher Nolan's The Prestige alongside a star-studded cast, The First Wives Club with three of Hollywood's classic leading-ladies: Diane Keaton, Goldie Hawn, and Bette Midler, and most notably, Frasier, a spinoff of the show Cheers.
He shared his years of experience on stage and on the screen, and the realities of growing up in a family entrenched in the entertainment business, with the Mercy College community.
Mercy College film professor, Steven DeRosa, hosted a Q&A with Hibbert on Dec. 6 at the Dobbs Ferry campus. His stories couldn't help the audience from smiling and erupting in laughter throughout the event.
Hibbert's parents were both actors, but unlike their son, they kept it mostly in the theatre. He followed in their footsteps and joined them in the acting world at a very young age. His father, Geoffrey Hibbert, was a well-known actor. He starred in movies such as Love on the Dole, The Common Touch, and The Next of Kin, all of which were popular in the 1940s.
His mother, Prudence Rennick, starred in movies from the 1940s to the 1990s. Two of her most notable works are The Little Dry Thorn and The Only Way.
Growing up with both parents in the acting business, he was always very familiar with the lifestyle. Despite being born in Queens, New York, Hibbert's iconic British accent has remained unmistakably authentic because of his upbringing in England, where he attended the Royal Academy of Dramatic Art.
"I'm not Meryl Streep, so I can't just go off and do all sorts of accents," joked Hibbert while talking about how his voice isn't interchangeable.
Not only did Hibbert win a scholarship toward his tuition at the Academy, but he ended up having a successful school career there and then returned to the United States in the mid-1980s because his father was involved in a Broadway show.
When Hibbert was a young child living in New York, he would gather all the neighborhood kids and assign them roles in plays as their director. He took his job seriously, sometimes to the point where he would send kids home with black and blues. The kids would have to explain to their parents they were "late for rehearsal again."
Hibbert's favorite show to put on was called Fairy Forest. As well as his usual directing role, he would transform into Sparkle Eyes, Prince of the Fairies.
His career as a film and theatre actor, voice actor, and literary agent has gifted him a life full of unforgettable experiences, he says.
Three of his favorite shows that he took part in were The Way of The World, Forty Years On, and Merchants of Venice.
For over 40 years, Hibbert has worked in film, television, and theatre, portraying roles in everything from Shakespearean works to Courtroom Dramas such as "Law and Order: Special Victims Unit," in which he guest-starred in the episode titled "Shadow," as Nigel Prestwick.
"Getting to lick Mariska Hargitay's boots is something I never thought I would do."
Hibbert's first feature film was called Britannia Hospital, and in that he portrayed a theatre surgeon. He had many amazing roles that people might not be aware of. He has voiced Zazu in multiple installments of The Lion King movies. He was in the movie Uptown Girls as Christie's rep, and he was also in the beloved sitcom The Nanny as Claude.
A long while back, he worked on a show named Jeffrey by Paul Rudnick. The cast traveled from New York to Los Angeles, and that was Hibbert's first time in Los Angeles. Luckily enough, he met someone there who offered him a role in the show Frasier.
"I've never known anything which is as brilliantly funny," Hibbert spoke about the show.
Going to Los Angeles opened up a lot more doors for Hibbert than he'd ever expected.
"It's like being an athlete," Hibbert feels because it requires constant training.
"Finding something that fits on you like a perfectly good suit," is what Hibbert explains as the most important task to do as an actor.
He has rights on several famous movies such as Fight Club and God and Monsters. He has also done voice acting for video games such as Star Wars: The Old Republic.
He describes his experiences working with Alec Guinness and Maggie Smith to be the most thrilling of his career.
21-year-old Mercy student, Eric Skrapits, attended the event and expressed his newfound interest in Hibbert since his Q&A at the school.
"I liked how he was brutally honest about the television industry in today's society and how it differs greatly from what it used to be."
DeRosa said it was a pleasure to have him as a guest, as he shared so many valuable stories, insights, and advice with the audience, not to mention, he provided a plethora of laughs.
"The opportunity for students to visit with an actor such as Edward Hibbert was invaluable. His broad experience in television and film, in addition to his work on the stage, gave students a chance to hear directly from him about topics related to their future careers. From what an actor looks for in a script to the difference between a four-camera television show and a single camera shoot, Edward drew upon his decades of experience to advise our students. In the spring, I hope to have a movie producer speak with my students and give a perspective from behind the camera," explained DeRosa.
He is hoping to host more events like this one, where Mercy will welcome various professionals to the school to share their experiences and supply information for students moving toward their careers.
Leave a Comment
About the Contributor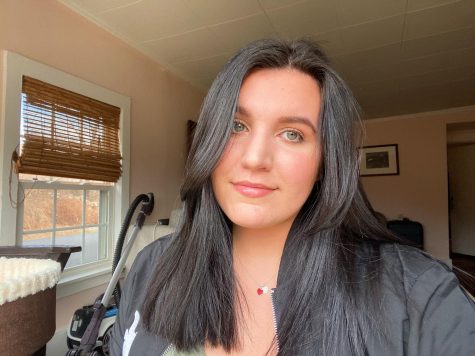 Alexis Lynch, Managing Editor
Alexis Lynch is currently a senior at Mercy College. At Mercy, Alexis is a Media Studies major with a focus in Journalism. She has gained experience that...